Everyone knows it's hopeless to coax Chinese gamers to buy p2p games(pay to play), and as they are too shrewd, f2p doesn't work also. The only way to earn some money is from in-game ads.
At the root of all problems of this type, lays the Chinese notion "All games should be for free". This notion is nurtured by the long time piracy in China. Back to 1990s, all the games came in the form of pirate CDs, which was sold ¥5 apiece (around $0.6 at that time). In the backstreets of Zhongguancun Village(the Chinese Silicon Valley in Beijing), a row of shabby shops opened wide to the street, cardboard boxes after cardboards of pirate CDs arranged on the floor. Customers ducking down, pick the latest Windows, games, and favorite music. It was such a big business of that time!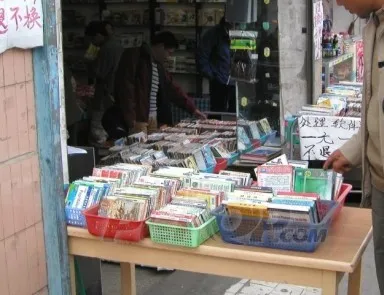 In recent years, the pirate CD dealers were put out of business due to improved connection speed. People can download everything they need, why bother to buy a CD?
Some one would argue, that at the pirate CD years, legal games were way too expensive for general Chinese people(around ¥60~80 per CD). And the software publishers did poor job in making games more accessible than pirate ones. Today, Chinese people become much richer than ten years before, affordability is not an issue, and access is not an issue too. But their spending habit becomes even more bizarre, or the price of things are weird. Most people earn ¥3000~5000 ($500~830)a month, but most people have an iphone which is around ¥4000($666). And they will not frown at the price of a movie ticket, which usually is ¥120($20). But they would become much alarmed if a game is sold for ¥12($1.99). This is the tricky part, at the price of a game, most people tend not to think rationally. No matter how many hours of fun it would provide, positively it is much more hours than that the equivalent amount of money you can buy from a movie. And no matter how genuinely they are stricken by the game play and pictures, if it's for a price at all, then the outcome is almost a certain no buy.
And there is a class of gamers who's money is much more precious than time. Take an example, Clash of Clans monetizes on extreme slow building speed, asking gamers to purchase green gems to speed up. And a gamer devised a crooked way to earn free gems. His method is to go to this site
http://welcome.freemyapps.com/
to download free apps and use each app for minutes, that can earn some points. Then use the points to change gift card to spend in iTune store(The actual process is complicated, involving using different VPN addresses to get more apps). This guy claims that he's earned $10 in 3 days. Here is his how to post:
This reveals the strange psychology of these gamers, they just fail to do the math that $10 just isn't worth the labor, for China isn't a poor country at all.
Strange it looks, and it's just the extreme form of common psyche of Chinese gamers. So we can sense how difficult it is to monetize your game.
For most Android games, there are always cracked version available. And for iOS games, many people jailbreak their system to play games for free. And there's a loophole in Apple's system, that a purchased game could be downloaded to limitless number of devices with a same account. So many generous people would post their account and PW on a forum to share games. Even there're some apps developed based on this mechanism to let people "play legal games for free without jailbreaking your system"(免越狱不花钱玩正版游戏).
Yes, with more or less ado, you can always get the game for free. There comes another topic, pay for user experience. One of my friends tells me, that he subscribes to Google music with a fee, not because that he can't find those music else where. Just that he can get all the things he wants by a click. It offers excellent user experience and in fact saves money(time is money). In China, we've made progress on pay for user experience, yet need to catch up. More and more people are willing to pay watching online movies(¥2.5 a movie). We hope we can make some progress on games too.
It seems it's all sad news in my report. But do keep the fact in mind, that there're a small portion of gamers who are ready to pay for both f2p and p2p games. No matter how small the percentage is, in the context of the sheet population of all gamers in China, the number of these paying gamers is still a monster!
And I think Apple need to localize it's paying methods. Last time my little niece wants Mine Craft so bad, my only way to get her one is to purchase and install it on her ipad by my account.
Now in China, nearly all the school kids in cities have a tablet. And people often don't have a credit card before getting a job. What a pity that Apple can't harvest from the vast number of kids. It needs to introduce Apple prepaid card.
Now the Chinese mobile market is much a stew, game makers are not sure what to do to gain, devise smart monetization, or fight piracy. But I believe as China is getting herself toward the rank of developed countries, we will catch up.
More of my articles about games & art production: