This article was originally published on BriceMorrison.com
I'm predicting by 2020 there will be a billion dollar game where the primary way to play is with your voice.
Right now Amazon Alexa and Google Home are simple utilities. The games on each of them are just toys - experiments to round out playing music and turning on smart lightbulbs. But each month signs are growing stronger that voice is becoming the next major growth platform. And as technology goes, games follow.
Platform adoption
There are two signs that voice is the next major games market. The first is platform adoption. Amazon is very secretive about revealing numbers for each of its products. So is Google. But the estimates are enormous.
The rate of adoption and future estimates for smart speaker devices are very similar to the growth of smart phones after Apple introduced the iPhone in 2007. By 2009, 62 million Americans owned smartphones, reaching a majority of Americans in 2014 - just 8 years after the iPhone's introduction.
A Juniper report predicts that a majority of US households will have a voice activated smart speaker in their home by 2022 - the 8th year since Amazon Echo's introduction. Forrester Research estimates there were 15 million households with smart speakers in 2017 and predicts 26 million by the end of 2018. Echo was the top selling product on Amazon for both the 2016 and 2017 holiday seasons.
The war for the smart home is raging, a fight both tech giants believe will deliver lucrative control of all sorts of devices over the next decade. This war is driving each of them to spend enormously to push their platforms: spending on manufacturing, advertising, subsidizing costs, and building a robust and useful platform that makes theirs the one to have. All of this lays the groundwork for a massive untapped install base for game developers to reach.
Revenue opportunity
The second sign is revenue opportunity. Serious game developers will only invest serious effort into a platform if there is a way to make substantial revenue. It took Apple 3 years to introduce in-app purchases, and another 3 years after that before mobile had their first pair of billion-dollar hits: Clash of Clans and Puzzle & Dragons.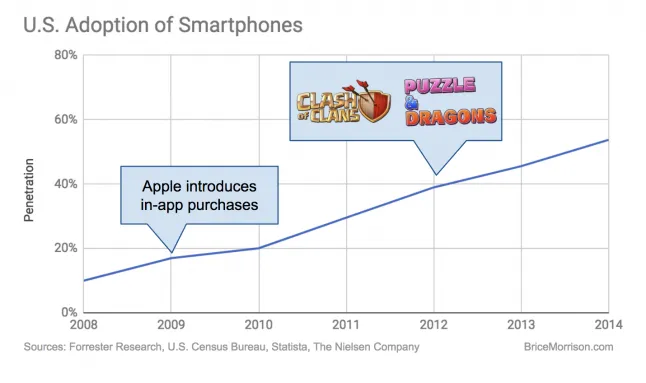 Until recently the only way to make any money as an Alexa developer was from Amazon directly. Because of Amazon's interest in having the best platform, they make cash payments to developers who make the most popular skills. Two years ago the market for these Amazon cash outs was less than $500,000. In 2018 it is expected to hit $50 million.
But Amazon-funded incentives will only go so far. The real floodgates opened in November 2017 when Amazon announced Voice First Purchases, allowing developers to charge money for premium content within Alexa skills. "Would you like to play the next chapter for $0.99?"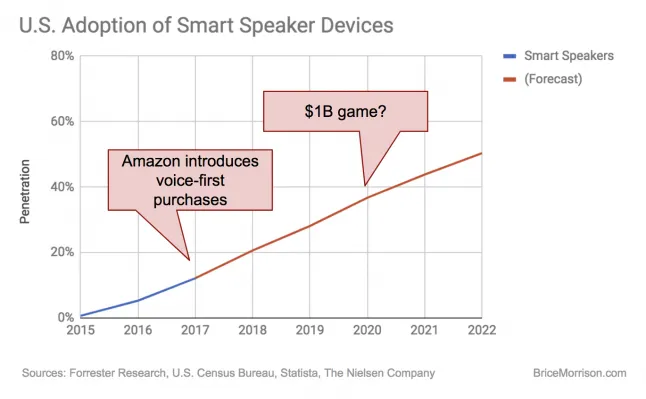 Every Echo already has the user's purchase credentials, making it easy to buy. Adding IAP to voice is the equivalent of when Apple introduced in-app purchases in the app store in 2009, rocketing us from the humble beginnings of Doodle Jump to the $46 billion mobile games market we have today.
If voice devices follow the same timeline, then we can make a few predictions:
2018 will be the year that small indie game developers start to make serious money from Alexa
2019 will see the rise of studios and a handful of big players entering the market
2020 will see our first candidates for games that could hit $1 billion
What does a hit voice game look like?
So if the install base and the revenue opportunity is there, what type of game will this billion dollar surprise be? This is where we move further into speculation. I don't know, but I'm willing to make a few guesses of how we'll get there.
Emerging game platforms typically start as simple gimmicks, then move to simple games, and then only later do they become sophisticated businesses. With voice we are still in the early incubator days. The games on voice platforms now are rudimentary - classic text-based games remade for voice control:
Magic Door is an adventure game where players make choices to explore haunted forests, houses, and more. Choose-your-own-adventure games are popular
Jeopardy! gives players five trivia questions each day from the classic American game show. Similar trivia type games are numerous
Yes Sire is a classic governor game where players make choices to balance the desires of different constituents and stay on the throne
Party Foul is a party game using the Echo Buttons, where players try to guess how well they know each other
These are all fun little toys to play with. But none of them are made better by voice. One could argue they are slightly worse than their text-based ancestors, since they move slower than you could by reading.
For voice games to reach the next level, it must be the kind of game that truly only works with voice. Mobile phones work as a platform because they allow you to play on the go, in short spurts, at any time. So the hit games (in the west at least) were designed to take advantage of that. Candy Crush levels can be cleared in under a minute. Episode's chapters can be finished in a few minutes. Clash Royale matches are over in 4 minutes tops. These hits were incubated in the mobile game environment and fit the platform's advantages.
What are the equivalent unique attributes for voice games? The market has yet to figure it out, and finding it will require a lot of experimentation. Maybe it's the fact that they can be played while you're occupied doing something else with your hands. Maybe it's the ability to play sounds and music over home speakers. Maybe it's interfacing with smart home devices. Maybe it's using voice to talk to artificial intelligence and machine learning systems. Or more likely it's something I haven't thought of. We don't know.
The increased opportunity for revenue will drive more and more experimentation needed to figure the winning model out. This will be small indie game developers first throwing all kinds of weird ideas at voice, the kinds of ideas that aren't really commercially viable, but they are fun. Eventually one of them is going to tap into something special and we'll have on our hands the first hit Alexa game that makes a nice chunk of change for its developer.
From there it's only a matter of time before veteran industry game makers take notice and enter the fray. By adding depth both in terms of gameplay and monetization the market will grow, sowing the seeds for a true breakout hit.
It's worth mentioning that this may evolve across a range of voice devices. As of today Amazon has the original Echo, the Dot, the Show, the Spot, and Echo Buttons. Google has their original Home and the Home Mini, but also their entire Android mobile phone base with Google Assistant. Amazon being ahead in the smart home race may prove to be critical. Then again, Google being able to tie in Home and Assistant with mobile phones may be as well. We'll have to see.
But...these games won't work!
There are a lot of objections to voice become a major games platform. Here are some that I hear frequently:
"Voice is lower fidelity than a screen - you'll never have as much control."
"No one wants to talk when they're in public or on the bus. People play games silently."
"There's nothing you can do with your voice that couldn't be done better with a screen."
These may all be valid. But to me these all sound like evaluating a new paradigm of games by the rules of our current environment. New platforms create totally new ways of thinking, of playing, and of entertaining. We don't yet understand the possibility space of voice very well at all.
These objections sound similar to others said in the past that were eventually proven wrong:
"No one would pay money for a flash game on Facebook." (FarmVille)
"Mobile screens and touch controls are too small to do any intense strategy." (Clash of Clans, Clash Royale)
"No one would get up on their couch and walk outside to play a game. People like to play sitting down on their phones." (Pokemon GO)
It will take time to understand how voice games are and are not like today's current games. But there is enough new stuff to experiment with that I think it's short sighted to say it can't work.
What could go wrong?
A voice games market isn't inevitable. Games always ride on top of technology and are, to some extent, subject to the whims of the companies that own that technology. Amazon and Google's main strategy is to control the smart home. My prediction of a robust voice games market may end up being wrong if Amazon or Google decide that big budget games are irrelevant to their goal. This wouldn't be unlike how Facebook essentially strangled their own games platform because it began to conflict with the platform strategy as a whole.
For the voice games market to mature, Google and Amazon need to discover that better games on their platform drives demand for the platform itself. The incentives of the main strategy need to line up with better games. They may not. Apple and Google built the App Store and Google Play into what they are today because consumers will buy the devices with the best software. If one of them had the top games and the other did not, it would be a huge disadvantage.
If the giants do find that better games drive hardware adoption, then you can expect to see both companies doubling down on the genre. If they open up their huge install base generously to developers and make discoverability and conversion easy, then the market will start to grow quickly. But if they keep their users locked down and inaccessible, then the platform will fail to grow hit games.
A Loquacious Future
It's easy to forget that for most of human history voice was the natural way of interacting with the world. Machines and buttons and screens have been the norm only for the past half century. As machines get smarter and start listening more, new ways of interacting will become more natural. Game makers have always prided themselves on making the world into a playground, even as it changes. Voice will be no different.
Brice is a Staff Designer at WB Games and blogs at BriceMorrison.com. His views are his own and not WB's.