Fire Emblem Awakening is one of those games that leave you longing for more. When I find myself experiencing this, I know that I've truly stumbled upon a great game. I'm not alone in saying so. Numerous people, gamers and critics alike, have applauded Fire Emblem Awakening for refined gameplay mechanics and fantastic narrative (yes, the localization is superb).

I'm not here to debunk any of their claims. In fact, I agree with them wholeheartedly. However, I would argue to say that what really lead Fire Emblem Awakening to its success are its introduced casual gameplay elements. In particular, what I want on focus on are the adjustable difficulty settings. Let me elaborate for a bit.
Fire Emblem Awakening is not my first foray into the Fire Emblem series. That was with Fire Emblem: Shadow Dragon, a remake of the first Fire Emblem game for the Nintendo DS. A few chapters in Shadow Dragon, I kept losing characters to permadeath and I would constantly restart. Eventually I stopped playing. I lost interest in the game. It was then that I deemed that perhaps the Fire Emblem games were not exactly my cup of tea.

Fast forward to present-day. It was hard not to notice everyone raving about the latest Fire Emblem game, Fire Emblem Awakening. This ignited a sparked interest in the series again. However, I only ended up picking up the game in June along with Animal Crossing: New Leaf as part of coupon deal. My hesitation with Fire Emblem still lingered, so my 3DS time was devoted to Animal Crossing for a while. However, thanks to a certain friend, my Facebook feed was once again filling up with Fire Emblem Awakening praise. The timing was good because summer classes just ended and I decided to give the game a chance. That was a chance I did not regret.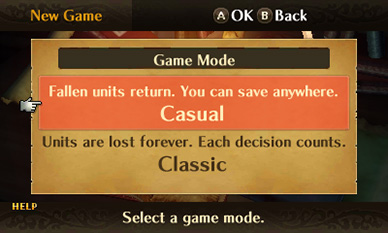 Stephen Totilo of Kotaku.com claimed this game to be "The Ocarina of Time of Fire Emblems." In comparison with my own experience with Zelda, I would definitely have to agree with this statement. However, I may have never realized Fire Emblem Awakening's potential if it were not for a few tweaks the developers did by adding casual gameplay elements. Most notably is the ability to adjust difficulty (Normal, Hard, and Lunatic) and the option to choose between Classic Mode (turning permadeath on) and Casual Mode (turning permadeath off). In combination, this gives the player 6 different ways to play the game. In an Iwata Asks interview, Kouhei Maeda, the director of Fire Emblem Awakening, said, "I realized there was a value to having various modes, because if it was too difficult on Classic Mode, they could play to the end in Casual Mode. I think a lot of people will play all the way to the end" (http://bit.ly/XVqv6w). This insight is probably what helped saved the series from possible extinction (http://bit.ly/18kf29E). Difficulty no longer becomes a barrier for new players. This, in turn, greatly expands the Fire Emblem audience.
I personally played on Normal and Classic (and still restarted every time a unit died). I found myself enjoying the game so much that I was grinding for fun. A game that I could of beaten within 20-30 hours transformed into a 50-60 hour endeavor. Now I'm trying the game on Hard and Classic, and I'm seeing myself in a similar situation that I found myself in on Shadow Dragon. However, this time I've already played through the game to the end on Normal and fell in love with it. As a result, Fire Emblem is no longer a series that I've deemed "not fun" but instead as something that I can't wait to play again. Normal Mode allowed me to ease into the franchise, and in turn the franchise acquired a new fan (and future potential paying customer). My only gripe is I wish I could adjust the difficulty whenever I want, because all that grinding made me a bit over-powered at the end.



Fire Emblem Awakening's attempt to add casual gameplay elements into a typically hardcore franchise has resulted in great success. By embracing the casual market, Fire Emblem Awakening found itself in the hands of many more players. In fact, no one starts as a hardcore gamer. Yet, Fire Emblem Awakening also had something to offer to its most hardcore fans. More games (and consoles) need to follow this same formula. By focusing on one audience over the other, games ultimately lose out on a potential market. However, the casual market is the future of gaming. As much as I enjoy the treats specifically targeted to hardcore players, the casual audience of today will be the hardcore audience of tomorrow.
---

See the original blog here: http://wp.me/p2z6je-nw.