This past weekend, ESL organized the Intel Extreme Masters World Championships, one of the biggest esports events ever, in Katowice, Poland. The event broke several records in terms of live streaming, especially when it comes to Counter-Strike: Global Offensive (CSGO).
It is important to notice that CSGO's esports scene focuses on 4 "Major Tournaments" held each year by third-parties in partnership with CSGO's publisher Valve. These Majors can be compared to Grand Slam events in Tennis as they bring out more excitement and attention than the others.
To illustrate CSGO's trend, we have chosen to look at Gamoloco's Weekly Game Scoreboards (which only consider Twitch.tv numbers), asking this question: if a gaming event manages to generate a lot of interest, can it change the live streaming viewing trends for a given game on any given week?
The answer is yes, world class events can do this, in spectacular fashion even. Prior to last week, CSGO's previous highest weekly score for Hours Watched, 9M+ Hours Watched, was recorded during the week of DreamHack Winter 2014, ending on Nov 30th 2014. Dreamhack Winter is one of the 4 yearly CSGO Majors.
And this record was only shattered this past week, as seen on the screenshot, with the impulse of IEM Katowice as 20M+ Hours Watched were recorded for CSGO only. That's a 116% increase in Hours Watched between the weeks of Nov 30th and Mar 15th.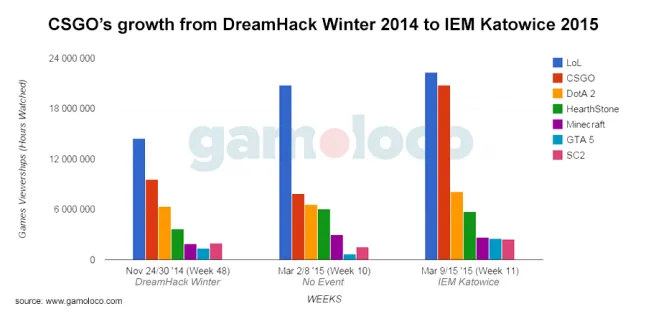 Screenshot 2: Week over Week, with and without events, comparisons.
Alright so Katowice's week was twice as big as Dreamhack's... But what if we compare Katowice's week to the one right before, when there was no major live CSGO event?... The growth is even more impressive at 164%, as on Week 10 CSGO was watched for "only" 7.8M Hours.
Streaming as a whole has been growing a lot and CSGO is growing at an even faster pace than the rest... yet all that only makes it a contender. With this stunning 20M Hours Watched over the past 7 days, CSGO still only made it to 2nd in our Weekly Games Scoreboard as Valve's comeback hit couldn't beat streaking streaming king League of Legends, which scored 22M Hours Watched, also supported as it was by IEM.
Here is a table gathering some of the numbers mentioned above and some more for your insights and analysis.