The disruption in mobile gaming that few are talking about
by Mark Bivens
Mark Bivens is a Silicon Valley native and former entrepreneur, having started three companies before "turning to the dark side of VC." He is a venture capitalist who invests a large fund in Paris and a small fund in Tokyo (aka the Rude VC). You can read more on his blog at http://rude.vc or follow him on Twitter @markbivens.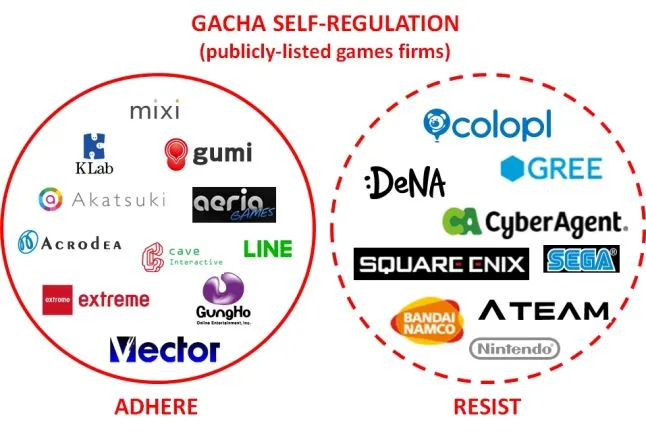 In 2016 we witnessed numerous noteworthy events in mobile gaming: the record-breaking success of Pokémon Go, the critically debated walking start to Super Mario Run, the demise of Flash games, the return of HTML5 with FB Messenger's explosive launch of Instant Games, etc.
One instance of disruption in this sector in Japan seemed to receive little attention in the markets, however. I submit that this one represents a potential ticking bomb for the industry. I'm referring to the guidelines governing Gacha mechanics, self-imposed by the Japanese online gaming association back in Q2 last year.
Gacha is a monetization technique prevalent in Japan whilst remaining relatively unheard of until recently in the West. The gacha mechanic derived from the original gashapon (ガシャポン) in which vending machines popular in Japan would dispense capsule toys at random. The randomness of the distribution adds an element of chance which draws the obvious comparison of gacha to gambling. In mobile games, the gacha prize could be a special character, weapon, power, event-driven offer, or other rare item.
As I once discovered during a conversation with games expert Dr. Serkan Toto, game designers employ several different incarnations of gacha techniques, though all stem from the same lottery-like principles (here's a more thorough explanation of the various gacha mechanisms from Serkan).
Whales make the business model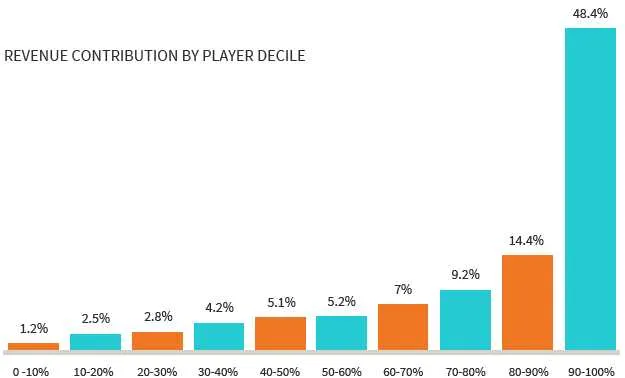 With gacha techniques, mobile game makers target big-spending "whales." The dependency of certain mobile games' business model on whales cannot be understated. According to a new analysis conducted by marketing firm Swrve, the top 10% of players contribute to nearly half of all mobile game revenues, and 48% of revenues come from a mere 0.19% of all players.
On the prior New Year's Eve, a Japanese "whale" spent over $6,000 during a single evening in an effort to obtain a rare character on Cygames-produced Granblue Fantasy offered through a gacha technique.
Some Western game studios have begun deploying gacha mechanics in their games, though the technique remains somewhat limited in Europe even today. Part of the explanation I believe comes from the slightly different process of mobile game development between Europe and Japan (see game development infographic below).
Self-imposed regulation
In an effort to stave off more draconian government measures, Japan's Online Game Association imposed a new regulation that established two significant constraints on mobile games: a minimum 1% payout ratio, and a maximum 50,000 JPY billed per player. Technically, these industry "guidelines" are not law; however, game companies have understood that failing to adhere to them may trigger stricter government intervention.

Because of significant contribution of gacha mechanics - and from whales in particular - to revenues, the impact of the regulation will make a direct hit on the bottom line (remember, a virtual item or a power-up has zero cost of goods sold). This likely explains why several of Japan's notable mobile games companies have not adopted the new gacha guidelines (see graphic).
It will be interesting to see how established mobile games companies confront the new market environment in 2017.