To see the original article with formatting and links, visit my blog: GeeksMirage.com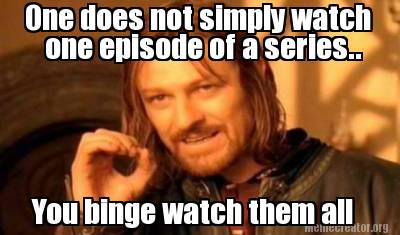 I read a Vogue article on Binge Watching, soon after House of Cards: Season 2 came out and have been meaning to write about this topic for quite some time.
What is Binge Watching? How do we get used to watching shows this way and why is Netflix going this route? These are the questions I am looking to address with this narrative.
My Experience:
Until 12th Grade (Senior Year of High School), I was living at home with my parents and watched TV based on the channel lineup aired by my cable provider. Hence, I knew only about the content which was aired on TV and my daily schedule revolved around my favorite shows. After school, from 3.00pm to 4.00pm I would watch the "Power Zone" on Cartoon Network which consisted of The Centurions and Swat Kats. From 8.00pm to 9.00pm, I would watch The Fresh Prince of Bel Air and Will & Grace. It didn't matter whether the shows were reruns or whether they were showing the episodes in the correct order. What mattered to to me, was that the content was available to view and enjoy. Let me repeat that, the only thing that mattered, was that the content was available.
During my undergraduate days, I was introduced to a ton of new media content. From F.R.I.E.N.D.S. to Survivor, from The O.C. to Prison Break, each show was new and different. The challenge? Non of these shows aired on cable television, and if they did, there was no way to watch these other than the time-slot when they aired, as DVRs were still not a mass market product. So, as typical college students, we found websites which would air this content. So again, the main issue was of availability.
But there is a point to these stories. This is how I was introduced to Binge Watching. Since I started watching F.R.I.E.N.D.S. in 2005, all the 10 Seasons had already been aired. So I had ~240 episodes available to me, to watch at any time. IIRC, Survivor had already aired about 14 Seasons, The O.C. had aired 2 seasons and Prison Break was the hot new show. So now that the content was available to me 24x7, I was watching multiple seasons a week and did not have to watch it episode by episode every week.
From a Media perspective, this is interesting for multiple reasons:
1. Instant Gratification - Since all (or a significant number) of Episodes were already available, I could choose to watch them anytime I wanted. I did not have to sit in front of my TV at a particular time or did not have to make sure that I had subscribed to that 1 particular Pay-Per-View channel.
2. Media Hook - Because I consumed massive amounts of content, I found many TV genres interesting. Dramas, Soaps, Action, Reality Shows etc. Also, if the show was still live, it received another active and interested viewer.
3. Social Outreach - Since I watched so many TV Shows, a lot of friends would come to me for recommendations. So, during the heydays of Googles Social Network Orkut, I would talk about these shows on online communities or recommend them by word of mouth.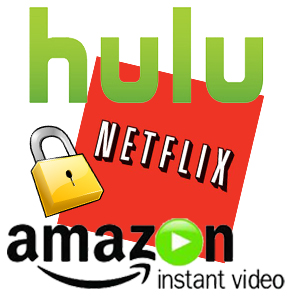 What is happening today?
Today, the average consumer has a number of options available to them. They can watch traditional cable television through the providers and record shows on their DVRs. Or one can avail of services such as Netflix, Amazon Instant Video, Hulu Plus etc. All of them have different business models, Netflix offers Digital and DVD Subscriptions, Amazon provides their Instant Video services for free as an additional hook into their Prime program and Hulu Plus provides a large amount of archived content, but even the Paid membership includes advertisements.
So we can clearly see that media providers find value in providing such services, they just aren't sure about a) How to Provide them and b) What kind of content to provide ?
So you mentioned Binge Watching ..?
Yes. Hopefully, the information above gave you some context about the Digital Media space.
Until a few years ago, we were all used to watching shows published by the big guys - HBO, CBS, NBC, ABC etc. Then, came the Youtube era where a lot of Youtube Vloggers started creating interesting content, that people were happy to follow on a daily or weekly basis. E.g. One of my favorites, Pure Pwnage.
This finally led to Netflix creating an original show called House of Cards, starring Kevin Spacey. It was the rage and everyone was talking about it. When Season 2 was going to air in February 2014, even President Obama tweeted about it. Hence, Netflix developed more shows such as Orange is the New Black and Amazon came up with Silicon Valley.
The similarities between the Netflix shows? They release seasons ONCE a year and the entire season is released at the same time. This means you get 10 episodes to watch, back to back, over an entire weekend, but have nothing to watch for the rest of the year until new content is released again.
Based on binge watching statistics, Netflix also made a change to how episodes are viewed. Now, when you finish one episode, it automatically starts the next one. So, you don't have to go back and manually select the next episode, making it a seamless binge experience.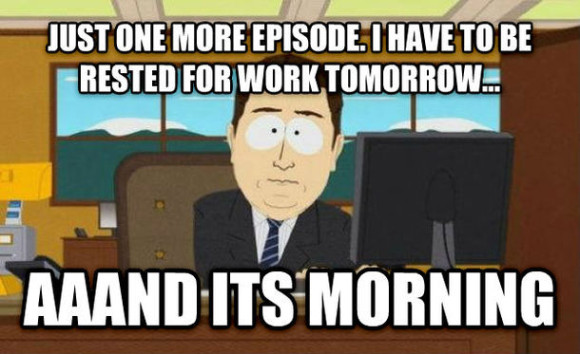 So whats the big deal about releasing 10 episodes together or over 3 months ? I eventually see all the episodes.
Surprisingly, it makes a huge difference as to how popular a show is and how people choose to watch it. Its much easier for someone to take out one weekend to watch an entire season, than to try and watch one episode every week and to make sure you do so before the next one comes out.
From a consumption and marketing strategy, Binge Watching is great. You get a lot of hype before the show is released, everyone talks about it at the same time and there is a lot of media frenzy. The challenge? The frenzy occurs for a month and then dies down.
My 2 cents? I love to Binge Watch shows and it is great that I don't have to wait, episode after episode, to know what happens next in House of Cards (I'm looking at you Game of Thrones, grrrr). Hence, from a studio perspective, they may want to air the episodes in a traditional weekly manner, so that folks keep talking about the show and it pulls constant advertising revenue, especially by cross promoting shows.
The funny thing is that as a consumer, I personally prefer the weekly format too. I have no issues giving up one weekend for the smorgasbord that is House of Cards. But I like the format of the weekly shows, as it is constant. It gives me something new to watch every week. After all, why do we watch TV? To have fun, to relax or to have some interesting discussions with ones friends. With House of Cards, we discuss it once a year and that's about it. But with Game of Thrones, Survivor and even Million Dollar Listings, we discuss it week in and week out. Oh, did you know what Tyrion Lannister did last week? Did you see the blindside and how they found that dang Immunity Idol? Which broker would you prefer when buying a house, Frederick or Ryan?
In the end, everything comes down to Availability and Sociability. If I can watch what I like, when I like and talk about it to people; That my friends, is the true value of a Television show.