(I initially posted this article in my blog LEAP TO THE FUTURE. )
Super Mario Run launched at the same time in about 150 countries last week. Of course, I purchased, played and beat it in hot haste. Definitely, I'm confident that the latest Super Mario franchise is one of the best mobile platformer!
I recently responded to some interviews, including the WSJ and so I would like to note my impressions here.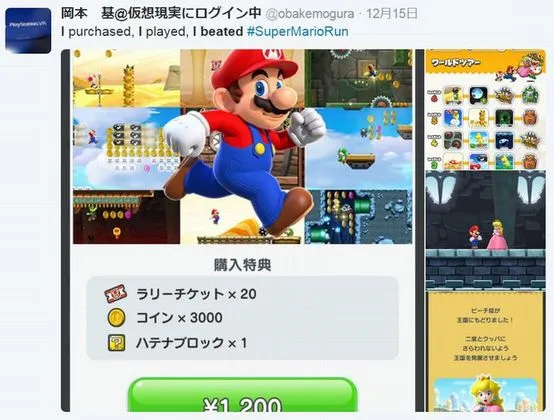 The innovative game design of Super Mario Run
The game is a brilliant advance of the platformer genre in mobile games and a historical milestone. The concept of the game is clear. My former boss Miyamoto said that everyone can play with one hand while eating a hamburger with one hand. I know that some Nintendo game-designers have thought that one of the great advantages of mobile games is playing with one hand.
So now we have the New Super Mario Bros we can play with one hand. It offers many gamers keening the series an excellent play feels like NEW Super Mario Bros, including familiar enemies and gimmicks like GOOMBA, KOOPA TROOPA, BULLET BILL, fire bar, lift and so on.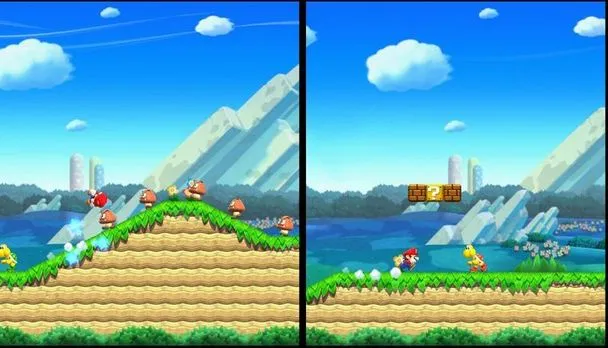 GOOMBA, KOOPA TROOPA
It is a wonderful example of conversion from two-hand gameplay (manual run) to one-hand gameplay (auto run). Mario in this game can only run to the right. The bubble, the excellent, innovative mechanic relaxes that frustration, allowing players to restart from the place they want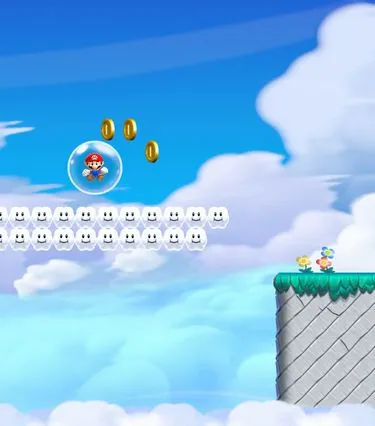 .
The bubble, new restart mechanic
Also, players can extend the jump distance by Mario's Spinning in the air and control the timing to advance by the new gimmicks like Stop Block. Mario uses new gimmicks such as Arrow Block and Long Jump Block to do various jumps like Backflip and long jump.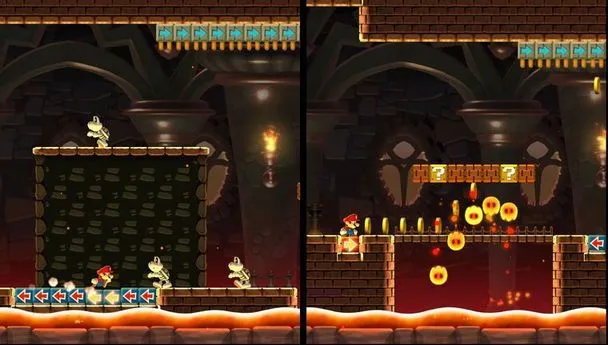 Arrow Block and Long Jump Block

The instant success of Super Mario Run
This excellent platformer accomplished the brilliant achievement! It got top of iOS grossing ranking in about 50 countries, including US and some European countries.
According to the AppAnnie, the game accomplished more than 37 millions downloads and more than $14 million worldwide in just three days after its release. The conversion rate from free download to paid user is roughly 4 percent. In other words, the number of paid users is roughly 1.5 million.
(In Japan, Mario's home ground, Super Mario Run was ranked 6th on the first day grossing ranking. )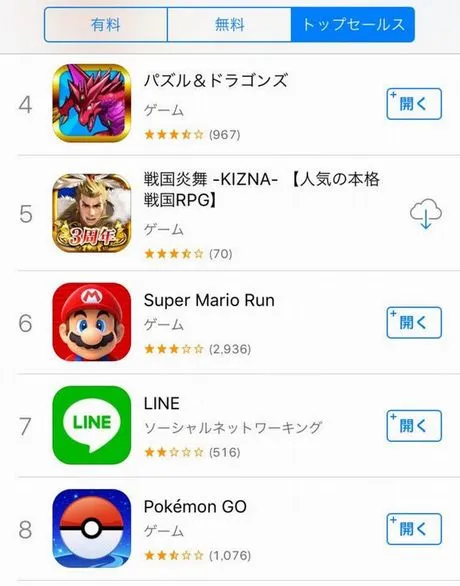 SMR got 6th in grossing ranking on the first day in Japan
Nevertheless, it is not to say that this excellent platformer reached the expected success. Why is it?

The ideal goal of Super Mario Run
Super Mario Run would bring huge "earning extra money" to Nintendo, but its potential might be even larger. At first, how many Nintendo as ideally want to sell Super Mario Run on iOS and Android?
Let me explain the following facts:
It should be noted that New Super Mario Bros (for NDS) sold nearly 30 millions worldwide at a price of around $50. New Super Mario Bros. Wii, too.
Nintendo plans to release of Nintendo Switch, a new game platform with aspects of both handheld and console, in this spring. It might lead to a shrinking business. But, if Super Mario Run would sell over 30 millions, the company could get "one more game platform" equal to NDS or Wii. How much Super Mario Run sells might affect the company's game platform strategy.
From this point of view, the final ideal goal is to achieve 300 millions downloads and 30 millions sales. Is it too ambitious? Sure, but the company sold New Super Mario franchises despite the price 5 times, in 2006 and 2009. The ideal goal for Super Mario Run is to sell 300 million downloads and 30 millions.

The difference between free-to-play and free-to-start
Needless to say, it is not easy that Super Mario Run would have a great success to sell more than 30 millions. Naturally, the game needs to attract more casual gamers beyond core Mario-gamers. So, It needs to encourage more people to pay attention to it and to get interest it through various viral media.
In general, mobile developers choose a "free to play" strategy to maximize participants int their games. Nintendo chose a "free to start" strategy named by the company.
I would like to note here. Although the "free to play" strategy and the "free to start" strategy seem to be nearly equal, there is a large clear difference.It is how to utilize time of users playing for free.
Super Mario Run offers all players only 3 free-to-play stages. In other words, all players are permitted free-to-play for about 5 minutes or so. Whew. It is not enough time to consider purchasing the right to play all the stages.
So, the company isn't able to utilize 90 percent of participants as collaborators of buzz marketing. On the contrary, while 10 percent of players purchase, the remaining 90 percent of players are spreading negative comments through various viral media.
Many many many complaints with the price and poor demo of this game are overflowing in AppStore reviews and social media like Twitter. Also, never few purchasers complain about the too few stages for sustained play. It is nothing but a large NEGATIVE buzz marketing.

So what should they do?
The share prices of both Nintendo and DeNA have dropped after Super Mario Run was released. Never few analysts forecast that Super Mario Run will not reach their own expectations in advance.
Never few developers say that Super Mario Run would have been better if it was released as a paid App without free demo. I agree, too. As an alternative, the game should have twice the number of stages and offer at least stages up to 2-4 as free-to-play stages.
Because usual players stopped playing don't post positive comments about the game to social media. It is crucial how long players can continue to play for free. In some mobile games, real-time 2-4 people multiplayer, simple stage editor and so on are introduced to extend playing time.
I believe that they change "free to start" strategy to "free to play" or "Paid" and expand the amount of contents if there are the sequel to Super Mario Run.

Acknowledgment
Thank you for reading this to the end. I hope this article gives you valuable insights. Ask me in the comments If you have questions about this article.