Despite the presence of the law, updated as of July 1, 2013, game developers continue to live in denial of the Children's Online Privacy Protection Act (COPPA) and its potential impact on their businesses. In a recent exclusive interview with VentureBeat, an FTC representative reportedly said the Federal Trade Commission has begun aggressively going after tech companies suspected of violating COPPA. In a follow-on piece last week, VentureBeat reporter, Richard Byrne Reilly, called out game developers and their utter denial about the underage gamers who play their games.
Reilly writes, "The FTC will first go after the larger ad and gaming companies that can afford the law's steep fines: $16,000 per infringing download, which could put total fines per company in the $3 million to $5 million range. This will set a precedent for the smaller ad and gaming operators who can't afford that big a hit, and pretty soon, everyone will fall into line behind the law." He continues, "If the FTC makes good on last week's promises, people won't be able to stay in denial much longer."
There is no question that COPPA can be confusing, and understanding if their game is even subject to the law seems to be a hurdle many game developers just can't get over. In response to this industry-wide confusion, AgeCheq created a simple online survey designed to answer the question for game developers: "Is my game subject to COPPA?"
The online survey, available at www.COPPASURVEY.com helps game publishers determine if their games should be modified to comply with COPPA. After completing the four-question COPPA Compliance Survey, developers receive a personalized survey result email detailing any issues with the compliance of their game, including links to specific sections of the federal law related to the issues.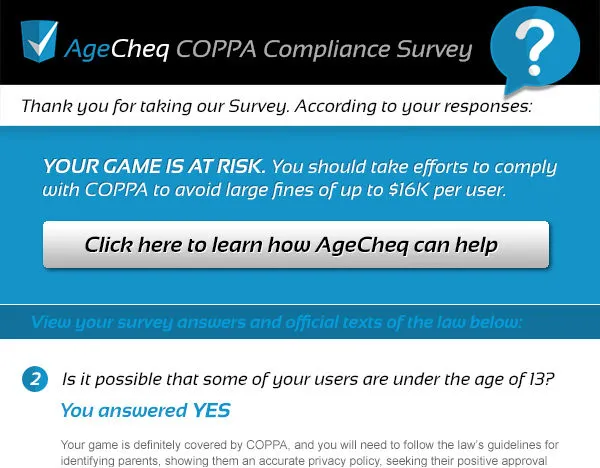 As I've reported here many times, all too often the game developers and publishers I speak to mistakenly think they are in line with COPPA, when in reality there are one or more things they are doing that make them an easy target for severe fines and other penalties under the law. This survey is a simple way to determine if your game is subject to COPPA, and if so, why, using the exact wording from the law.
Understanding exactly what COPPA expects from a game can be confusing, especially given the recent updates and the law's extension to the multitude of third party APIs utilized by the majority of games, including ad networks, mobile analytics tools, and social network services, among others.
I strongly encourage all game developers to complete the COPPA Compliance Survey and follow the Survey's recommended steps required for COPPA compliance in order to avoid potentially massive fines. If you have questions along the way, hit me up!
To learn more about COPPA directly from The Federal Trade Commission, visit the Complying with COPPA Frequently Asked Questions. Because there are numerous "incomplete" versions on the web, I encourage developers to always view the final, official text of the COPPA law, which can be found here: http://www.ecfr.gov/cgi-bin/text-idx?tpl=/ecfrbrowse/Title16/16cfr312_main_02.tpl