I looked over at my monitor and I saw a new e-mail. I've done this many a time. But this was different because the subject said "Congratulations, Sky Battles has". A chill ran down my spine. I clicked on the message as I've done countless times. What is this some kind of perverse joke! The message says "Your title has been Greenlit!". I waited. Read it again and started to piece together the evidence. It's 4.09 PM (Eastern) and that's around the time that another developer that I read on Gamasutra had received his e-mail notice when his game got greenlit, so this looks real. I almost fell down the stairs as I ran and yelled to my family of the news.
If I poked my head out the front door of my house in Toronto, and yelled "I'm going to be on Steam!", No one would even know what I was talking about, but you know what this means because you're a silly indie gamer like me with big dreams of success and fame and slightly mad. I say that because there are much easier ways to make a nice living and we just ignore that in pursuit of our art. Madness I tell you! This blog entry hopes to document and illustrate how Sky Battles rose in the ranks of Greenlight.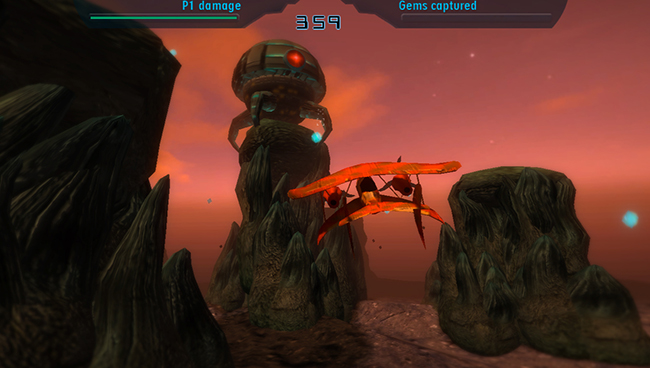 My greenlight campaign took 212 days and 14776 votes. The GL page received 37,538 unique visitors.
As a one man studio, the marketing efforts were soley driven by me and the budget was nil. My strategy to promote Sky Battles (even before GL) was to post regularly on various indie game forums and sites from the beginning of development. These included Toucharcade, Tigsource as well as Google Plus. Let's Play youtube videos were made and it helped but I found it difficult to acquire them from the Let's Play community. A big shoutout to "The King of Funk", "TheChrisCrash" and "ScottofEngland" for their awesome videos. I also posted builds to Gamejolt, Kongregate and indieDB to receive feedback from the multiplayer mode and also promote the GL campaign in a banner on the menu screen. I also posted a limited android demo that promotes the GL campaign. This method of promotion, using free demos distributed online has it's pros and cons and may depend on your game, but I decided it was worth doing. The advantage is that your limited demo will get distributed to many sites and there will be people seeing the advertised banner to go to your GL page. The downside is that potential customers my be turned off by an unpolished game that lacks the final touch.
Midway through my GL campaign, I started to get worried about the news that GL was either going to change or end and so I thought that I needed to elevate the number of votes. I started a key giveaway in exchange for a vote for a limited duration of a week to boost my numbers and this had a shocking impact on traffic and votes. At one point, I had received over 5000 visits in one day. This method may not be for everyone, but I believe giving a free key away so that you can get in front of Steam customers is worth it. Interestingly, my traffic and votes were much higher, even a month after the one week giveaway than they were previous to it.
Below is an animated gif showing the Greenlight stats. Notice the big jump of traffic in the summer, followed by a long tail of improved traffic. There was a bump in sales after the giveaway and it looks like other sites picked it up which helped.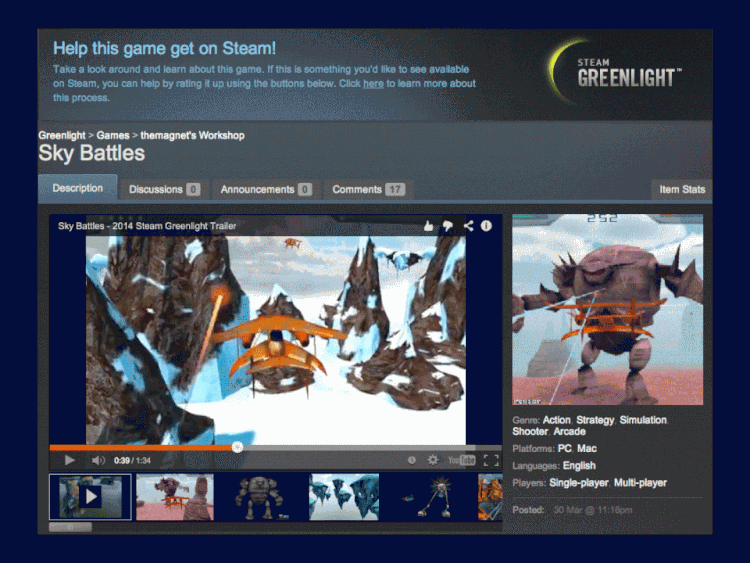 My advice for a successful GL campaign is to share every milestone with the gaming public by posting articles, videos and images. Below is a list of things that I think helped my air combat game Sky Battles climb the ranks of Greenlight.
* Share every milestone with the gaming community from the beginning of development.
* Post free limited builds and inform players in the game that a Greenlight campaign exists.
* Seek out Let's Play youtubers to promote your game.
* Consider contests or key give aways to drive traffic to your Greenlight page. In my experience, this was by far the most effective method for creating awareness for my campaign.
One last point I wanted to make is that my game Sky Battles spent the last three months of the campaign in approximately the Top 10-20 rank. Week after week, it would hover in the same rank and I wondered if it was destined to stay there ignored by Valve. But eventually, it made it so don't lose hope!
More info. about Peter Lacalamita and his air combat game Sky Battles can be seen at the following links:
Steam:
http://steamcommunity.com/sharedfiles/filedetails/?id=244198767
Magnetic Studio:
Instagram:
http://instagram.com/magneticstudio