At its Galaxy Unpacked event today, Samsung bolstered its partnership with Microsoft by optimizing the xCloud game streaming technology on its devices, as well as offering free three months of Xbox Game Pass Ultimate with pre-orders of Note 20 smartphones. Game Pass Ultimate is a game subscription service which allows members to download and play a library of games on Xbox and PC for a monthly fee. From 15 September, over 100 games will be available to stream via xCloud, which Microsoft has been publicly testing since 2019.
Microsoft looks beyond consoles and PCs
Microsoft has previously set itself an ambitious goal of reaching two billion gamers worldwide – the only way it can achieve this is by looking for opportunities beyond gaming consoles and PCs. This however doesn't mean that Microsoft is stepping away from these categories. The new generation of Xbox consoles, led by the Xbox Series X, is expected to be launched in few months to compete with PlayStation 5. Meanwhile, it has pledged to release upcoming first-party games on PC at the same time as on new consoles.
Partnering with Samsung, which sold nearly 300 million smartphones in 2019 alone, strengthens Xbox's position in cloud gaming and will further increase awareness of the Game Pass subscription service, which already has over 10 million members.
Game Pass will arrive on most Android smartphones on 15 September, but in order to differentiate, Samsung has collaborated with Microsoft to deliver a more optimized experience on flagship Galaxy devices, such as the new Note 20 and Galaxy S20 devices, Galaxy Z Flip, as well as Galaxy Tab S7 tablets. Improvements include:
Wi-Fi optimizer for reduced latency
Optimized Bluetooth gamepad experience for reduced latency
Optimized Bluetooth audio for reduced latency
Game Booster app integration (includes enhanced processor management, do not disturb feature, network usage information)
Connect and download – the first time you pair a Bluetooth controller it initiates the set-up phase for XGPU automatically. After the app is installed, any time you hit the home button on a controller, it will automatically bring up XGPU
Securing partnerships will be vital for cloud gaming providers
Forging partnerships with the leading consumer device makers and 5G network providers will be a major battleground for cloud gaming providers, as they jostle to address casual gamers' growing appetite for more complex games on smartphones. According to Omdia, as of July, there have already been 29 partnerships involving cloud gaming companies this year (see: Cloud Gaming Partnerships and Bundles Tracker: 2Q20). These involved the likes of Google, Nvidia, Ubitus, Rovio, Blacknut, and Tencent.
It's important to highlight that the cloud gaming market is currently minuscule – representing less than 1% of the $120 billion global games market, according to Omdia's Cloud Gaming Revenue Forecast. It will however grow to 5% in 2024, when it is set to generate $8 billion globally (see below).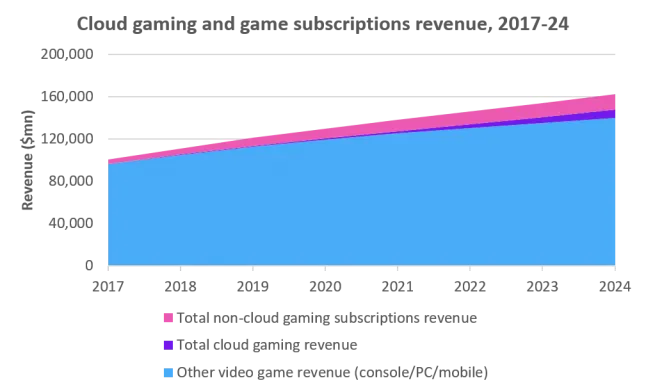 Microsoft has quickly become a force to be reckoned with in cloud gaming thanks to its cloud technology, first-party content and an established Xbox gaming brand. It already has a head start with partnerships, which includes network providers SK Telecom in South Korea and Reliance Jio in India. On 4 August it partnered with several peripherals manufacturers including Razer, PowerA and 8BitDo to create accessories for cloud gaming. Importantly, Microsoft's recent decision to shutter its video live streaming service Mixer in favor of partnership with Facebook Gaming underlines Microsoft's desire for greater xCloud exposure.
Google, Amazon, and Sony are watching closely
Google, which does not have the benefit of a core games business like Xbox, is actively investing in creating one. Google has shown its readiness to work with network providers, has an engaged YouTube audience and Stadia is beginning to resemble a fully-fledged service following a weak launch in 2019. However, Google's past challenges in converting free users into paying users will be difficult to overcome. Despite its AWS prowess, 150+ million Prime subscribers and Twitch ownership, Amazon has yet to enter the cloud gaming arena, with its Project Tempo launch delayed to 2021. Sony has many strengths, including 800+ games on its rival PlayStation Now cloud gaming service, but has only tentatively promoted the service on devices other than its consoles. Given its laser focus on the launch of PlayStation 5, it's unlikely that Sony will be looking to promote the PS Now service beyond the context of its consoles in the near future.