Roblox Corp. is kicking off its annual development conference RDC 2023 with the announcement of major new features for the platform. These include an AI chatbot aimed at assisting the development of "experiences" in Roblox, a new open source communications tool called Roblox Connect, and changes to how payments are processed on the developer-focused Creator Marketplace.
Said marketplace will no longer make use of Robux, the company's in-app currency that drives the bulk of its revenue. Roblox is also changing its policies to allow developers selling their work on the marketplace to keep 100 percent of proceeds from sales, minus tax and payment processing fees.
Additionally, it was announced that Roblox will soon be available on both PlayStation 4 and PlayStation 5 in October.
The company says each of these new announcements are aimed at making Roblox a "daily utility" and are part of its mission to "connect one billion people."
In an interview with Game Developer, Chief technology officer Dan Sturman gave some much-needed context around the company's major announcements—and explained why the company is fine having developers pay each other using a fiat currency on the creator market, while still making use of Robux to sell digital goods to players.
Developers can use dollars, players must use Robux
Shifting the Creator Marketplace's payment directly to US dollars and eliminating a platform-based cut is a boon for developers creating games and other "experiences" (the company's preferred nom de guerre) on Roblox. As Sturman noted, this shift will let developers receive payments faster, and better enable them to make Roblox asset development a full-time job.
"If somebody decides they're passionate about building plugins in Roblox Studio, we want to enable them to be able to do that [without] having a job on the side."
He added that it's in the best interests for Roblox in the long term if developers are able to take home as much money as they can from their sales.
A shift to embracing fiat currency on the developer-focused market did make us wonder—would Roblox Corp. ever consider a similar shift for the in-app spending market? Currently if players want to buy in-game items in Roblox or subscribe to their favorite Roblox creators (itself another new feature unveiled by the company recently), they have to purchase Robux to do so.
(Interestingly, Roblox Corp. also announced today that creating and selling items on the user-generated content marketplace is now available to anyone over the age of 13 who passes an ID verification check).
Sturman said you shouldn't expect that status quo to change any time soon, saying that the Robux system "seems to be working quite well" when it comes to players purchasing items for their avatar or spending on games inside of Roblox.
We quizzed Sturman about this before the debut of a video from More Perfect Union that scrutinized how the company makes use of Robux to extract value from young players. The in-app currency still has an unfavorable conversion rate whether you spend money inside or outside of the platform, and its real-world value has been at the center of a class-action lawsuit accusing the company of facilitating gambling among underage players.
Sturman emphasized that "safety and moderation" remain at the heart of how Roblox Corp. is managing its platform.
What can you do with Roblox's AI chatbot?
Roblox Assistant, a new "conversational AI" that will be available in Roblox Studio, is a chatbot that can both answer common development questions and help implement features without coding them from scratch.
This is not the first generative AI product implemented in Roblox Studio. The company previously deployed Code Assist, an "AI assistant" in Studio Script Editor that helps autocomplete code as you're programming, and Material Generator, a tool that lets developers automatically swap the materials of 3D objects.
In a statement, the company explained to Game Developer that it saw a "2x increase in the amount of inserted code" after Code Assist was unveiled.
Sturman pitched Assistant to us as both a quick search solution to answer development questions, and a tool to quickly build game worlds instead of assembling them by hand. "You could tell Roblox Assistant 'make it rain 10 percent of the time in my world, and that will go directly into what we've done with Code Assist, and start generating the scripts to make that happen."
"You can be interactive with it—you can say 'create a [forest] for me. Wait, no, I want it to look more northern. Can you replace half the trees with pine trees?'"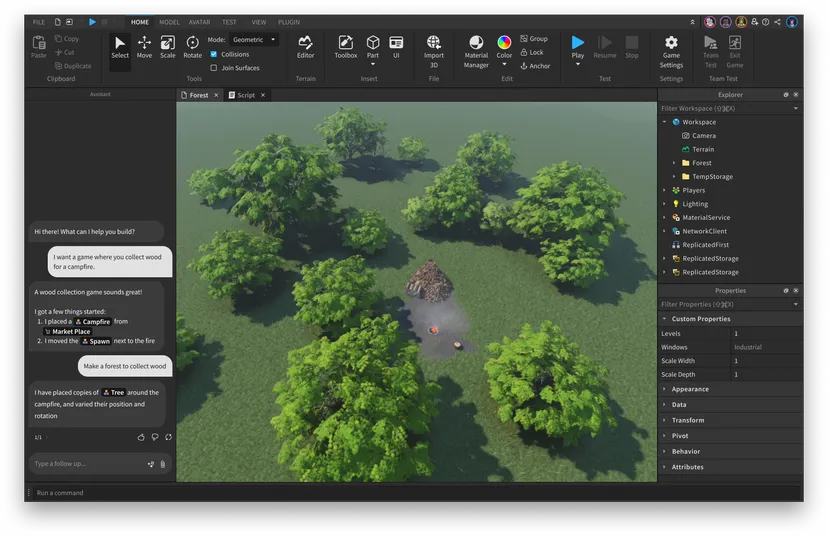 Sturman expressed confidence that one day, its generative AI tools could create 3D assets for such a scene from scratch.
We've made it a habit in the last year to ask AI tool developers what datasets they're training their assets on. Sturman said the company built Assistant off of open-source models, and he explained that it sees text-based tools assembled off such models as "not generally controversial."
Some open-source text datasets have been found to be modeled off of text from The New York Times or the works of Stephen King, but Sturman didn't specify if those are among the ones Roblox Corp. is using.
Sturman was able to be more specific about the company's practices concerning copyright and data usage in generative AI models. "Everything we're doing, we're double-checking the sources, making sure it's all completely public domain material," he said. Anytime the company's AI tools use code authored in Roblox as a data sample, it's taken directly from developers who opt in to have their work included in that dataset.
"They've got to actively tell us it's okay," he said, explaining that incentivizes developers to share their work by offering early access to the AI tools they're helping train.
Why is Roblox getting a video calling app?
Roblox Connect was one of the odder additions in the bundle of announcements the company sent over, but its purpose became more clear as Sturman put it in context. The basic Connect product will let Roblox users quickly call each other over voice and video.
Users will be able to specify that when they connect a call, that their avatars will be dropped in a specific "experience," where they'll be able to speak to one another with the assistance of facial-captured animations and spatial audio if they so choose.
Why would Roblox users use Connect instead of Discord or Zoom? Sturman explained that this lets players maintain communication inside the platform, and expand what they can do with their avatars.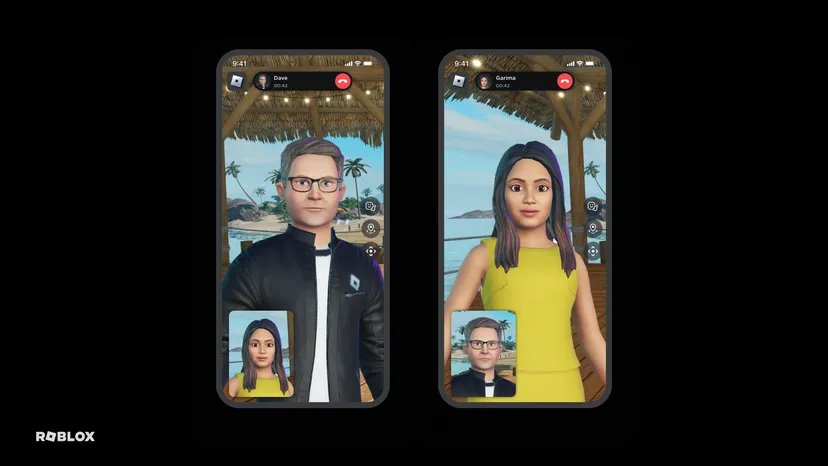 There's more to Connect than an in-Roblox version of Zoom however. Sturman also said that because the software is open source, developers will be able to use its APIs to build their own communication tools that might better fit their experiences. We discussed the possibility of using a variation of the tool to recreate the "emergency meeting" element of Among Us—letting players be yanked into a call as part of the game experience.
Audio chatting on Roblox has been scrutinized by outlets like People Make Games and More Perfect Union as a potential way for adults to inappropriately interact with minors. Sturman mentioned in our conversation that Roblox Corp. intends to roll out AI-assisted voice moderation to better combat bad behavior on the platform.
What do these features mean for Roblox's future?
Roblox Corp.'s announcements all appear focused on spurring growth on the platform. Its new AI tool hypothetically lets developers roll out new games at a faster pace. Its new policies for the Creator Marketplace are aimed at bolstering resources for developers making said games, and an in-app voice and video calling system nudges Roblox players to stick on the platform.
Such growth will be necessary if the company hopes to finally turn a profit, but it also invites further scrutiny of the experiences minors are having on Roblox. The company seems to view the negative experiences reported by People Make Games and More Perfect Union as edge cases in how users interact with the platform, and that its safety policies are adequately protecting minors from exploitation.
The company previously told Game Developer that "the vast majority" of users earning money on Roblox are over the age of 18, and the majority of experiences appearing in the platform's most-played "experiences" are made by developers over the age of 18.
Today's announcement on the switch to fiat currency for the Creator Marketplace will be the one to be scrutinized in the years ahead. What is the tangible difference between a Roblox creator who designs assets to be used in in-game experiences operating on that marketplace, and a Roblox creator selling "UGC" assets for decorating avatars on the general Marketplace?
One gets paid in Robux, the other gets paid in dollar bills, but both are selling 3D assets. Dollars can be quickly transferred to a bank account, but Robux must be converted via DevEx, and can only be converted after creators earn enough of them.
Roblox's ever-blurring line between labor and play, and the nebulous value of a digital currency may still be a challenge for developers and players alike in the years ahead.