In December, Roblox Corp. rolled out a new central hub for developers creating experiences on the Roblox platform.
Called the "Creator Hub," it serves as an all-in-one location for developers to centralize their creative efforts. It's a spot where you can quickly purchase assets using Robux, check on the metrics for the experiences you've released, and now, actively recruit talent from the Roblox creative community.
The platform talent recruitment tools aren't a joke. They're legitimate hiring boards where creators can post jobs and recruit experienced talent from around the globe. Both parties are encouraged to verify their identities before registering with the service. Users who don't verify their ID are visually identified.
Other protections the company is implementing on its Talent Hub include an automated filtration process on postings, a moderation process for "misleading" posts, and documentation on collaboration hosted in Creator Hub.
Once the hiring process is complete, Roblox creators can add new team members to their development environment.
It's slick stuff. The Unity and Unreal communities have also relied on job boards to connect developers of different talents, but those have remained slightly siloed away from the actual game-making tools. It also formalizes a process that before would (and still might) play out on Discord channels or other messaging services.
But as with all things Roblox, every new feature needs to be run through this line of questioning: how would such a system fare with the platform's younger user base? Some of the stories about abuse on Roblox have intersected with the exploitation of young workers. Could centralizing the "hiring" process make these online experiences safer, or expose creators to more risk?
Roblox Corp. vice president of engineering Nick Tornow was game to chat about the function of the new talent hub, why it's so deeply integrated in the Roblox tech stack, and how the company sees younger creators using the board and Creator Hub.
New Roblox tools, all in the same place
Tornow kicked off our conversation by calling Creator Hub the first part of a "future platform" where anyone can "create anything, anywhere." Creators on the platform can build content in Creator Studio, then publish experiences and assets on an open platform, monitor analytics, review documentation for new features, review other creations, and make use of the Talent Hub.
As mentioned, using the Talent Hub requires Roblox creators to verify their identity, their age, and other details before they can advertise themselves or their roles.
Putting Talent Hub in the same place as the rest of Roblox's tech lets the California-based corporation stick to its strategy of maintaining a vertically-integrated tech stack. "We believe that's an asset for creators, such that they don't have to piece anything together—they get a lot of stuff for free out of the box," he explained.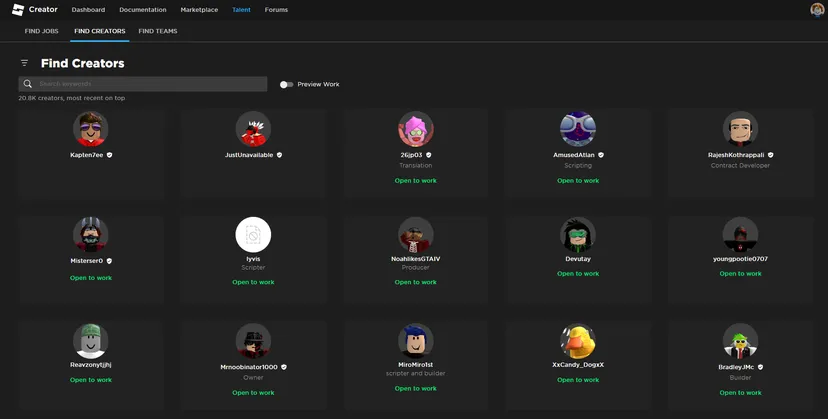 In theory, sticking to the Talent Hub would eliminate the friction of having to go out to other recruiting platforms to look for talent. "Recruiting platforms? For Roblox?" you might ask. Well yeah, whole studios are now working on the platform to build games and other experiences.
Tornow took a diversion during our chat to talk about why the company uses the word "experiences" instead of games. "It is about more than games, right?" he said. "It could be concerts, it could be sports, [...] we envision that almost everything people do together in the real world could be done on the Roblox platform."
He didn't mention if the phrase had anything to do with Apple parsing out Roblox as a hub for "experiences" rather than a games marketplace in its defense against a lawsuit brought by Epic Games in 2021. A Roblox Corp. spokesperson also avoided mentioning that incident, saying that the platform "is bigger than gaming." "It's the place to be when you can't be in-person," they noted, pointing toward two experiences called FIFA World and WimbleWorld—two virtual promotions for the FIFA World Cup and Wimbledon.
(A brief note: sports...are games, right? Is a sport hosted on Roblox a sport? Esport? Arcade twitch-based experience? Are F1 Racing Simulator games hosted on ESPN a sport? My brain turns to mush trying to turn that over in my mind.)
Anyway, back to the Talent Board. Tornow explained that one key feature of creating the Talent Board was that developers now have the ability to represent themselves as larger teams or studios, rather than just an individual creator who may or may not actually represent a team or studio. "It used to be very user-focused," he observed. "Like, 'here's my user account, my avatar—very appropriate for early days. But it's not necessarily a good way to represent a company of 120 people."
So, studios setting up on Roblox can now create "team pages." On these pages, companies or teams can share the experiences they've created and share who's on the team. The "click to play" nature of Roblox also offers an advantage other platforms don't have.
When a new startup—like the slew of studios popping up in the last couple of years—finally starts posting jobs, they've got nothing they can show off. But once a group of users form a Team together, they can drop in links to projects they've made together or individually. It's a neat way for Roblox creators to assess prospective partners much faster than in other industries.
Tornow said the goal with this structure was that it wants to use it to help keep the platform's community "thriving, and to be safe." "Some of this probably could be done in a third party. But I think we have the capability and potentially even some sort of responsibility to provide a mechanism that is very safe."
Can minors get jobs on the Roblox talent hub?
First things first, Tornow did tell Game Developer that the company intends to be compliant with "laws and regulations" and that it wants to go "above and beyond that" when it comes to younger users participating in the Talent Hub.
And Tornow did say Roblox wants creative young users to engage in that community legitimately, not just fake their way into it by pretending to be 18 when making an account. "Kids have imaginations, adults have imaginations," he said. He said the company doesn't want to "withhold the tools of creative capabilities" from those people.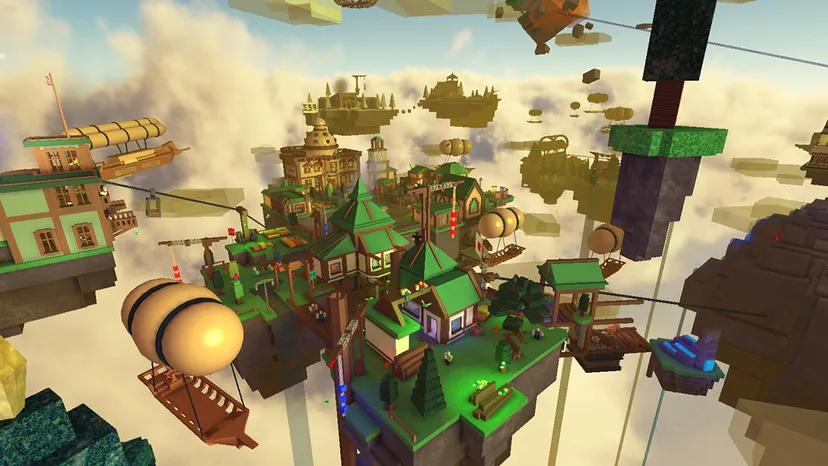 Tornow gave the example of how his own son plays with it. The young boy and his friends are often on FaceTime calls together, messing around in Studio mode on a project that's fun just for them. Tornow and a spokesperson described most creative projects from minors as being small, fun projects passed around in social groups of kids who know each other in real life.
But this is a thorny topic for Roblox, since not all minors on the platform have had as wholesome an experience as Tornow's son. In 2021, People Make Games dove into the allegedly sweatshop-like conditions some young people were exposed to.
In 2022, journalist Simon Parkin drew back the curtain on a team of creators making a game called Sonic Eclipse Online. Not only was this team violating Sega's copyright on Sonic the Hedgehog with seemingly no intervention, but the creator of the project was also accused of sexually harassing and overworking his underage collaborators. Roblox Corp. shut the project down in December 2021.
According to a Roblox spokesperson, "the vast majority" of users earning money on Roblox are over the age of 18. Additionally, the vast majority of creators making experiences that appear in the platform's top 1,000 projects and top 10,000 projects are reportedly also over the age of 18.
"Younger users are normally learning how to code on Roblox or learning how to build, or building just for their friends," the spokesperson said. They characterized the platform's younger users as mostly playing or learning, and older ones as those who are eagerly monetizing.
Staring at this setup from a distance, one has to imagine that there is a class of underage Roblox users that falls between the extremes of this spectrum. And it's in these thorny spaces that the company's ethical challenges may continue to manifest.
What's next for Roblox tech?
When we asked what Tornow is most excited about in the platform's future, he pointed to the world of AI-generated assets. He said the company is "really interested in" and "fascinated" by the potential of the technology and that it's working to "unlock some of those capabilities" within Roblox.
"You would be able to describe [an asset] with words and have that thing materialize and then share it, and potentially monetize it with other people," he said. "We think this is a key flywheel in making our creations more and more sophisticated and more and more realistic, lifelike, and mega scale."
One issue that seems clear when tackling that particular technological challenge—if AI creation is as efficient as traditional asset creation...how will asset creators who've built a professional home on Roblox fare if their skillsets are diminished?
At least for that one, that's the same problem all industries are facing with generative AI.
The spokesperson for Roblox Corp. doubled down on Tornow's pitch, saying that the company sees AI as "a tool to help creators accelerate their workflows." They shared a chatbot made by Roblox creator @dogwarrior24. The chatbot uses a GPT3 API to help create worlds and write scripts.
The company's definitely excited with what the tool means for creators—and it's fair to say it'll have its own version of dogwarrior24's tool up and running relatively soon.
Update: This story previously referred to Roblox Corp. as a Florida-based company. It is located in California. We have updated it accordingly.