Electronic Arts is still being coy about what its next Battlefield game will look like (a question of interest to players, developers, and investors frustrated by the performance of Battlefield 2042), but whatever the future holds, it will rely on the work of Los Angeles-based subsidiary Ripple Effect Studios (formerly known as DICE LA).
Under its old moniker, Ripple Effect served as a support studio for main Battlefield developer DICE. In 2021, the company took on its new name and was tapped by EA to be part of a three-studio strategy to expand the Battlefield series under the leadership of Respawn Entertainment and Infinity Ward co-founder Vince Zampella.
Such a transition takes a lot of work for any company, and this one has required the studio to evolve to the realities of remote work. According to studio general manager Christian Grass, adapting to those challenges has left him more excited than ever for the "creative and strategic" future of the franchise.
Grass' comments came during a chat about the company's transition from support studio to frontline development on the Battlefield series—a move that Grass says the studio was better prepared for thanks to the relative independence it needed to support a studio 5,000 miles away.
"We have to embrace the fact that some people will be fully remote."
Ripple Effect is breaking away from other major game studios by not mandating a return-to-office policy for its employees (Riot Games implemented a 1-3-1 policy, and Activision Blizzard almost mandated a companywide RTO policy before acquiescing to employee demands for flexibility at some offices).
Grass didn't mention any lingering concerns about health and safety while COVID-19 is still spreading, but he seemed more ready to admit that the pandemic has reshaped where and how developers want to do their work. Grass said that EA is already prepping satellite offices for the Ripple Effect team up in Vancouver, and that the company will hire some employees to work fully remote. "That's a new paradigm that we have to embrace and live with," he said.
It's worth noting that Ripple Effect's west Los Angeles-area offices are in a particularly expensive part of Southern California—employees interested in buying a house will face stiff numbers trying to become homeowners or start families in the region.
Those real estate headaches are apparently front of mind for Grass and his colleagues. "People want to move to a house, they have families, they want to move further from an office—all of those things now we can fully embrace and people can forge their own employee journey at Ripple Effect," he said.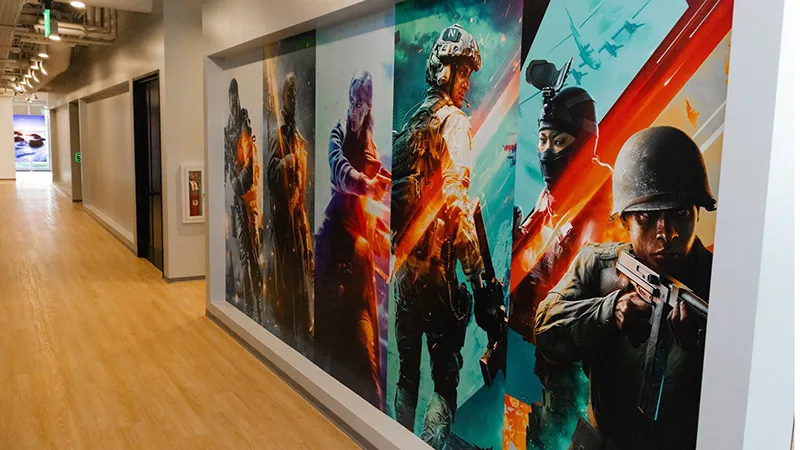 He even went so far as to acknowledge it's an industry-wide challenge for similarly-sized studios—one his colleagues should embrace, instead of running away from.
"That [challenge] is coming for all of us in the games industry in the Western world," he observed.
Next-generation leadership for next-generation Battlefield
Ripple Effect Studios' Southern California residence means it's literally neighbors with companies like Riot Games and Blizzard Entertainment: two companies who have faced public accusations of fostering a culture of sexual harassment and abuse so bad that state regulators have intervened.
Stories about life at both companies bounced around the bars and meetups of Southern California, and since many developers in the region will move from studio to studio, it was worth asking Grass if the culture of either company influenced his thinking about life at Ripple Effect.
Grass chose not to get into specific responses about Riot or Blizzard, but he did say that part of Ripple Effect's evolution from support studio to primary game developer has been the creation of an "equal" studio culture with a "high level of autonomy, high level of empathy, and high level of openness."
"Maybe it's because I'm Swedish...kind of believing in the collective," he mused. "I talk a lot about us as a team. It's not about ego. It's not about the individual we win or lose together."
According to Grass, Ripple Effect has a group of volunteer employees who take part in the analysis of EA's team engagement surveys. He described it as an "advisory board" that brings workers into high level meetings with the aim of improving the studio.
Grass did add that any concerns of sexual harassment or assault are not "brushed under the rug."
Switching roles
The video game industry has been seeing more support studios begin to transition into full-time development. That's been a boon for some companies like Certain Affinity, which has juggled development of new games with work on Halo, Hogwarts Legacy, and World of Tanks, and led to struggles for other studios like renowned porting house Aspyr.
A challenge in making that kind of evolution can come from how said studios are set up—recruiting experienced leaders and building processes to create original content and assets can take time. Grass says that Ripple Effect was well-poised to make such a transition thanks to the time differences it had to navigate in its relationship with DICE in Sweden. When the company was first spun up to support the Battlefield series, Grass said the company "wasn't trying to create the same way of working at DICE."
Working the same way as its host studio would have been "really complicated" due to the time difference. The original strategy for maintaining the two studios gave Grass and his colleagues the freedom to build their own "production apparatus."
Grass admitted that completing the transition to full-time developer is still a work in progress. "That growth comes with new challenges," he admitted, saying he wants to be transparent as the company works to recruit new talent.
What kind of Battlefield project is Ripple Effect working on? Grass declined to say (though Ridgeline Games is working on a single-player Battlefield campaign "in partnership" with DICE and Ripple Effect), but he said his excitement for what they're working on isn't just because it's a company executive. He's been working on the Battlefield games since the early '2000s, when he joined the company as a software engineer on Battlefield 1942.
Grass specifically noted that he's excited about the future of Battlefield not just from a "creative point of view," but a "strategy point of view" as well.
Those comments, and EA's reorganizing of the Battlefield franchise seem to point to an aggressive shift in how the company will be releasing new entries in the series. Over the years, the series has shipped as a premium title with both single-player and multiplayer modes built in.
Battlefield 2042 the latest (troubled) entry in the series launched without a single-player mode, and was buoyed financially by in-game spending. A strategic shift away from this model might imply the series is going free-to-play on the multiplayer side, while the trio of studios finds a new way to inject life into the series' single-player campaigns.
It's interesting to see how overhauling a major franchise like Battlefield has meant overhauling the foundations of its studios as well. One wonders if EA and its subsidiary studios could make such a pivot without the flexibility that remote and hybrid work provides.