Localization Roundtable at GDC presented by the IGDA
This one hour session was hosted on Thursday morning (March 22nd) and we had about 60 attendees from all perspectives.
The audience had localization managers, developers, translators, students, executives from localization companies and other attendees curious about localization and the session was moderated by Simone Crossignani and Laura Gutierrez (board members of the IGDA Game Localization SIG) and Seb Ohsan Berthelsen (Operations Manager at Square Enix). This was the only session about localization at GDC.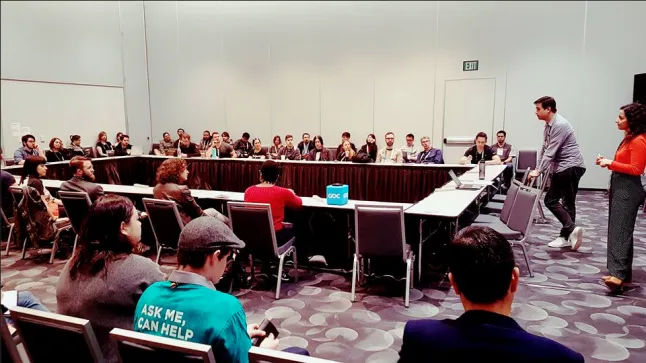 We tried a new format that had already been used in the previous GDC and at TGS which was to prepare macrotopics and questions and moderate the discussion between attendees and we asked the audience to vote on the macro topic which interested them the most.
The topics (in order of less to more interest were):
1. Practices
2. Audio
3. Technology
4. LQA
Practices
On the hard to find language pairs, an attendee pointed out that Indonesian to English for Board games is a rare pair, and then the conversation moved quickly towards evaluating the quality of translators and more specifically that of fan translations or crowdsourced translators.

A few developers said they are using fan translations because it's cheaper and the people doing them are actually playing the game and it seems like they can be faster than translation agencies or professional translators (work over hours and on weekends), they get the feedback directly from players (as they are players themselves) however some of the issues pointed out were that they are not always reliable and the quality is also not necessarily there, therefore, another developer suggested using fans do the translation and professional revise it.

Another problem raised concerns the credits because it is uncertain who gets credit for the translation plus fans cannot handle high volumes or be too quick with bigger projects.
Audio
The question we asked was: what are the common grounds and differences between translating for the movie industry versus for the gaming industry?
Here are the similarities (in red) and the differences (in black)
| | |
| --- | --- |
| Movie | Gaming |
| Dubbing with rhythm lip sync | Dubbing with rhythm lip sync |
| Context provided by the screen | Context given by the file |
| Excel File | Different formats |
| One audio track | Multiple files |
| Audio specialized translators | Gaming specialized translators (who know how to deal with technical implementations and understand the game) |
| English recording is done first for dubbing | English recording is done first for dubbing |
| Volume and time challenging | Volume and time challenging |
| Very slow process | Fast process (challenging deadlines) |
| Subtitling tools used | CAT tools used |
Another issue raised regarding audio is the rising cost of voice talent.

With more and more developers creating licensed IPs, the voices of the movie characters dubbed into the certain market need to be used as per player preference. This raises the cost of the production of the game as the unions have higher prices than regular voice actors and it's not a good practice to use another actor for the voice of a certain character.
Technology
To the question if machine translation is being used and in which context the answer was yes, either a trained machine translation for in-game content or for the chats. The trained machine translation worked apparently well for some languages like FIGS but not too well with Asian languages. For the chat, it's a solution that works really well according to the developer.
Machine learning was mentioned as an interesting solution for the future of the industry for context that is fairly simple but not for texts that require creativity or a deeper cultural context.
Regarding the tools, developers for PC and console expressed a preference for MemoQ whereas mobile developers talked about Memsource. Some developers have also created their own tools which allow an easier collaboration between developers and translators and to ease their own workflow (minimize the manual tasks). Some have also built their own API internally. A recommended format for localization which would work both for translator and developers was XLIFF, and Excel was mentioned a few times for being the devil

Localization Quality Assurance
The last point we discussed was how to integrate the player's feedback into the localization workflow. It seems like gaming companies are making a bigger effort to have player support more integrated with localization which means that they can channel the player's feedback about localization in an easier way to their provider.
A Localization Manager from a big gaming company mentioned scouting the forums and the community actively for feedback as well as customer support tickets (tagged) to then analyze the feedback and select internally which one is valid and which one isn't, then submit the changes, but besides the tagging the process still is manual.
The last point mentioned was that the Chinese market cares more about the quality than other markets as some players are used to translating games themselves.
Unfortunately, it seems like the timing was short and there could have been many more topics covered or explored as the community had a lot to say.
We also regret not having informed everyone in a clearer way about our Facebook Page so they could check out our cute new logo but mainly so they could follow us and participate in the discussions happening there. But we were overall very happy with the discussion and the sharing of practices and look forward to the next sessions! Hope a lot of you can make it there, we will inform you about them on our Facebook Page, our Blog and our Newsletter (subscribe here).