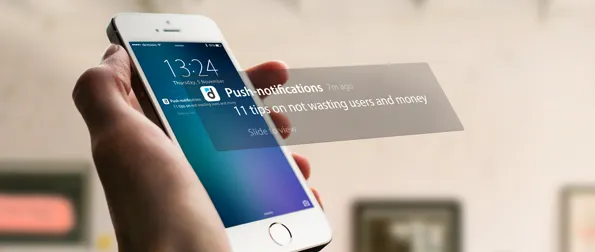 84% of respondents of the recent Delvv study called smartphones an integral part of their life. Moreover, 35% of respondents stated that they check their smartphone more than 50 times per day.
However, not all of them find such a tool as push notifications, useful - 49% of users prefer to change their settings manually (i.e., turn them off for some services).
And, apparently, the negative attitude towards push notifications becomes kind of a trend. The proportion of users who agreed to receive push-notification declined again. According to the Urban Airship, the percentage of consent is now 43% (in December 2013 - 45%).
Users became more selective about whether to allow applications to notify them or not.
Have push notification themselves become less effective in this case? The answer is "No, if you use them properly". In Urban Airship say that those developers who send quality notifications double their retention rates.
We are not sure about the doubling, but the fact that push-notification really can improve retention is of no doubt. Let's refer to one more study by Urban Airship. On the graph, you may see that retention rates significantly higher (almost one and a half times) in those games that use push notifications.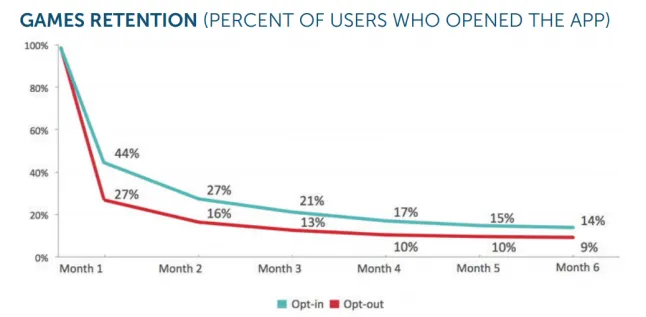 Let us note that as a rule, the increase in retention is followed by the increase in revenue. Some statistics even show that 5% increase in retention leads to increase in revenue up to 95%!
It turns out, that push notifications are still an effective means of increasing customer loyalty and, consequently, revenue. However, in an environment where users abandon them, the higher the chances are of those who use high-quality and "intelligent" notice and don't spam with reminders every hour.
So we believe that the future belongs to targeted, customized notifications, which appeal to a narrow segment of users and talk to them in their language.
And it's not just a metaphor. Admit that it's much nicer to use a localized application and to receive a notice in the language you speak. It's not just about English, Russian or Spanish. It is also about the appropriate style of language, about the good copyright. One and the same message may be sent in several tens (if not hundreds) of ways – experiment with it!
The other way of adjusting to the user is the time of sending. There is no universal rule: if you want a user to pay attention to the long-read, it is better to send the notification about it on weekdays during lunchtime. If you want a user to play the casual game, then remind him about it after work when he goes to the subway, or about 9 pm, at the time of evening leisure.
A good metric to determine the optimal time of sending is "Users Online." You may see, at what time there are the largest amount of active users, and set up your push-campaigns on this basis.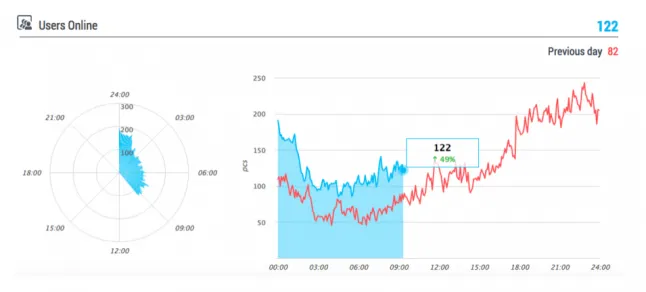 screenshot from devtodev system.
Thus don't forget about people living in different time zones, not everyone is happy to wake up at 4 am to your notification. If possible, adjust the notification time separately for each geographical segment.
With devtodev system, it is possible to separate push notifications by countries, languages and time zones within one campaign. There is also an opportunity to create as narrow user segments as you want and send them targeted notifications.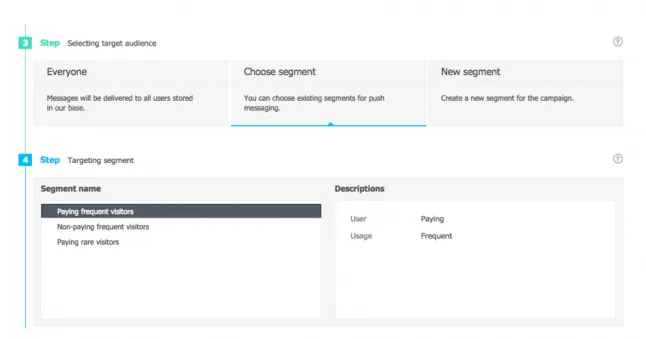 screenshot from devtodev system.
Notifications can be predictive. If you go deeper into the data, apply a little math, it is possible to develop a model for predicting the leaving of users, so targeted push notification - it's a good way to find a leaving user, catch him and bring back.
For example, read how the leaving of the loyal players in the company Innova is predicted.
One more way that is a little bit more simply implemented and already familiar: RFM-analysis. Here are the examples of its use:
You may select people who shopped in your application often, but a long time ago. It is necessary to remind them of yourself, and they may come back again (with the money).
You may select users who made one payment a long time ago. It is advisable to make them an offer they can't refuse (a big discount) or just simply make a present, that will return them to the game. And, of course, tell them about this by push-notification.
Usage of quality targeted push notifications is a good and effective practice for applications that want to increase their retention and revenue. So go for it! The possibilities are endless here for imagination.
And don't forget to experiment, to use A/B tests, to select narrow segments of users, to find the optimal time for sending, the most selling text and so on. This may increase retention only by 1%, but this 1% increase in retention may turn into a 20% increase in revenue.
P.S. We would also like to invite you to a free webinar from devtodev "Push notifications: 11 tips on not wasting users and money." At the webinar, we take a closer look at how to make push-notification more effective and bring back users and their money. The webinar will be held on Wednesday, November 18 from 9 AM to 10 AM PST. Sign up by this link. See you!