NyxQuest: Kindred Spirits is a game developed for WiiWare by Spanish indie developers Over the Top Games. Developed by just four people and published in 2009, has received two awards and very good reviews so far.
NyxQuest represented more than the development of a game. It meant the creation and establishment of a new studio, and learning everything behind that. For a small team like ours, it was an enormous task, and a very ambitious project.
About NyxQuest and Over the Top Games
NyxQuest is a 2D platformer which revolves around the story of Nyx, a mysterious winged girl who is looking to rescue her friend Icarus. NyxQuest takes the rules of a classic platformer, and improves the formula by taking advantage of some of the Wii's unique features.
Using the Wii Remote, the player is able to interact with the scenery, draw wind to reach higher ground, and shoot rays at enemies and obstacles.
The core team that built the game was formed by four people: two programmers and two artists. All of us had several years of experience working on AAA games for other companies. This was key to our enterprise.
After some years working for other companies, we left to form a new studio, a place where we could create our own characters, tell our own stories and have full creative control over the development of a game.
This was no easy decision, but it was a good time to do it. Digital distribution is an opportunity for indie developers to create premium content that is able to compete in the market without the need of long development times and big budgets. We did it with very little money... but a lot of sweat!
What Went Right
1. Vision and Ambition
When the studio was started, the intention was to build a team that was passionate and experienced. For NyxQuest, we had to create a new 3D engine from scratch while building a game that would achieve a high level of quality in order to capture public attention.
Without both of these qualities (passion and experience) our project would have succumbed to its own ambition. For our game, we did a lot of research of the myth of Icarus and we learned what blind ambition did for him... we didn't want that ambition to be our killer in the end.
Forming your own studio requires a lot of dedication and hard work. Without a high level of passion, it's difficult to maintain morale during a long development cycle, with its ups and downs. We were lucky because all our team members love playing and making video games.
Maintaining the focus was very important, because we had to develop a game on time and on budget. We feel that our previous professional experience helped to avoid some of the most common pitfalls found in development.
Lesson learned: Passion + Experience = BINGO!
2. Artisan Development
Since we didn't have a lot of money to spend, we had to find ways to resolve some problems. Not enough work force for animation? Ask a friend with free time! No budget for voices? Get a voice actress girlfriend with her own studio! No testing department? Friends and family!
We spent some time thinking and testing options to find an art style that was able to catch your attention but at the same time that was "work-friendly". We had to be wise and find a way to build the levels with the desired level of quality, without spending too much time on it. Since we were a small team and couldn't have a lot of detailed models and textures, we chose a style that focused on lighting and shadows.
At the same time, we were telling the story of a burned and forgotten earth, full of deserts and ruins... this setting was not only chosen because of the story, it helped us to reduce work. Since the game world was ruined and deserted, we could create fewer assets and spend the time on making them stylish.
---
3. Good Reviews
When we released the game, we were very concerned about the public's opinion. We didn't know what to expect from the players -- would they enjoy NyxQuest? We were really amazed and happy when we started reading reviews and forum posts with very good comments. People seem to enjoy it, and at the time of writing, NyxQuest has a Metacritic score of 82.
On the other side, the main concern people had with NyxQuest was its length. Our tests showed that a player new to the game would finish it in three to five hours. The more hardcore ones could do it in less than three hours.
We knew this, but we had to find a good balance between quality, game length, and budget. We could have added more levels, but we would have to sacrifice quality or spend more time on it. For a $10 game, we think this is a reasonable tradeoff.
I believe the reason for getting good reviews is a mix of components:
Art: As soon as you see a screenshots of the game the striking visuals and strong shadows catch your eyes. For our first game, we wanted the art to have its own personality and help the mood of the game. We found some good reference material that inspired us in old paintings by Dali and Giorgio de Chirico.
Original gameplay: NyxQuest started in my notebook as a game where the player controlled a flying character that is helped by the Greek gods with the Wii Remote. This was a good idea on paper and showed to be fun, original, and accessible when we did the first prototype and started playing the game. When we first thought about NyxQuest, there was no other platform game on Wii that had the same gameplay, so we were confident that it would be an interesting game.
Music: We believe the music is 50 percent of the final game experience. It guides our feelings, and sets the mood of the story. We didn't want to neglect this area, but since we were tight on the budget, we thought about buying cheap license-free music from the internet.
One day, my brother Juan brought some songs from Steven Gutheinz. We tried them in the game and the result was excellent. His music transmitted exactly the feeling we were looking for.
Since Steven is a renowned composer we didn't know if he would be interested in helping us. We had nothing to lose, so we decided to give it a try. We humbly wrote him an email asking for help and after a few days he answered that he liked what we were preparing. We were lucky! The final result is that we have a really good OST and it was a lot better than we were expecting.
Lesson learned: Fun gameplay, good art, good music = Good reviews! For a new studio is very important to add personality to all parts of the game. That is the only way to stand out.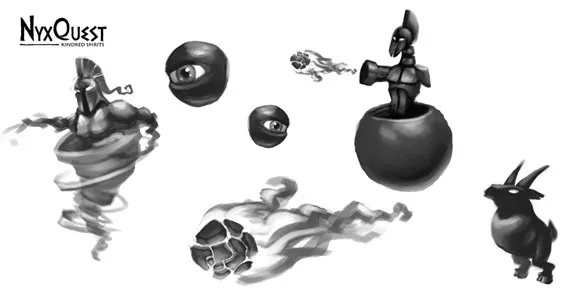 Enemies: some of these never moved beyond the drawing board
4. Press Presence in Our Country
Our modest offices are located in the top of a mechanical shop in the suburbs of Madrid, Spain. In this stage of global crisis, the different media in Spain clearly saw that four young "boys" started to develop a game on their own, with their own pocket money, and with very limited resources.
This created a lot of buzz in Spain and we were requested interviews by a lot of media: TV channels, newspapers and magazines. This definitely helped us to get better sales in our country and increase the awareness of our new studio. Too bad this didn't have any repercussion outside our borders.
5. The Future
NyxQuest was meant to be the "business card" of our new studio. With our game we managed to show that we are a serious studio with high ambitions and with good technical and management preparation.
Because of this, we have been contacted by other developers and publishers offering work for hire opportunities. We have grown our company to a total of seven employees (hey, that's 75 percent growth!) We have already signed one contract for another game, and, at the same time, we are working on another original IP.
---
What Went Wrong
1. Funding
After creating the company we spent the first four months looking for financial support. We tried everything: bank credit, loans, venture capital, and rich family members (we had none!) After this time we realized it was a very hard task to find the funding required for the 12 months project we had in mind.
We decided to partner and fund the game with our own money. In the end this has worked very well, because we managed to do a good looking game in the time we had, and with scarce resources. But it was a very tight development cycle; we barely made it with the money we had saved.
Lesson learned: for a startup it's very hard to find money. Investors want to be sure they are not wasting their money, and new businesses are full of risks for them. Finding good partners that are willing to share the same vision and share costs is a good option for startups.
2. First Control Scheme and Difficulty
We wanted to explore new gameplay options for the Wii's motion-sensing controllers. Since our character has wings, we thought it would be a great idea to make the character flap her wings with brief movements of the controller... This means you had to do continuous vertical movements of your wrists in order to flap the wings of the character.
We had this in the game, and when we did our first tests, we noticed that new players were having a hard time getting used to jumping in this way. When I noticed players needed resting time, I knew we had a problem with our controls! New players were also having difficulty doing this while calculating their jumps. We decided to replace the flapping by the press of a button, and the game won a lot in handling and ease of use.
During the first months of the production we didn't do a lot of outside testing. We used to play the game a lot everyday, so we balanced everything to our standards. One day we sent a build to Nintendo so they could try the game... after one week they told us their team could not pass the first level!
After that, we started doing some tests not only with hardcore but also more casual players (parents, friends, etc.). When we noticed that a player had problems with the controls, or didn't know what to do next, we knew we had a problem in our design. We tried to address most of these issues, and in the end the difficulty of the game was very balanced, and we haven't heard many complaints in this area.
Lesson learned: The more common and repetitive actions should be kept as button presses. Do not try to substitute them with weird control schemes. At the same time, don't overrate players and think they are all hardcore gamers.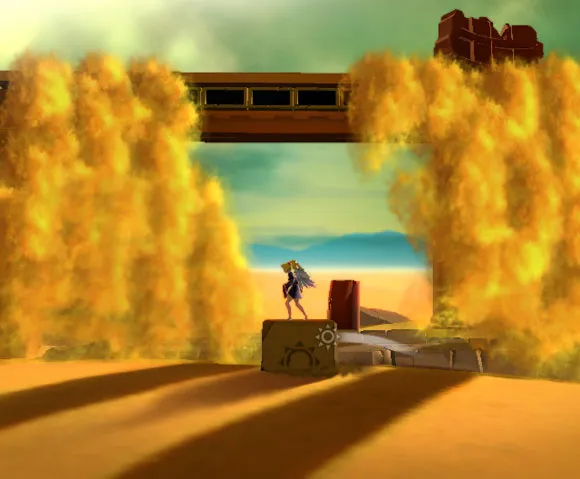 Gameplay situation: stand on a rock while dragging it with the power of Zeus
3. Many Hats: PR and Management
I know the "many hats" issue is a common "wrong" for indie developers, but it took me totally by surprise. I didn't expect the management, paperwork, and PR requirements of a video game took so much time. We had (and still have) to devote a lot of time to write emails, request reviews, prepare trailers and screenshots, and answer interviews.
Having your own studio and being in charge of a project requires a lot of extra work and responsibility. Marketing, game pitches, managing employees, and company accounting requires a lot of work that needs to be addressed at the same time that you are developing the game. Most of the time I arrived home to continue with management and paperwork. It ends being a 24 hour job. Oh, and don't forget that you need to spend some time to clean the offices once in a while!
After a few months we have the feeling that there are still a lot of people that haven't heard of NyxQuest. Some magazines have nominated our game for "Best Sleeper Hit", and there's a reason for that. Hopefully we will be able to address this issue, and be able to create more buzz for our next game. We wanted to create a nice blog, dev diary, and additional media content, but because of the enormous amount of work, we had to leave it for the future.
Lesson learned: PR is a huge area that requires full time dedication. The more time you spent here, the better the awareness of your title will be.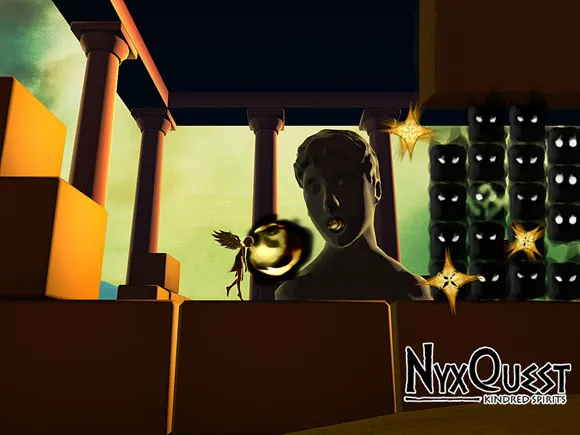 An early gameplay situation. Removed from the game in the later part of the development.
---
4. Feature Creep
We all know about the problems that arise if there is no clear designer in a game. When we first started the development, my intention was to focus efforts on the design of the game and at the same time on gameplay programming.
Because of the amount of work involved in programming a game of this kind, we had to keep going and going with the development of features. We reached a point where we had to keep getting things done, and stopping becomes risky.
Five months into the development we noticed that we had a lot of gameplay mechanics, situations and that the game was going way over the top. We noticed this and focused on creating a list of the most important features and gameplay elements we wanted to include in the game.
We agreed to follow that list and only design levels using those features and elements, and only add more if we all agreed. Obviously we added some more features later, but those were hand-picked and deeply evaluated before spending time on them.
Lesson learned: No designer + Feature creep = chaos! Take your time to find the fun parts of the game and focus into polishing those. Once those features are complete, decide if there is time for more.
5. Name Change
Our game was originally known by another name. It was released on June 19th in Europe. Two days before, on June 17th, we received a Cease & Desist letter from another company asking to change the name of our game. Since we are a very small developer with very limited resources, and in the final stages of the production, we had no time and budget to go into the cost of a legal battle.
We believed our chosen name was not clashing any other trademark. After a long and stressful weekend we decided to change the name of the game, and select one that is safe enough to not have similar problems in the future. We all know the previous name was better, but we had no option!
On the other side, there was a lot of news related to the name change on gaming news websites. In the end we don't know the impact this had on the performance of the title.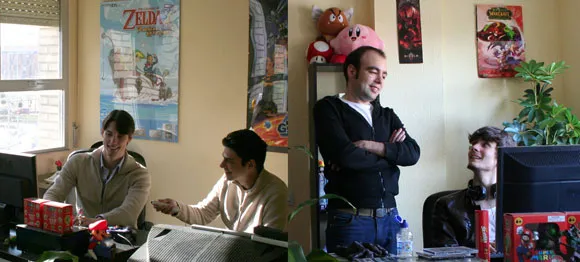 Conclusion
We are happy with the development of NyxQuest, and how the game turned out. We expanded our knowledge of game development and learned a lot of things about the business side of the industry. Talking with publishers, selling our game, signing agreements, PR, TCR and lot checks are not alien for us anymore.
Hopefully this will help us to create better games in the future and improve our production pipeline. We will apply all the knowledge that we've gained to every our next games.
Game Data

Publisher/Developer: Over the Top Games
Platform: Wii/WiiWare
Release Date: June 19 (Europe), August 10 (USA)
Development time: 12 months (from June 2008 to June 2009).
Development team: Four people: two programmers, two artists. We had the support of an animator and used the services of a musician and sound engineer for music and sound FX.