Introduction :
After studying computer science at university and two jobs of computer I decided in 2007 to launch myself as an independent in the small world of gaming. Of course, I was not quite as novice from small, I am interested in video games. I naturally began by amateur creation. Without a penny but thanks to a first contact with Christophe Kohler DK- Games, I could integrate a development team and learn much of the workings of videogame creation .

In 2009 I decided to create my own games and publish it on mobile. I felt the possibilities offered by this platform. The Nintendo DS was out of breath and consoles were inaccessible for a small independent, except may be the Xbox Live Arcade.

In 2011 I released a first game: Paper Ball, and in 2013 I took out a second game Jetpack High. I will talk about the development of the latter .
Story board of Jetpack High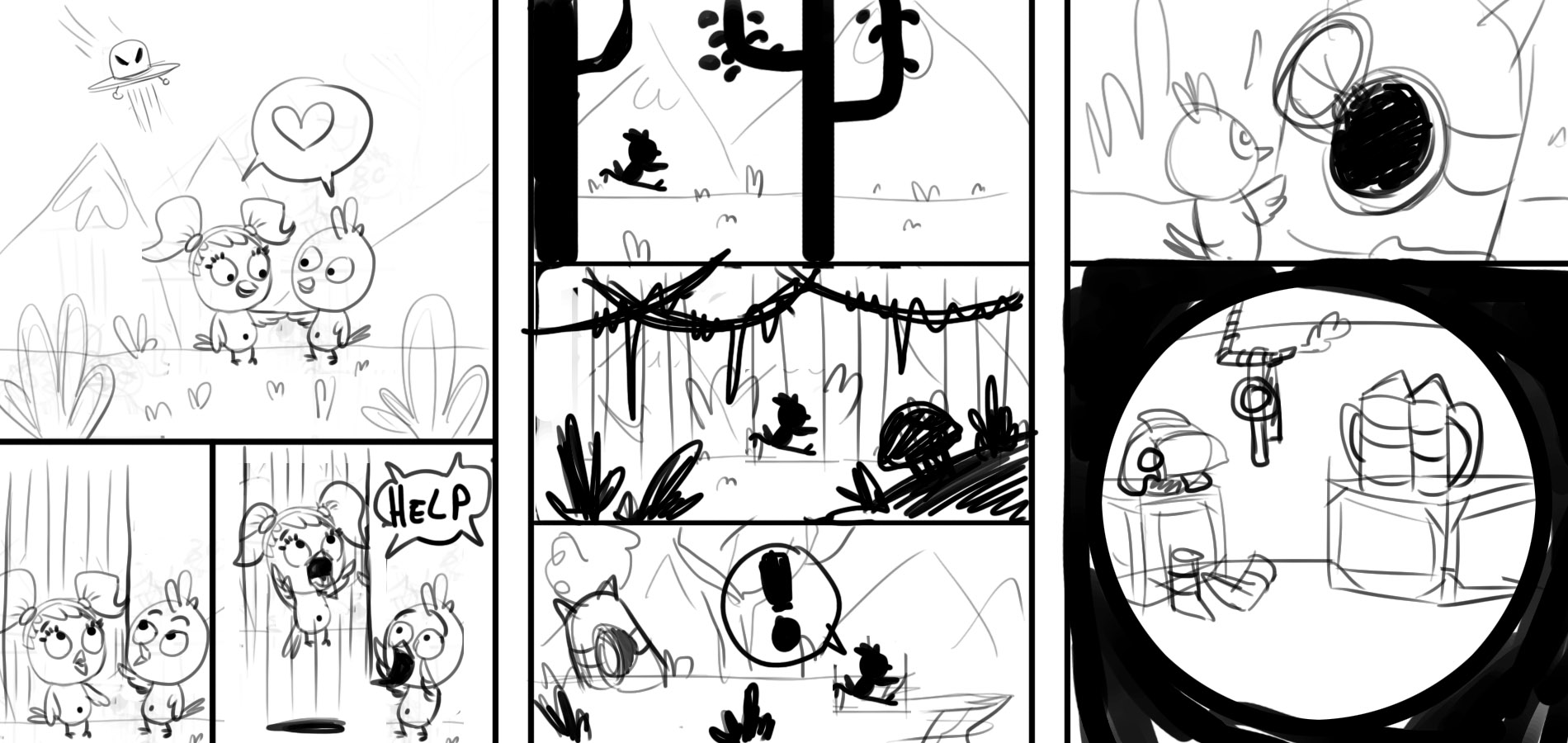 What went good?
The implementation of the

game engine

and tools
In 2011 I created my first video game called Paper Ball released on Android, PC and Bada (Samsung Wave) .
This first game has allowed me to develop and test my own cross- platform game engine.
It took a lot of work to reach an efficient 2D game engine with all authoring tools that we must have to create a game, it is hard to say exactly how long it
took me, because each external missions have allowed me to create or complete this framework production.
Finally, two and a half years after I started independent, I could start my first self-production, Paper Ball.
Perhaps some will ask me : "But why not use Unity ?
".
Well at that time Unity was not what it has become, and more, I like to have control of my code to be as flexible as possible.
I could then develop the operating system Saumsung named Bada, which is not proposed by Unity.
When creating Jetpack High in 2012 I was able to use the tools already proven as my editor WYSIWYG menu and 2D animation editor.
Being primarily a most pleasant developer was to develop the engine and tools.
Graphic

collaboration and

pre-production
Looking for a graphic designer for Jetpack High, I came across Jeremy Cansado I've really enjoyed working. He knows the world of video game and understands what developers expect.

In the first prototype of the game Jetpack High, I imagined a game in top view in which you must move a flying saucer and avoid obstacles to go from one point to another. In the manner of ball games and mazes. I prototyped the gameplay with graphics so ugly that Jeremy did not understand the intent and produced me a first stage side view of a character who moves jetpack. A kind of puzzle game plateformer and nested.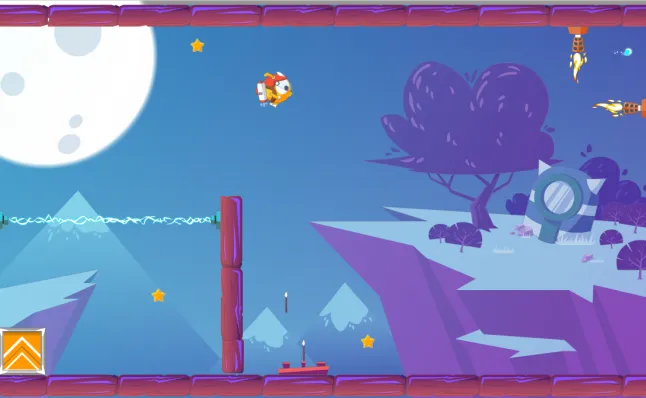 The character of Jetpack High was born by mistake. It made me think about the game design because I am not a game designer and I was still looking for ideas and game mechanics

At the same time I played Jetpack Joyride much and Mega Jump. Both games were used as a base to create Jetpack High and I tried to bring a personal touch.

I rewrote the game design leaving only the graphic and created the character of the game for reasons of budget and time I am facing a set of scoring with a randomly generated level vertical scrolling. Which corresponds best to move a jetpack and use the accelerometer on a smartphone.
Pamboo : artwork of second hero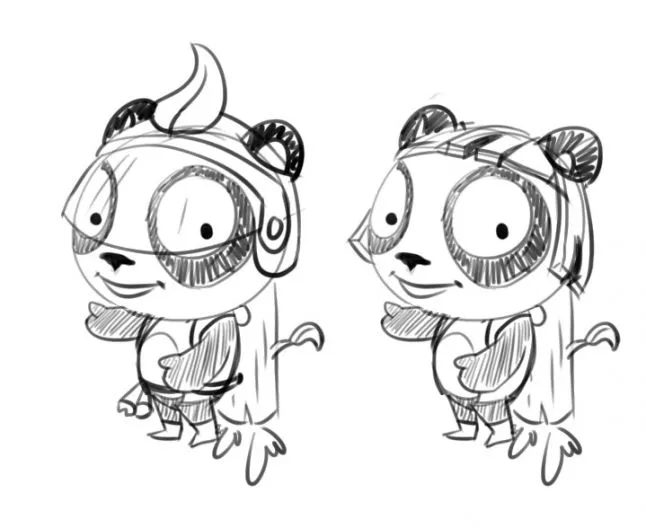 The production
It is now three months of pre-production had actually started , we are in March 2012. But always interspersed with external missions to fund the game During the year 2012, I juggled seeking external missions and self production because I had no external funding.

I continued production throughout 2012 with my own. I am a developer and I did not intend to pay me a salary during production. I had planned a budget of € 2000 for all the graphics and audio. When producing Jeremy was really great, it was very fast and has always been the best on budget I had.

End of 2012 the game is almost ready and I heard about the program of assistance to BlackBerry Developer 10K commitment. I decided to bring my game to it in December 2012. A month later Jetpack High - emerged on BlackBerry 10 with the Built For BlackBerry label. Unity would not allow me because it is not yet supported BlackBerry 10.

At the same time an editor I met in March 2012, Eggball-games will approach me and entrust me in early 2013 to develop a game on Android and iOS that will allow me to implement the iOS version of my engine. It was also ready to publish my game and sell the concept for reskins. The reskin is a profitable way of B2B development using the same game with new graphics.

Thanks to Jean-Claude Cottier of Ovogames for bringing me all his help and experience for the iOS implementation of my engine and I have talked to me about 10K commitment.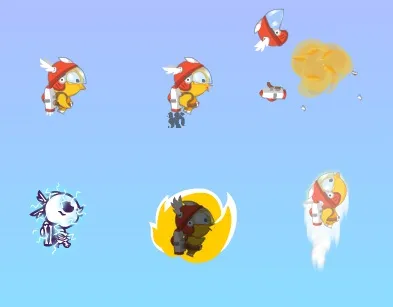 Waht went wrong ?
Funding
Research funding is impossible if you are not a company. I'm sole proprietorship and in this case the doors are locked and publishers are more cautious.
To finance the production I also wanted a publisher early. In March 2012, when a prototype is beginning to be playable, I approach publishers of mobile games. I first searched on the playstore the industry leader and I contacted publishers. I could also find lists on different websites. Most wanted a completely finished product before deciding and do not want to invest in this concept.

It's a shame because with a larger budget for graphics and development, High Jetpack could be prettier and reach the mobile reference: Jetpack Joyride.

When seeking financing the crow-funding was about him and I tried a funding proposal in Ulule.fr newly opened video game section. The kickstarter and others are reserved for U.S. residents I just could not apply. But Ulule have rejected my request. The reason was that the game would interest anyone but my surroundings, the project was not ambitious enough and was not based on a known franchise.
Marketing
Eggball-games was ready to edit the game and promote it but it closed its doors in April 2013 after a liquidation and therefore I had no publisher. I let go of anything and I went Jetpack High Android the 3rd July 2013 and the iOs version on August 20, 2013 .

I was totally new to the marketing of video game and I made a few mistakes .

Jetpack High was released on January 21, 2013 on BlackBerry without special promotion. But I could benefit from increased visibility from a brand new store and a bit empty and label Built For BlackBerry. Moreover, the game was almost always at the top of the best free games and BFB in the category best free games.

With this successful launch, I released Jetpack High on Android in July 2013 in the same way. Or Google Play Store is a jungle. You should know that when you leave a game on Play Store you have 30 days to appear in the category of best new games. Once you have achieved this top ranking you must successfully enter the top of the best free and paid games. Otherwise you disappear in the depths of the store.

I spent a lot of time on the forums to announce the game which I think is a waste of time.

I also contacted several sites offering reviews and previews. Most will ask between $ 50 and $ 300. Do this only if the rank of the site is good. For that use the Alexa rank and page rank for your choice. It's pretty long and I 'm not sure of results.

However link contacts on sites with large audience that they do not necessarily ask you a contribution. If they like the game then they will talk about it. Prepare your press releases and send them to these sites and news sites ( gamespress , blues news , ... ).

One thing I did not do that and I would recommend is to have in the month of your output to a store, a large boom download. How ? Well using the banners but not just any. Facebook and Admob does nothing on the short term and are very expensive. $2 to $4 CPI ( cost per install) for $100 used. However use services such as Heyzap or Chartboost can listen much cheaper (about $ 1.5 CPI) and is much more focused player with more potential ROI. You can also use appbrain that is cheaper but user acquisition is not as good for the retention.

Or you can find a partner like App of the Day. This is a service that costs a little expensive but, if properly used, can bring your game in the top of the news very quickly. In this case it can be the jackpot.

This marketing stage has taken me from September to late October for a very poor result. I contacted about 100 sites in English, French 30 sites to 10 published news. I posted about 35 specialized forums in Android and iPhone video games without actually feel influence.
Monetization

of the game
Monetization of the game was not what was expected. I have read that 1% to 5% of players buy something in games here. I think these numbers are only valid for the best games with the best monetization. For Jetpack High monetization is of the order of 0.1%. Based on this observation it is no longer 2,000,000 players I should aim to monetize my game but 40 million players. I feel bad because when I write these lines I am about 300000 downloads .

So I tried different configurations, changed the gaming experience and added ads. But trying to put them intelligently.

One of the changes I made, on the advice of another developer, is the use of video ads when you die. The player who chooses to watch a video ads can then continue his game once. I multiplied the sources of income for the final have:
fullscreen ads at launch with Chartboost

a well-placed

ads

when playing and

some screens

banner

a video ads with Vungle to earn a life

purchase of coins

to upgrade

equipment

and unlock

new

characters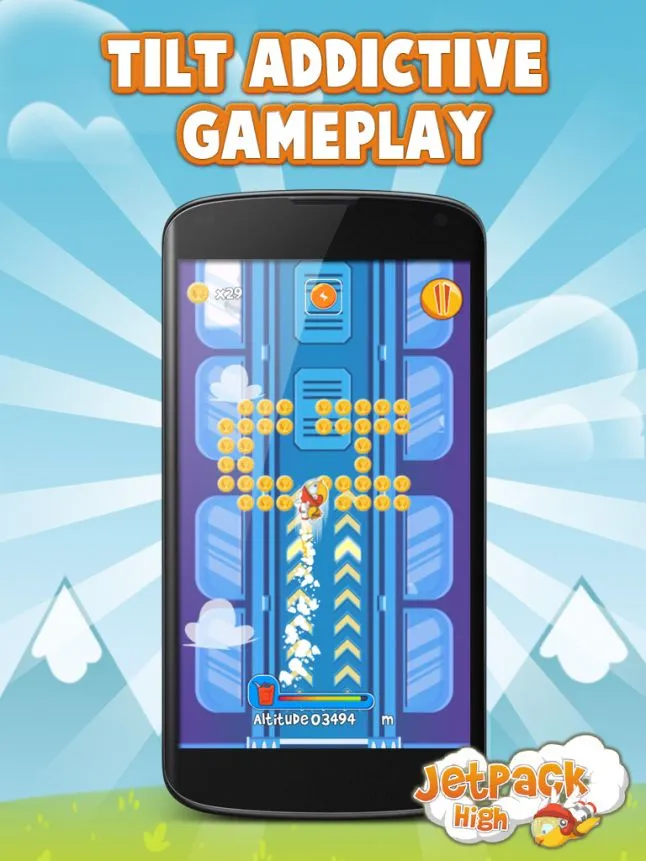 Conclusion
Today I have loose money doing Jetpack High but I have learned a lot from my mistakes and tests. I still leaves a bit of luck to Jetpack High find its audience and I continue my marketing crusade. I also try to spread the Android version different stores such as Amazon and other portals.

In the end, I always wanted to make video games even if it requires a lot of effort and investment.

I wrote these lines to exorcise me Jetpack High and put some kind of end point and move on to my next video game.
You can download Jetpack High on your favorite phone here
And you can also download my new video game: Multi Breaker