Ndemic Creations' strategy simulation game Plague Inc. challenges players to spread a deadly virus across the globe. It recently became the top-ranking paid app in both the USA and Italy. According to Priori Data, the title has seen a 123% increase in global downloads and 207.1% net revenue growth year-to-date, compared with the same period last year. It is a premium game app – though low-cost at $0.99 or €0.99 - with optional in-app purchases (IAPs).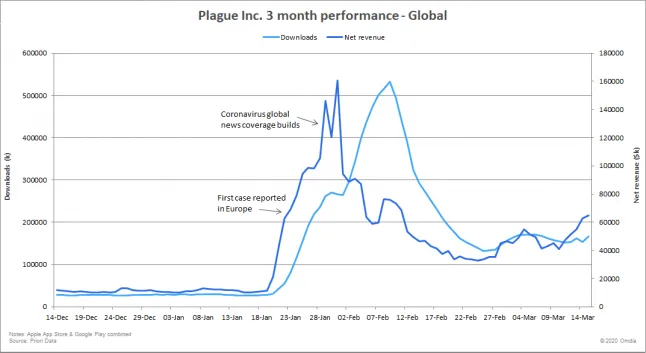 User activity for Plague Inc. in Italy and the USA began to surge around the time that the virus became an international news story of growing interest – late January. It has since flattened somewhat globally, but remains steadily higher than pre-COVID-19. This suggests a drop in new users, but sustained engagement from many of the recent new players. Italy is currently the worst-affected country in Europe, with the greatest number of cases outside mainland China. This highlights the potential of games content that is directly relevant to prominent world issues, but the recent success of Plague Inc. was purely coincidental and not a targeted launch, as it has been available on the app store for the past seven years.
China ban underlines need to approach targeted content with caution
The game launched in 2012 and its long-term performance has been modest. A remake entitled Plague Inc.: Evolved launched on Steam, PS4 and Xbox One in 2015/16, and it later came to Switch in 2019. A board game based on the IP was also released in 2017. The biggest markets for the mobile title were China and the USA. However, following a coronavirus-fuelled surge in DAUs and revenue earlier this year, the game was banned from the Chinese App Store, with the government citing illegal content. As such, companies should be wary when attempting to capitalise on the COVID-19 outbreak via games content, advertising or other media forms, as territory-specific sensitivities may prove damaging, and offset any potential gains.
What's more, Apple and Google have begun taking measures to prevent misleading coronavirus apps from appearing on their stores globally. Apple has stated it is rejecting any and all coronavirus-related mobile software not from recognized health organizations or the government. Despite the good intentions of this approach, many well-meaning, independent apps have been caught up in the ban.
Temporary in-game events better suited to capitalise on real-world trends
Premium downloads generally contribute very little to the broader mobile games market. Omdia data shows that these games apps represented only 4.4% of total sales value on iOS devices in 2019, as the landscape is now dominated by free-to-play titles with IAPs. This emphasises the significance of a premium (though low-cost) title such as Plague Inc. gaining such rapid traction in a short time. It is evidence of the unprecedented global situation, and the subsequent impact on consumer habits.
In China, several publishers have introduced in-game events or themes related to COVID-19 in recent weeks, and these generally focus on delivering a positive message. In the popular dress-up title Love Nikki, published by Tencent, Elex and others depending on territory, limited daily login prizes have been added labelled "Good Health Rewards", with central characters in the game wishing the player good health and asking them to protect themselves. This encourages sustained engagement, and the positive message is regulation-friendly.
As yet, in-game content relating to COVID-19 has been permitted, but changes in regulation may affect the viability of such content in the near future.