[due to formatting issues, this post doesn't include embedded videos; the mirrored post on tinyBuild blog includes a dozen videos from the showfloor]
Last year I did a post-mortem about our PAX Prime experience - a series of "we don't know what we're doing, but let's wing it" events that lead to us having the most productive showcase event ever. That is, up until last week. The latest PAX, called PAX South in San Antonio, was hands-down our most energy draining, nerve-wrecking, and by far most productive showcase ever.
With this post I want to do a post-mortem and share some behind the scenes footage on what's it like trying to wing a "professional indie setup" during a major games convention.
Days 0. Seattle. The Setup Month.
"Days 0" is the few weeks we spent in Seattle at Luke's place. Luke Burtis runs our partnerships from Seattle, including all events in the U.S. So naturally, we decided to aggregate all the PAX equipment in his garage, before sending it out by freight to San Antonio.
In addition to all the TVs, PCs, and other electronic equipment we had, we felt like our booth had to become more modular and space efficient to fit a dozen games. The setup at Prime worked, but we needed to be much more efficient in terms of space - specifically with the multiplayer setups, the single player PC setups, and the mobile games showcase.
Let me run you through what we picked up this time: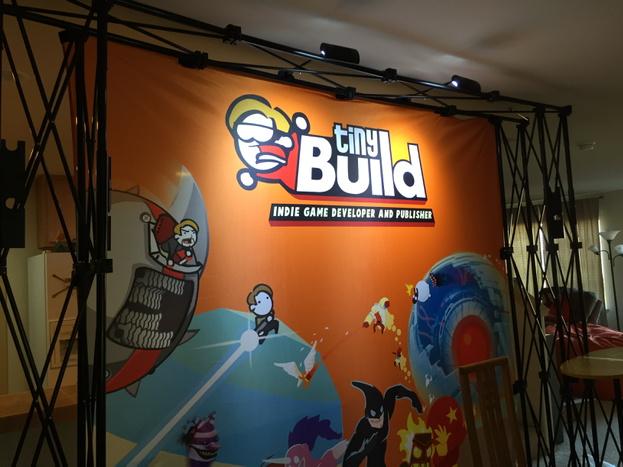 2x Truss Systems. These systems hold 2 large TVs each, have a backwall stretch thing, and they neatly pack up into a box that can also be used as a counter, so this is really neat. When the box is empty, we can store stuff in it. They are about 9 feet (3 meters) wide, making them easily fit into smaller spaces if required.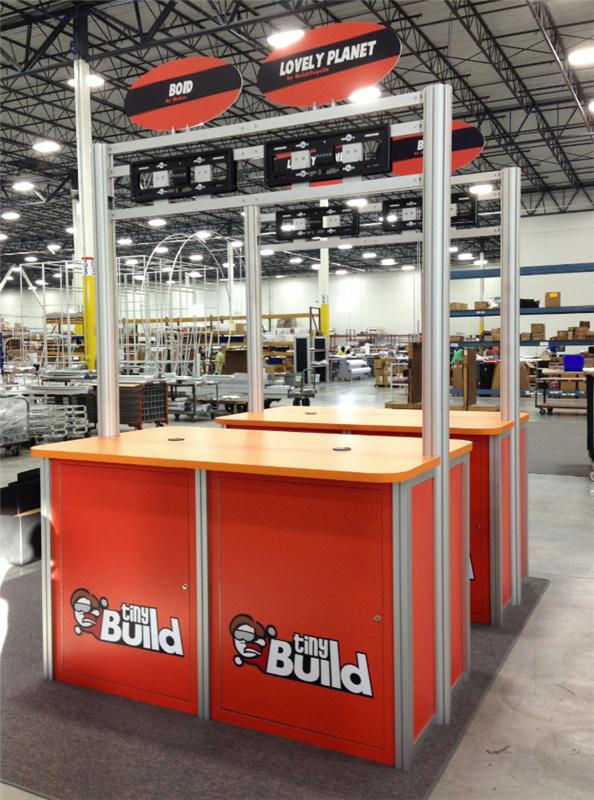 2x Single Player Kiosk Stations. Each kiosk has 4 machine stations, and each machine can have 2 monitors - one on the counter, and another one hanging up high, so people behind can see. I think this is the best thing we ever bought, after the Trusses. We can now easily setup 8 single player stations, put up comfortable seats next to it, and have it look professional. And orange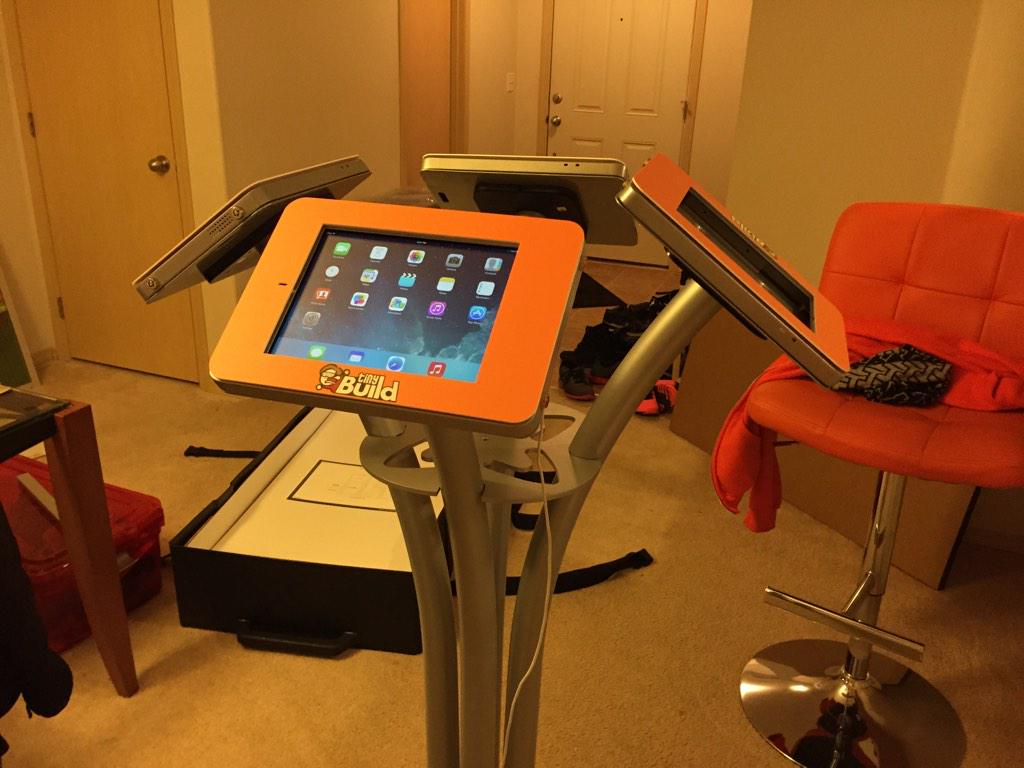 2x iPad kiosks. Each kiosk holds 4 iPads, and has a very nice graphic sticking out of it. It took us a while to find these, and they did the job well. The only bad thing about them is the height - kids were having trouble reaching them, and disabled people couldn't play, which made me feel really bad. So we'll get a bench and a couple of portable detatched devices for next shows.

1x Giant Hanging Sign. This sign goes on top of our booth.
1000x random things - monitors, TVs, routers, wires, controllers. It's insane how many little things come into play when we talk about scaling a booth.
8x super nice chairs. The same ones we had at PAX Prime - they are suuuuper comfy. But they take up loads of space.
1x Giant Crab Claw. From No Time To Explain.
1x Whiteboard for tournaments
???X banners, cards, storage equipment, brooms, lights, etc. I really can't remember everything at this point.
???X (LOADS) of Headphones from Platronics. We've been working with them for a while and Plantronics are super cool about helping us with headphones at events.
4x LARGE boomboxes. We love them - the best thing ever. They have a battery inside and can be hooked up to the grid. It's a box that blasts loud audio, with a microphone jack. You can use it to speak loudly to a group of people, and to blast music super loud.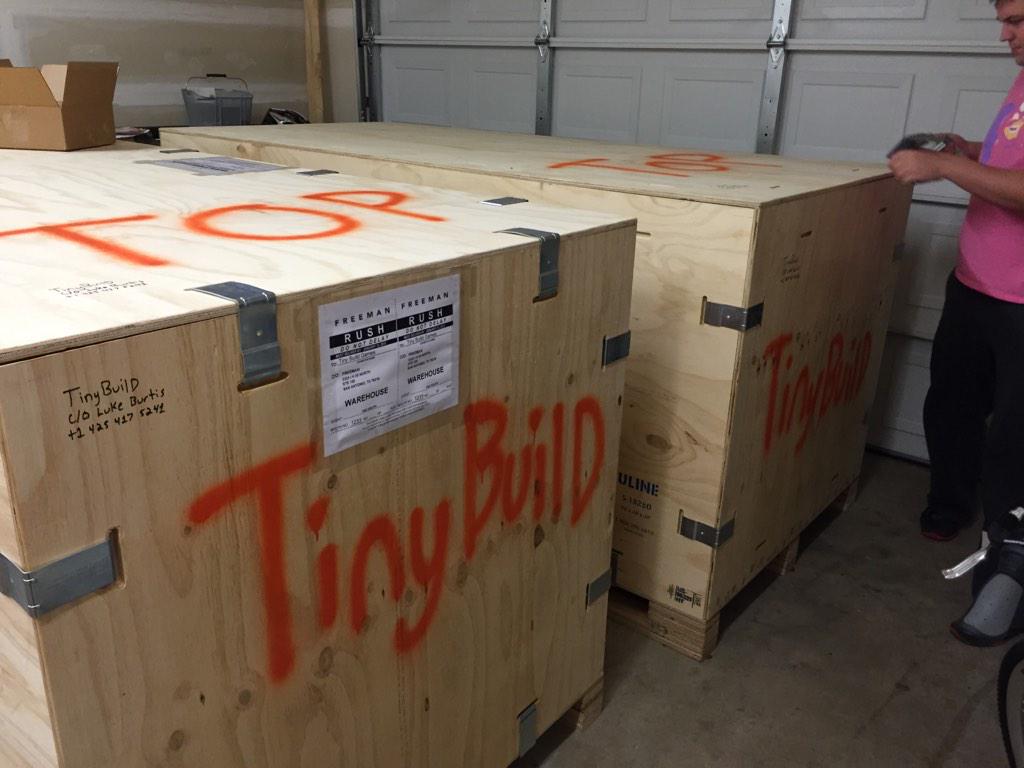 All of the above we packed up into two giant ass crates, and shipped them directly to San Antonio from Seattle.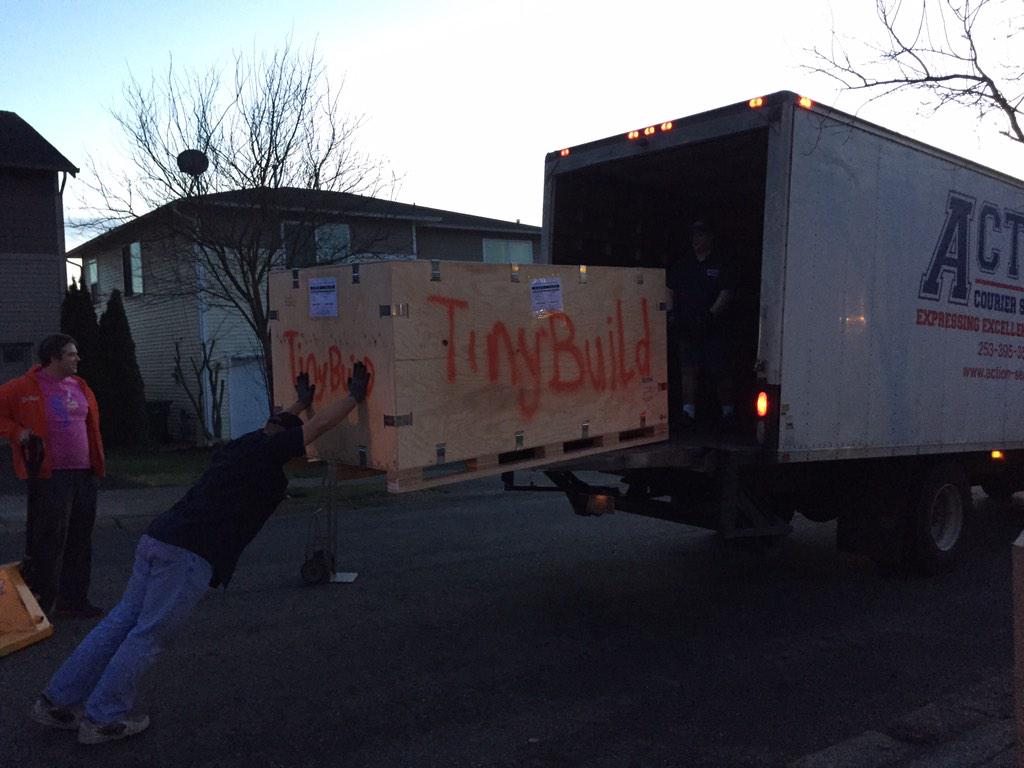 This was really scary.
+16x nice-ish chairs. Also orange. These are smaller, but do the job well - people can sit up pretty high to see the Truss systems with the multiplayer setups, without needing to break their necks. Hanging the TVs up high allows people standing behind the players to see what's going on. This helps a lot with the crowd-gathering effect. These chairs were shipped separately.
Swag: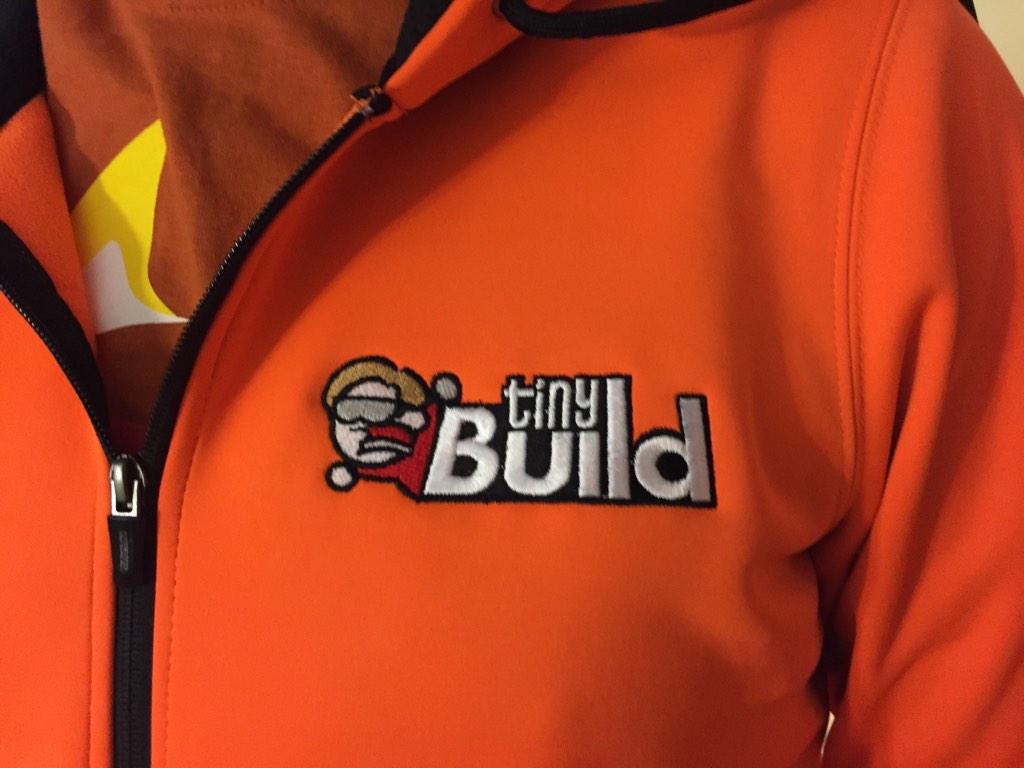 Printed about 500 T-Shirts - No Time To Explain and SpeedRunners (our most popular titles right now)
Printed over 10,000 cards for the tinyQuest
Over 600 sweet "ABUSIVE ORANGE (color-code)" hats
1,000 "ABUSIVE ORANGE (color-code)" LED-equipped lanyards
The tinyQuest
We started the tinyQuest almost a year ago during PAX East 2014. The idea is simple - how do we encourage people to stop by our booth, and check out all the games?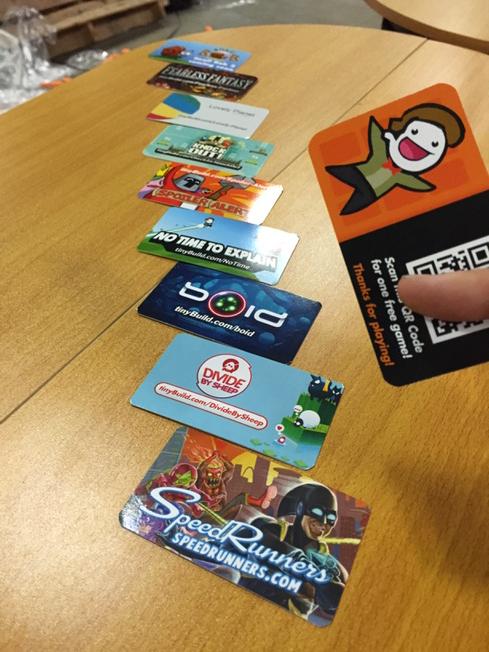 Each game has a card assigned to it. You stop by the game's station, pick up the card, (hopefully) check the game out - and go to the next station. Once you have all 9 cards (we had 9 games on show), you exchange them for a power-card which unlocks access to our private beta list. This list gives people tons of games for free, and they access them before anyone else - during the beta. I really believe that people who take the time to check out all our games should be rewarded with something super special. Even if they never buy our games at all (they get them for free!), they'll help us in testing, and spreading the word.
The Team
This time we were with 5 people on build-up, and 8 people during the show. Aside from me and Luke, we had our lovely wives (both event directors during day jobs), Andrew of 2DHeroes, and 3 more people joined us for the show - Brian of our PR agency, and Jeff of Megafuzz with his girlfriend.
Day 1, welcome to San Antonio.
We decided we'd fly into Houston and rent a car to San Antonio - get the car returned there, and walk to the venue from our house. We rented a house about 20 minutes walking away, so it would be nice stretching before the chaos of the show.
I want to say a special "fuck you" to Dollar Rent A Car. You are the absolute worst car rental company I've ever encountered. You know how in Turkey or other market-friendly places you have people on the street trying to sell you things? This was our experience with Dollar Rent A Car in Houston. We got ripped off with booking a car on Expedia and then having our price TRIPLED upon arrival.
Anyway! We got a mini van and drove to San Antonio, arriving there closer to 10pm. This is where we realized the huge mistake we'd made. In San Antonio, there's the downtown area, and the North side of town - both of these areas are great. But the East and West sides apparently have one of the highest crime rates in Texas. While our airbnb was 20 minute walk away, we quickly realized we will not be walking through that area. Stray dogs, drug dealers, rundown houses -- this was the sight we were driving through while getting to the house.
We decided to check in, and drive out to get something to eat and drink. Could it get any worse? After driving around for half hour trying to find a store that sells food, and after going through some places that sell things banned even in Amsterdam, we were directed to a 24/7 Walmart. This is when this happened.
Googling the news quickly revealed that in that same area, in the parking lot where we just were, half an hour before 2 people were killed, and 7 injured. There was a gathering of 50 people, and a drive-by killed 2 of them — after which the other people returned fire. We were right there, half hour later, with road blocks all over the place. "Chto za pizdets" said our wives in Russian. We eventually made our way around the roadblocks, got food and alcohol, and locked ourselves in for the night.
Day 2. Tuesday. Build Up Begins.
PAX South was starting on Friday, so we had a few days to build up with starting on Tuesday. Our crates fitted most of the things needed – but we were running short on time before shipping the crates out. Some things – like the slim chairs, the flooring tiles, and our tinyQuest cards.
The mini-van turned out to be spacious enough to pick up loads of boxes from a Fedex location in the morning (you can ship to fedex/ups holding facilities in any city, have them hold it for you), which was fantastic. Picked up all tiles and half the chairs in one trip. We dropped it off at the convention center in San Antonio, and sprinted to send our minivan back to Dollar Rent A Car. Seriously, fuck those guys – we paid $400 for a mini-van that we picked up at 6pm, and had to drop off before noon. We dropped it off, and were picked up by Enterprise Car Rental right from the Dollar Rent A Car. Will always continue using that service from now on.
Someone from Enterprise picked us up in a huge Yukon Suburban that sits 10 people. I had booked a midsize SUV the night before (we were going to get a Hyundai Tucson which is a car I drove for 7 years and absolutely love), but the Yukon was so spacious that we figured might as well get that exact one. During PAX Prime we had a similar one, and it really helps to have the extra space for random things we might need to transport, and have it for the trip back to Houston after the show.
Loaded up in our fancy "house on wheels", we went onto picking up more packages and delivering them to the convention center.
The rest of the night we spent assembling the floor tiles, thinking about the booth layout, getting our sign hung up, being super excited about how it looks, getting depressed that Nintendo has a lit up sign next to us, being super happy that Nintendo's booth is facing our way, and thinking what the hell does this "KREVV" company do. They built this giant white booth, with really nice chairs, a huge wall (winter is coming?), and I still have no clue on what they're doing.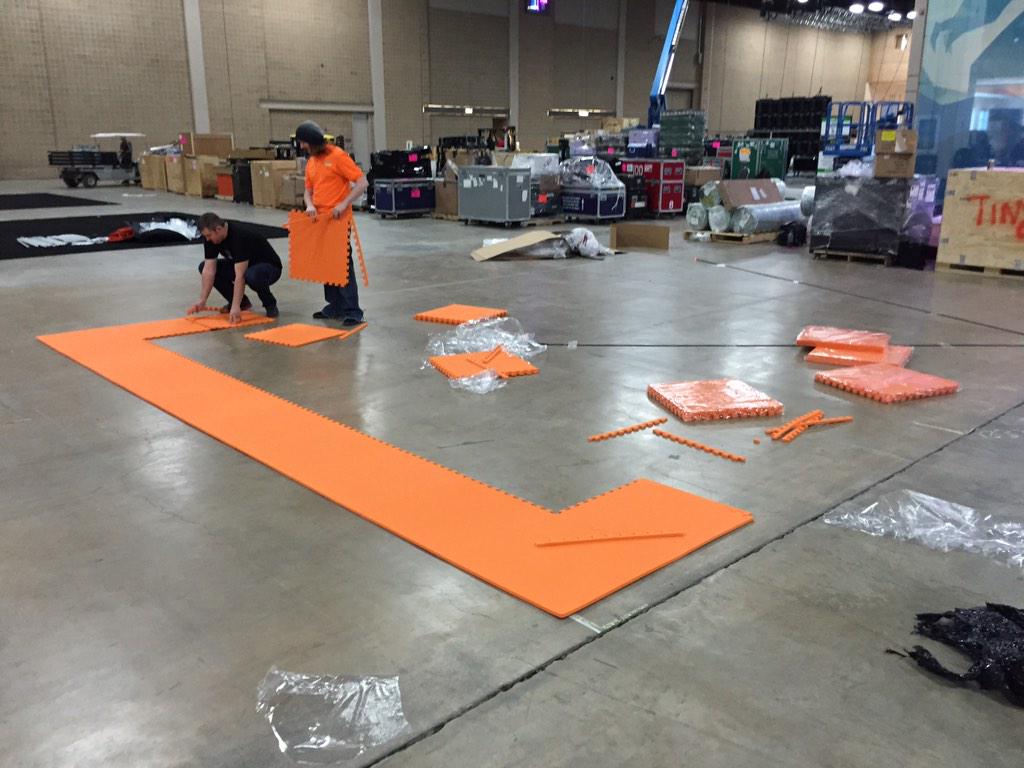 At the end of the day, we decided to put together the Truss Systems - which took us about an hour or so. I think I got Popeye muscles out of it - it doesn't need any tools to assemble, but you have to spin all the individual polls so they screw into each other.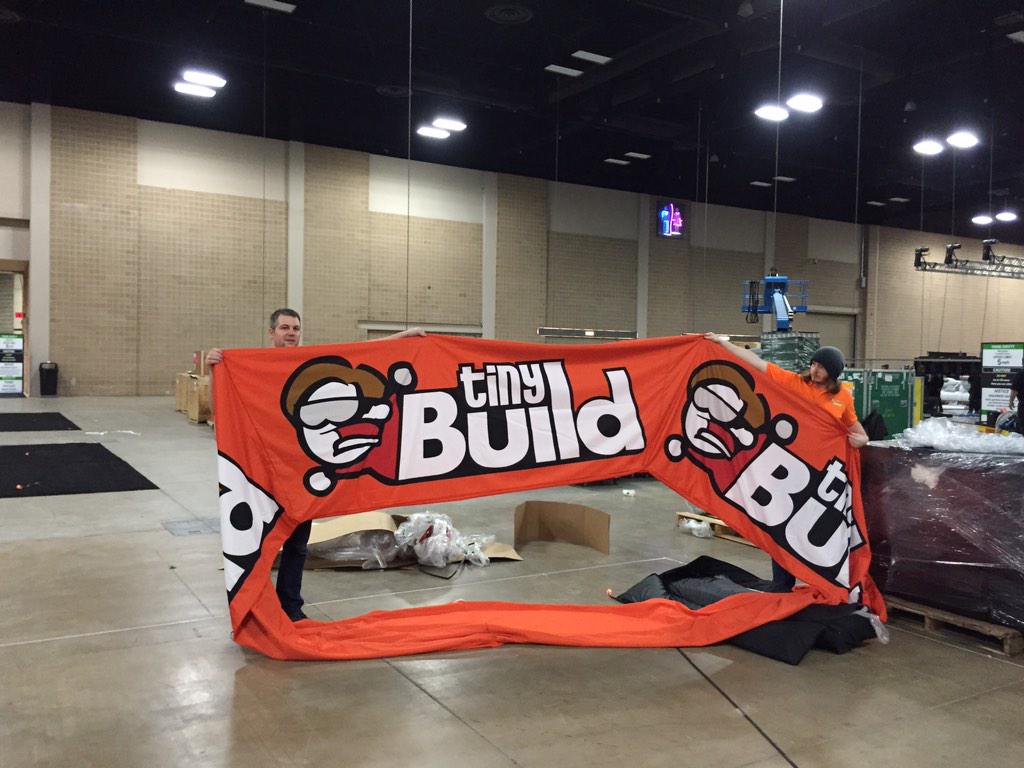 This is when we realized the initial layout idea wouldn't work.
We had initially planned something like this - where the truss systems are back to back, with an opening in the middle for a shop/storage area. People would come up on one of the sides, and be able to exchange the tinyQuest cards, buy shirts/lanyards/hats and check in for press appointments.
However, the north side of our booth was facing a narrow passage way, and the KREVV booth looked like it wouldn't have much traffic - it just looked out of place and corporaty. Again, if someone from KREVV is reading this - please put me in touch with your product marketing guys, there are very simple things you can do - just have a short sentence saying on what you guys do under your logo. By end of show someone told me they do RAM, so the marketing behind it is horrible.
We also realized there was only one entrance into the show floor, which would be coming towards us on the south-west side. South of us we had Nintendo - fantastic. To the West - Gigantic with a giant view-obstructing contraption, and East we had a big passage way with Devolver on the other side.
It was clear we needed to iterate on the layout, again.
Goal was to make the South West corner, the full South side, and West sides attract as much crowds as possible. So we decided to make an L-shape with the Trusses, facing two SpeedRunners stations south, and Check In Knock Out with No Time To Explain to the East. We'd have a more open shop area facing north.
Kiosks assemble!
After putting together one Kiosk for the single player station, we had another great idea - why not use that kiosk as sort of a wall for the shop area, since we had only two walls there - with the Truss systems. This would create a third wall, we'd use the two boxes from Trusses as counters on the 4th wall, and done - shop/meeting area, with two private single player stations for the press!
The other kiosk we decided to place diagonally so that it faces South West, towards everyone coming by the main entry way, and past that we'd have all of our iPad stations.
After a stressful and heated debate of figuring out the booth layout, we finally got it and realized our sign was not very well lit. Not lit at all, actually. The big hanging banner sign was next to invisible when the show floor turned on the lights that'd be on during actual show hours. Problem! At this point I was so tired, I started talking Russian/Latvian-English. "Is problem? Have solution". By the end of the night me and Andrew were having constructive philosophical dialogues in that language. Is funny.
Complete booth layout. Go eat. Drive through nice neighborhood, pass out. Hope not get stabbed in sleep. I will stop now.
Day 3. Wednesday. Are we under staffed or something?
On Day 3 it was just the three of us doing all the grunt work of putting stuff together - chairs, kiosks, audio/video, setting up all the machines, sorting the swag, then having the girls arrive later in the day and resorting everything.
About halfway through the day we realized we were severely understaffed. We just didn't have enough time to do anything. At one point I was about to stab Luke while he was trying to sneak up and strangle me. Stress, and an uncomprehendable amount of little things to do can take a toll on sanity of people. Indie life.
We sort of managed. Loads of small things needed attention - setting up the wiring, resetting it when we decided to change the booth layout, making sure all the BOID stations work, realizing we accidentally installed Linux instead of Windows on one of the GIGABYTE "steambox" machines we had. Seriously, those things are great. Intel hooked us up with a couple, and we just flat out bought a dozen ourselves. Small little bricks that are strong enough to run anything - including Lovely Planet in 3D on max. We're also talking with Alienware about getting their steam boxes, so I hope it becomes an offer war. Intel is really cool though for hooking us up.
One thing I'd love to note are the tiles we use – we were looking for orange carpet alternatives, and noticed that all events we went to — at the very last moment we decide to change the layout, during build-up. This is a big issue, because you order power drops and they get assigned specific locations. And you always order carpet (you'll never buy it and take it yourself, very cost ineffective), so once the carpet is there – you can't iterate on your power drops. Luke found these tiles for our PAX Prime 2014 adventure, and they worked phenomenally well. You just connect them to each other, they are softer than standard carpet, and even cheaper than to rent carpet – so we just ship them to the show, and throw out afterwards. The only thing is that they get super dirty. You need to have special lighting (not the super bright standard on top of your booth) for it to look good. We got lucky both at Prime and South, because the lights were really dimmed – nobody saw how messy the tiles got. And Texas is very dusty, so footprints become a huge visible problem.
As the day drew to an end, I talked with loads of people – South became our most productive event, since it was pretty small and everyone noticed us (orange helped?). We got to discuss our upcoming Extra Credits segment with Daniel from EC, and prepared a really nice 3-game run-through, and met lots of the exhibitors.
Eat, drive around non-safe neighborhood, see dogs fighting, drink loads of alcohol to force-sleep so we don't hear the trains, and sleep. Although I stayed up until 5am to get all of our latest mobile game builds onto iPads. We had a very poor connection at the house, and 4G hot-spots didn't work well either. It was good though, because I got to catch up with all of our developers in Europe. I'll sleep when I'm dead.
Day 4. Thursday. "I will just go to home depot…"
On Day 4 we got to the venue, I dropped everyone off so they can finish the setup, and drove off to Home Depot. The fact we spent thousands of dollars on getting the big hanging sign, got it hung up, and it wasn't visible — was really pissing me off. Problem? Solution! Duck tape.
Bought loads of duck tape. Spent half hour with a really knowledgeable Home Depot guy in the Lights section, and got 4 of the strongest, most "OMG I AM BLIND" (if you shine it into someone's eyes) floodlights I could get. I also needed to get plenty of random things, like wires and extension cords, some hand sanitizer, and more.
Also, if everyone is getting really cranky during a show – buy lots of kit-kats, m&ms, and other chocolate – chocolate makes everyone happy. True story. Prevented inner-team murders.
With $1k worth of random things, I drove back to the convention center and started… duck taping. I figured that we could simply shine the floodlights from our booth and onto the hanging banner sign. And it worked! We got 3 lights positioned well enough to illuminate the sign, and used a ridiculous amount of duck tape to hold it in. On one of the sides I used two projectors and mounted them onto the Kiosk construction. The beams were meant to stick into the ground, but hey – is problem? Solution – duck tape. On another corner we just put a random thing we brought — an extending "magazine holder". We put one of the beam in it to shine upwards, and to make sure people didn't get blinded, put up our tinyQuest banners around it. People would stop by on that corner and look at the tinyQuest instructions.
I also bought a bunch of LED lights that we velcro'd to the back of our monitors and TVs – so they shine light onto the game name signs. It's important to illuminate the game names, along with their respective developers.
Arrivals & on delays at a show
All of our other crew arrived that day - Jeff with his girlfriend, and Brian. Jeff & gf decided to stay at a hotel (wise choice) within walking distance, while Brian crashed on our couch. Indie life. It's difficult with these kinds of events, because hotels bloat your costs exponentially, while with a house you can stay flexible - and be mobile with having a car. Also, the more people you bring, the slower everything gets - and we're on a super tight schedule, where a delay of 10 minute might mean missing a meeting, or getting stuck in a traffic jam. This is why I can sometimes act like a dick to people when they're not ready on time - if you're coming to a show with us, you absolutely need to be organized and think about stuff ahead, there's no sleeping in or long shower times, everyone needs to be ready at hour X. This gives a very positive image, and opens doors to potential partnerships if you're at the venue early and ready. Plus, if you're 10 minutes later, there might already be a line to the parking, or a traffic jam - causing an hour delay in total.
At around 6pm, everything was finally setup. Almost 3 full days of setup. Insanity. This was the first time in the week we could just sit-down at a restaurant and relax before the show, calling it a slightly early night and getting sleep.
Day 5. Friday. PAX SOUTH IS LIVE.
On Friday we got to the show to realize that the Fearless Fantasy build wasn't the latest one - I mixed something up when updating the devices at 5am, so it crashed after level 3, and one of our iPads for Spoiler Alert was running low on battery when the game was running - it wouldn't charge faster than the battery drain of the game. Crap. Jeff solved Spoiler Alert by handing out more devices to people and running loads of SpeedRunning competitions for the game, while Fearless Fantasy was an issue. I really beat myself up about it.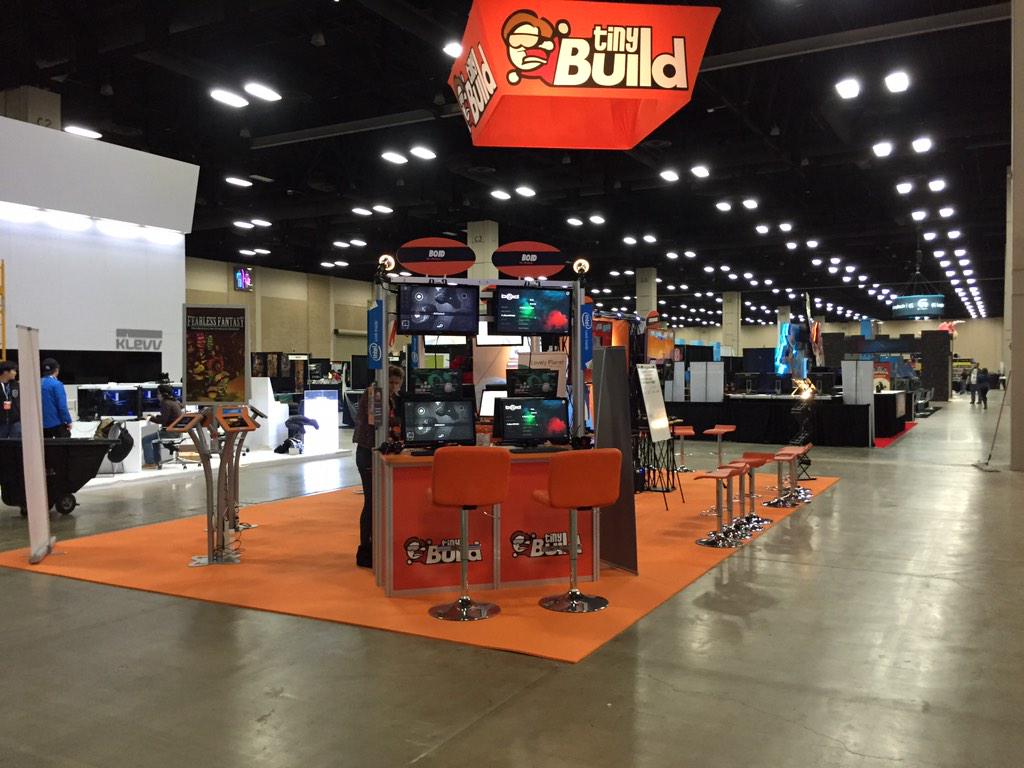 Internet at a convention? You're funny! At 9am the show floor opened for the press, and loads of people came to check us out. We were in a very central location - you could see the giant illuminated sign from any point in the convention hall, so we got lots of press stop by during the press hour.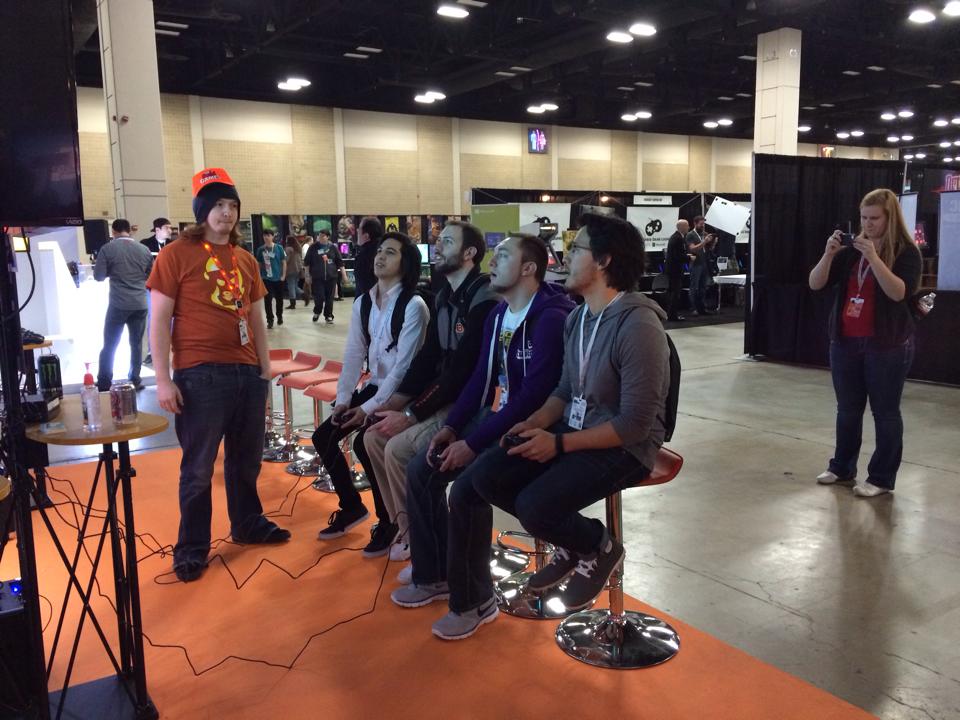 At 10am, the crowds came in. Big crowds. Proportionally, this show felt more crowded than any other PAX. The issue with 40,000 people at a convention is that cell towers go down. So you have no cellular reception, and no 4g. I wanted to update the builds for Fearless Fantasy, but there was no physical way to do it.
At 10am, the crowds came in. Big crowds. Proportionally, this show felt more crowded than any other PAX. The issue with 40,000 people at a convention is that cell towers go down. So you have no cellular reception, and no 4g. I wanted to update the builds for Fearless Fantasy, but there was no physical way to do it.
@Lerika hosted SpeedRunners tournaments most of the day, with insanity happening in the crowd. One of the players – 9 year old Paolo, is in Gold League. Gold League means you've played hundreds of hours and are better than anyone on the development team. That kid kicked everyone's butt, destroyed people. He won a tournament on day 1 and day 2 and I politely asked him to not play as a pro. We had a cool chat with his dad, who was just hanging out there. Apparently they came from San Francisco just for PAX, and ended up hanging out at just at our booth all day. He's a really good father.
tinyQuest worked. SpeedRunners tournament worked. Jeff's speed running challenge for Spoiler Alert worked. All games (except Fearless Fantasy) worked mostly as expected, press meetings went incredibly well, it was a good day 1.
We didn't really go to any parties. Being understaffed took a toll on everyone, so it was just some random restaurant nearby and sleep.
Day 6. Saturday. Is this GDC or Gamescom?
The day started off with me chugging down half a gallon of coffee, and heading out into the Twitch booth for our Extra Credits segment. We were going to play some No Time To Explain, SpeedRunners, and BOID – while going through the company history of tinyBuild. Right before the stream, Luke told me he saw YouTuber Jesse Cox nearby, and I ran across the whole hall to find him – and dragged him on stage with us for the Twitch segment.
I've also participated in the Games Criticism Panel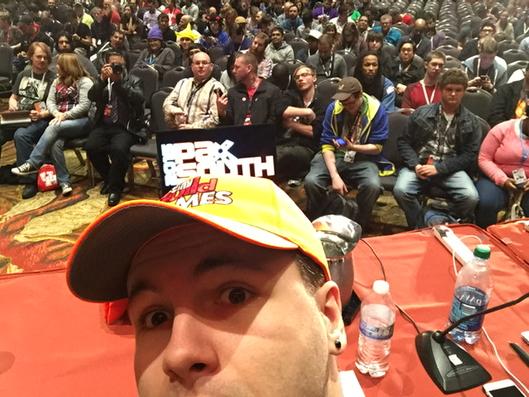 We've had tons more meetings and business contacts. It's amazing how much more efficient this was than GDC – people would just come up to us thinking of partnering up. Be it with branded chairs, giving us PCs, or getting to more shows. I really loved meeting everyone, and I think we'll get load of future opportunities from South.
The Teardown.
We managed the teardown in about 4 hours total, PAX organizers were kind enough to lend us several Enforcers to help teardown the booth and package everything up. We knew how everything went together, so tearing down wasn't that much of an issue. It's more like playing Tetris with boxes, stacking them in the crate. The crates didn't fit our "slim" chairs though, which we did want to take to PAX East – so we put them on top of the crates and shrink wrapped together. In total there are 2 large crates, one with a stack of chairs on top, and a pallet with our iPad kiosks that's going to PAX East directly from San Antonio. I hope.
Day 8. Is it over? IS IT REALLY OVER?
We got some sleep, and drove back to Houston, stopping at one of the best BBQ places I've ever been to. We got a hotel at the Ramada next to the airport, slept in after drinking a few beers and having dinner, and got to the airport next day.
Day 9. I'm writing this in the airplane.
I'm now flying to Amsterdam from Houston while writing this. It's been a fantastic and tiring trip. Next week Luke and Yulia are flying over to Amsterdam for Casual Connect, and Max (developer of BOID) will also be there — we'll have a sort of launch party for BOID during Casual Connect. A week later I'm flying to St. Petersburg for a mobile games conference and to meet with what looks like our next game's developers. The next multiplayer game that is. Super excited about that one.
And then… it will be back to Boston for PAX East.
It's really crazy how many things we are able to pull off with a small team, but I do believe we need to gradually scale. For example, ever since we hired Mike Rose I noticed we are much more effective with our communication, and he'll be giving a whole two presentations during GDC in San Francisco, then flying over to Boston to help us out at PAX East.
I hope you enjoyed reading this, and that it will be valuable experience when you put together a booth at a convention — or just so you know what it's like behind the scenes
[I am sorry for the wonky formatting, had some issues formatting this post, there are several videos missing which can be found in the original post on the tinyBuild blog]
We usually do live updates on these events on Facebook and Twitter, so be sure to like/follow!