Hey guys! Lachhh here,
Wanted to talk about something that happened to us. In a nutshell, we were trying to launch our new game ZombIdle on iOs, but we just couldn't. And here's why,
TL;DR Version
Brief history :
- August 2015, Soft release of Zombidle.com, we've put the website and game live but didn't tell anyone except a few people.
- Sept 2015, somebody hacked the game, translated it in Chinese and re-released it on Chinese game portals. That happens all the time though, pretty much all our games at Berzerk got hacked, translated and re-released. We usually don't mind because it actually end up in more organic traffic on our website. Plus, it's super difficult to monetize in China. (On Web at least)
- Oct 2015, we are ready to test it on mobile, so we went on GooglePlay filled up the forms and boom we were able to beta test on Android.
But on iOs...
When we tried to prepare everything up on iOs, we got the message : The app name you entered has already been used.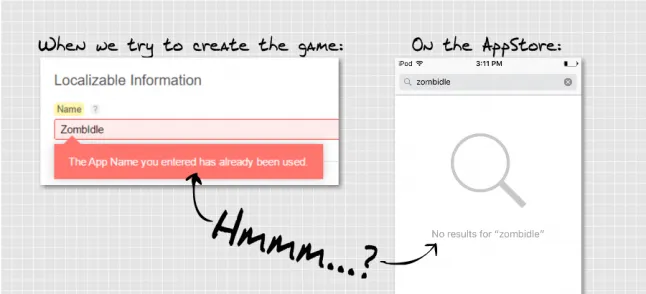 We were scared, we had made our research to be sure ZombIdle was not taken and it wasn't. I went back on the AppStore to look for "ZombIdle" and... no results.
So! We asked Apple what was going on, and turns out that a company based in China called Eyogame Studio had picked the name "ZombIdle" first. They just created a meta app on iTunes, basically "reserved" the name for themselves. We filed up a copyright claim right away of course but then I went to see what games that company created. Oh boy, you're gonna love this! I present you:
Eyogame's super legit inventory of games :
- "Hobo" is stolen from Seething Swarm
- "Jumpman Adventure" is "Fancy Pants" stolen from Borne games
- "Super Sneak" is stolen from Aline and Vladislav Forsh
4 games out of 4. Perfect score!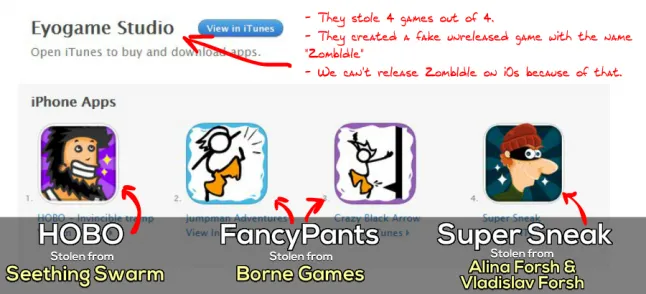 These games are not even clones, this is straight up stealing. They didn't even changed the name of the game! And they were prepared to do the same thing with us and ZombIdle.
Now as I'm writing these lines, we finally got the name back. We launched the video above and shared it in the indie community. 6h later Apple finally replied. We're not sure if it's a coincidence or if the video made enough noise to get noticed but it's been a couple of months that we were defending our case with Apple, delaying our release.
I'm not trying to trash talk Apple. They receive more than 1,000 new apps every day. I certainly don't want that job. But there should be a way to speed up things on obvious case like this. Right now, Seething Swarm, Borne Games, Alina & Vladislav Forsh all filed a copyright claim, but the company is still there. When Eyogame will finally be banned, they will have run away with the money from those devs anyway.
So I just wanted to warn you about all this so it doesn't happen to you too. If you want to help us, you can share the video above, or this article. Anything to make noise to Apple can noticed this and fix this.
Thanks for reading!