It seems there has been a lot of posts about China and mobile games/apps at the moment so thought I would share my own experience for some further reference and to do what I can to help everyone complete the puzzle.
If you're a long term Gamasutra reader you may or may not have stumbled across my post - How to start, publish and fail in 1 week* - basically saying how much of a failure my first game/marketing effort was.
Fast forward from then up until July 15th and things change pretty dramatically. Up to that point I had amassed 318 unique users and seemed to be getting maybe 1 new user a day on average (I assume simply at random by people browsing Google Play). On this day alone my Google Analytics shows 138 new users, then 639 the next day, up to the highest spike of 1069 users on the 21st.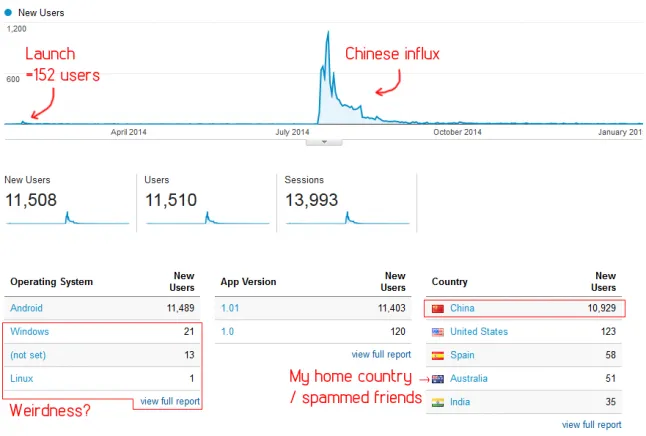 I'd obviously not been checking the stats very often by this point so I first noticed this on the 22nd of July when I posted this message on the Pixelation Studios Facebook page:
"Woah something is up with my Google Analytics for Swipe It - It reckons it just got 4000+ new users this week from China! Google Play still has it at 354 Installs though...

What's happening?!"
That's when I started investing the circumstances a bit and reaching out to anyone I could find who might have some insights. Below is what I have gathered which may or may not be entirely true and/or outdated information by now:
Google Play in China
"Google Play is really limited in China, and depending on how strict the great firewall is at the time it often doesn't work at all... a very sizable portion of Chinese users (most, I would say) don't bother using it at all. Hell, I've seen quite a few phones without it installed. They'll just grab the apk from a website or from another app store that's more reliable."
- cluckles (responding to my reddit thread )
As far as I am aware, even when Google Play is accessible, accepting payments is near impossible. To quote a Gamsutra comment from Yimin Hwang:
"You see, the Google Play store (in fact, every Google site and service except GMail) was blocked since June 2014 here. Even worse, those especially motivated who use whatever method to circumvent the block to just to _access_ the store will find NOT a single paid app there. Yes, the Google Play store hides all non-free apps for mainland users, for some reason. Oh, and did I mention most of the android handset here that is legally sold don't even have GMS (and thus Play Store app) installed?"
"So, to legally purchase a copy in the People's Republic. One must
1) get a, well, "imported" handset from the local grey market (e.g. taobao), or find and flash a custom ROM for a domestic model;
2) install GMS and Google Play on it;
3) purchase a VPN, proxy or any other GFW bypassing service;
4) set up your handset and/or home network to use said service;
5) purchase a $5 Google Play gift card serial (again, from the grey market);
6) redeem the gift card to make the store unhide the paid apps (again, for some reason);
7) find your game and purchase it.
"And you may or may not need to come up with a fake US billing address."
My game is free, but the above is a great indication of what other recent examples (like Monument Valley) would have to deal with.
Alternate App Stores
"Alternate app stores will sometimes grab free apps from Google play and repost them on their own service."
- espectra (responding to my reddit thread )
" China have their own Android stores, yes. They will mirror / leech content from Google play."
- deltars (responding to my reddit thread )
The above I can confirm is 100% true. Doing a search to see some possible places my game was getting all these hits, I found many sources I could download my game from, some linked to Google Play to do so, some didn't.
The following quotes are all from Jihua Liu of UXvibe in Sweden (in response to my email)
"They use your game to attract users to visitor webpage and they make money from Ad. Actually, the Chinese just download it and upload the game somewhere on some portal. They didn't even mind hacking it."
"However the Chinese often give credit to the producer of the game in the west (which give you some PR), but most of them are not very good in Eng which make it 0-some game."
Neither he nor I could find any results on Baidu (which I am told is the Chinese equivalent to Google) and as such were never able to find the source of the downloads to see if there was any credit being given to myself, or if there were any glowing reviews from Chinese fans. I'll probably never know.
And for the most disappointing part of my otherwise pretty great situation of having an influx of 11000 Chinese users:
" The reason why you can't monetize although you have downloads is because Ad networks in west do not work in China. China is like a closed eco-system where nothing works but the local Ad networks. "
That's right, with this number of people I might have actually had a chance of making a few bucks from the most disliked part of my whole game - the interstitial full page adverts - but no. No impression increase, no click increase, no anything.
The secondary disappointment is the most obvious, since the game was being downloaded outside of Google Play I wasn't even getting the benefits of a stat boost and to this day it is showing 568 installs. A tiny fraction of the full amount that I know of from my analytics - 11,508.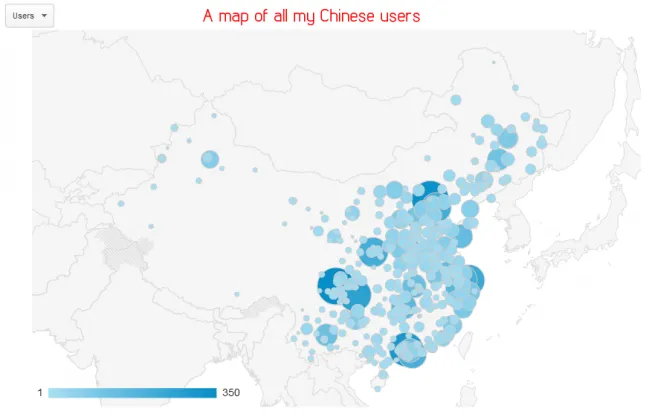 Feel free to correct anything here in the comments, I'm always happy hear more information about this. For now I'm hoping I can hit these kind of numbers officially for my newly released game Zombie Feeding Frenzy - please check it out if you can, you're support is greatly appreciated and if you want to follow me anywhere, please check out the Pixelation Studios Facebook page.
Bibliography (or at least links to my sources quoted in the article):

http://www.reddit.com/r/IndieGaming/comments/2bku71/my_android_game_has_suddenly_got_massive_spikes/

http://www.gamasutra.com/blogs/JonasByrresen/20141013/227585/The_Chinese_Pirate_Surprise_Attack.php

Jihua Liu, Co-founder / CEO
E: [email protected]
W: www.uxvibe.com
(I realise this one looks like I'm signing off the article, but this is not me, this is a kind person I quoted in the above post!)