Mobile Promotion that really paid off - $50k and counting savings!
By Jiří Bukovjan, Founder of NOXGAMES.
We want into mobile!
We are, as a developer, shall we say "well established", although as indie as they come. We are a small team of three hailing from the Czech Republic and have been together since 2005 (as NOXGAMES since 2010). We have, over those years, a long standing history with Flash games - having developed and launched over 50 and boasting over 100 million gameplays to boot.
But we, like all developers who have looked out of the window of late, wanted to move our content to the mobile market. The market where all the consumers are! This is a simple move, make our next game on mobile platforms, couldn't be easier. Right?
So we did, we made a simple yet addictive game focusing on easy controls, attractive graphics and humourous gameplay. Puppet Soccer was born. We loved it and we knew that people would too.
It's like shouting in space.
No, we aren't the first to think it, know it or say it - but getting your new mobile game in front of audiences is hard, and really expensive. I think I like the analogy one of our team came up with; "it is like you're a dwarf in a crowd of giants trying to get someone's attention!" sums it up nicely.
Given we didn't have the marketing budget or the support in place needed for audience acquisition for Puppet Soccer, we needed a different approach in order to market our game to the right people and get the installs we felt it deserved.

Partnering with the big boys.
We knew we needed some heavyweights in terms of audiences that we could work with to get our mobile offering in front of, we knew that Spil Games had those massive audience numbers, but we also knew that we wanted to publish our own mobile game and not send it through a massive publisher on a licensing deal. What we didn't know, at that point, was what to do about all of those things.
After arranging a meeting, showcasing and having some really inspiring chats with the Spil Games team we proposed an idea to incorporate a licensing deal for a Flash version of the game - which would be published via Spil Games massive portals (such as Gamesgames.com; which boasts over 130 million active users) - with promotion for the iOS and Android versions we were to publish. This was, by all accounts a new concept and deal for Spil Games, but they embraced it and took the pain and effort out of making it happen.
We had no idea how this promotional idea would go to be honest, but at this stage we just didn't have any budget for marketing outreach or audience acquisition. In principal the promotion was sound - direct marketing to an already engaged audience - there are no greater group of people to advertise your product to than those who are already advocates of the product. Surely?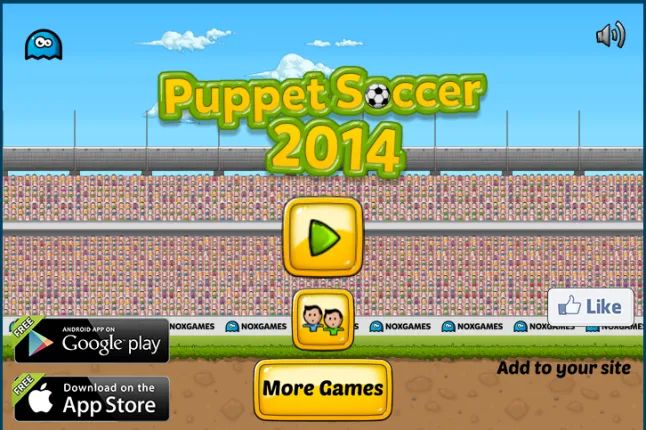 This is where things got interesting.
In short, we were blown away by the effectiveness of the deal. The amount of play sessions our Flash version achieved, the amount of time people spent playing it, the amount of click-throughs on the embedded ads and then the subsequent conversion to installs were insane!
To give some figures; the Flash version of the game received over 12,600,000 extended play sessions, from these play sessions we received 600,000 click-throughs on the Google Play button and 115,000 clicks-throughs on the AppStore button [click-through rates of 4.7% for Google Play and 1% for the App Store].
Then, with a massive 7% of click-throughs converting to installs, we received 42,000 installs through Google Play and 10,000 installs through the App Store - all purely from the in-game promotion in the Flash version of Puppet Soccer.
With the cost per install last year sitting at an average of $4 and with a wildly conservative $1 CPI, we would have needed to outlay $50,000, at least, to hit this level of installs. Money we simple did not have!
Sequel, sequel, sequel!
We have been so delighted by the response, gameplays and installs of Puppet Soccer - and managed to earn enough from them to pay the rent, eat and develop a sequel - Puppet Soccer Champions, which follows the same popular gameplay mechanics, features more of the funny graphics and focuses on the Champions League.
Following the very good rule of 'if it ain't broke...', we have again signed a licensing deal with Spil Games to publish the Flash version with embedded adverts for the mobile versions and we fully expect to see the same (if not better) returns on this "investment" [I use inverted commas there as that is the beauty - there is no financial outlay for us].
A part of me feels like we have discovered an untapped marketing goldmine here - what better marketing solution is there than having your adverts hit all the people who are already engaged with your game, the people who, not only are likely interested but will be pleased to discover the mobile version and, above all, will likely install it? This is an indie (or any, for that matter) developers dream - to be able to get your game in front of an established audience - in the case of Spil Games, over 130 million - without the unwinnable battle for attention in the overcrowded app stores, and without a budget equivalent to $1+ CPI.
Puppet Soccer Champions is due for release in November 11th and we are so excited about it. Check the game trailer to see what's new!
Game is now live and you can download it to your devices.