Notice: 5th June - The GetIrishGames and #IrishGameDev Map project stopped and went offline in mid-May after the project was unable to secure funding to continue the project, but this blog post gives a snapshot of the Irish Games Industry across different sectors from education, retail, development, middleware and other related services from when the project had been live.
Edit 6 Jan 2016 - Map revived at https://www.google.com/maps/d/edit?mid=zlhe5KRqwnLI.kaghnzXACK_0&usp=sharing
I just wanted to post a short update and follow on from http://www.gamasutra.com/blogs/JamieMcCormick/20130619/194663/Meanwhile_over_in_Ireland_A_Games_Industry_is_Born.php last year after The Games Industry in Ireland 2012 report was published the year before, to inform the Gamasutra community, and particularly Irish expats working in the international games industry of how things are going.
An article about this was published in the Irish version of The Sunday Times on 1st September, before this project started. It was later republished online at SiliconRepublic.com, and you can watch the video of the annoucement of the project to over 100 game developers at Dublin Institute of Technology's State of Play event at https://www.youtube.com/watch?v=QlF8LT8H17s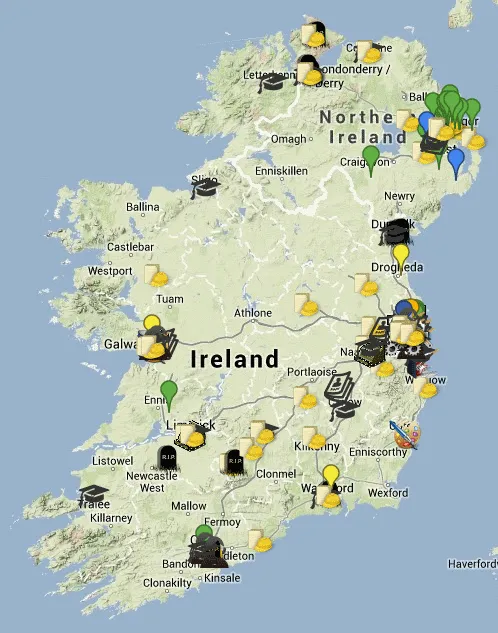 19/4/2014 with 254 datapoints.
I am at the end of creating an up-to-date database of companies involved in some shape or form in the Irish games industry (North and South) across all sectors from development, tools, publishing, services, retail and consumer market functions. Doing the 2012 report showed me that as soon as I generated the database, it went obsolete, with new companies forming, going into hibernation, and shutting down.
So this time around, I have everything on the cloud, enabling us to bring the database up to date with all companies and dev teams historically involved in the games industry (254 on the list at time of writing out of an estimated 260~300 total). I am visualising these on the map at GetIrishGames.ie , and have a blog post with the announcement of the site at last November's State of Play in Dublin Institute of Technology, and seeking volunteers to help work on the project, or fundraiser to allow us to take on some staff for a few months to get the project finished (which also accepts Bitcoin and mining time).
With the database of companies current, I can then have a real time view of the industry here, adding new teams as they form, and then I can then go through them all and list their products and services, see who has released products, and help drill down and break into layers the different types of incorporated and unincorporated (ie college teams) groups working in the Irish Games Industry, across the North and South.
Get Irish Games has been set up to have a portal showcasing all of the games made in Ireland, and offer a digital distribution platform to let them sell paid or free games, merchandise, redeemable codes, or any other digital and non-digital goods. The Irish consumer market is €240,000,000 in a bad recessionary year without a new console launch, and approximately 0% of this is being spent on locally developed games.
By connecting consumers with the games, a trickle down effect can kick in across the entire games industry here in Ireland, helping it get a commercial foothold, and giving Irish companies, and expats abroad, at least one place on the internet that is guaranteed to list their games. I am also enabling freeware games to be put up at a pay what you want price.
So the project is about 2/3 complete, and I am at the stage now where throwing a lot of time at this can hopefully create a very valuable dataset for people working in the Irish Games Industry, looking to study in the industry, find jobs in the games industry, for the media to find Irish games to cover along the likes of GTA in their mainstream coverage, and for stakeholders in Irish government, community and government agencies to have accurate information on which to make decisions.
So if you are working in the Irish industry, spread the word. If you are an expat, this is what's evolved since you left. And if you are a team that would consider setting up in Ireland, there is a government initiative called ConnectIreland where I can introduce you to them, and for every job created up to 100 jobs as a result, I receive €1,500, which is being split 50/50 between myself, with the balance going into a fund for GameDevelopers.ie. So look at the map, see what we have here and get in touch!
You can connect with the author on http://ie.linkedin.com/in/jamiemccormick/ or jamie [at] scraggly dog games [dot] ie
Cheers
Jamie McCormick
Scraggly Dog Games
Dublin, Ireland