Overview
Having a launch party for Rollossus was a really cool and unique experience as a student. When the development team started on Rollossus over a year ago, none of us expected to have 70 people pay to get into a small bar for a launch party for our game on release day. But there we were, making revenue on our game four hours before it was even live on Steam or Itch.
I think that having a launch party for your small indie or student game is incredibly beneficial. You generate revenue, have a chance to celebrate, get a lot of really practical experience doing live game testing, and you might get a cool Gamasutra post from it, too. There's a solid amount of planning and organization that needs to go into one, but it's definitely achievable, even by a small indie studio without a budget, or even students.
For starters, your launch party doesn't need to look like the EA booth at PAX or anything wild like that. To organize the launch party for Rollossus, I had originally reached out to a local arcade bar about doing some marketing at their business. After some discussion, the owner said that we could use their space for free if we brought them in extra business. Fast forwarding to the launch day, we had three screens connected to developer machines, a couple activities for patrons, and some prizes to win in a raffle. The total cost of the event was the $5 that I spent on colored pencils.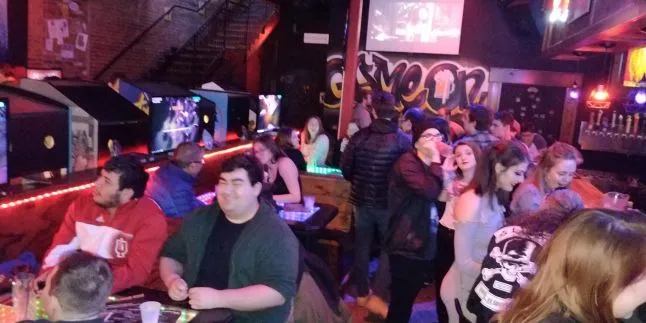 Problems and Solutions
Planning the event itself proved to be the hardest aspect of everything, second to only making the game itself. The main problems that I identified when planning was as follows. We need to get people to care about the event, we need to get people to the event, and we need to get people to stay at the event. Things such as getting raffle prizes, making builds of the game, etc. all fall under the umbrella of those three problems.
Our first problem was to get people to care about our game. As many student projects suffer do, we admittedly had a subpar amount of marketing. As a result, nobody realistically cared or knew about our game apart from a few friends and family. To get people to care about an event, free stuff is the way to go. Between the venue and some legwork on my part, we had two $20 Steam gift cards, a $25 gift card to a local shop, and a NES Mini up for grabs. Finally, I came up with the idea to offer something up which grabbed everybody's attention. The grand-prize in the raffle meant that we would take a picture of your face, texture it onto a rock in the game, and hide it in our map. The prospect of being in a video game, even something they had never heard of before, excited people. We also put them in the special thanks of our credits. Between all these things, people showed up to the event excited for the raffle and wanting to win.
The next problem was to get people to the event. I think overall this was our weakest area of the launch. As it is, we started distributing flyers about a week before the event, which isn't great. What we could have done better is as follows. We should have prepared all our marketing materials much earlier to make sure our wording and imagery was optimal. We could have started advertising 1-2 weeks sooner (2-3 weeks before the event). We could have also gone to various campus clubs and local communities associated with games (board game clubs, e-sports clubs, Smash Bros clubs, etc.) to advertise. I think that if we had marketed better, combined with our incentives for showing up, we would have been able to improve on our 70 person headcount.
Our last problem was to get people to stay at the event. I feel like we handled this issue well and had really good retention during the event. When you got to the event, you had several ways to earn tickets. You got a raffle ticket for paying cover at the door, playing our game, and buying our game. We also had a few event ideas throughout the night that we introduced when we felt like the mood was dying down a little. One of the activities we had was to "draw concept art" (we printed half sheets of papers with circles on them and provided colored pencils, because all of the enemies in our game are balls), which was directly inspired by the Move Or Die GDC talk about boothing. Another fun activity we had was to let people play against devs in arcade games in order to win an extra ticket. Between all those events, and the social nature of the arcade bar, time flew by until release.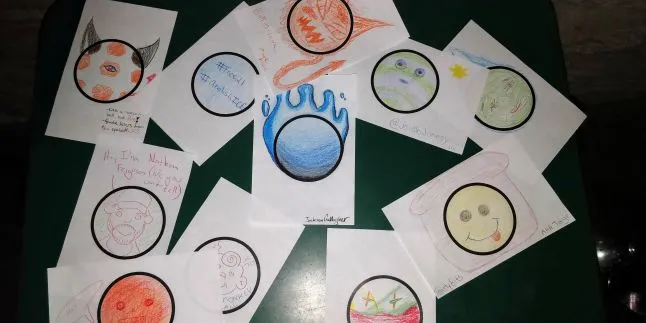 (There were about half of the pieces of art that we got from the event)
Loose Ends
There are a few loose ends of information I learned organizing and running this event which I wanted to throw here.
First off, make sure it's easy to buy your game. We offered raffle tickets for people purchasing our game for $3 and had three different ways to do so. They could purchase on Steam, Itch, or by Venmoing our company account $3 and getting a steam code from a dev. We made it super easy to purchase games, but we never really pushed it or gave people instructions for it – learn from our mistakes and advertise how people can support you.
Second off, organizing a launch party as a small indie or student is definitely doable and I would say worth the time, but there are a lot of other costs. It's stressful. Student or small indie projects can sometimes have the benefit of having a loose release date, but that's not something you can do when you've announced a launch party. In addition, it's a lot of planning and double-checking and coordination in what will likely already be a crunch period. I was one of the leads on Rollossus, and planning sprints, assigning tasks, doing my share of programming, and planning a launch party is a lot. Depending on what's left to finish in your game and the size of your team, you might run yourself pretty thin.
Thirdly, make sure your developers are distinguished at the event. People should be able to tell the difference between developers and game players. Even beyond recognition, people may have questions, or need to get somebody to restart a build or machine.
Fourth, try and choose your venue as carefully as you can. We got lucky with our venue. It's an arcade bar, for one. Additionally, the owners were incredibly accommodating with trying to earn us some money, as well as reaching out to their partners to provide prizes. Our marketing lacked in places, but we ended up picking up some extra traffic just due to regular customers who showed up to the bar and went "oh cool, release party".
Fifth, decorate a little! We didn't have a lot of time to prepare decorations, but I spend a few hours doing a few crafts. I printed out some concept art, traced it on cardboard, cut the cardboard, and then glued them together. I made some stands for them and we were able to place them around the venue.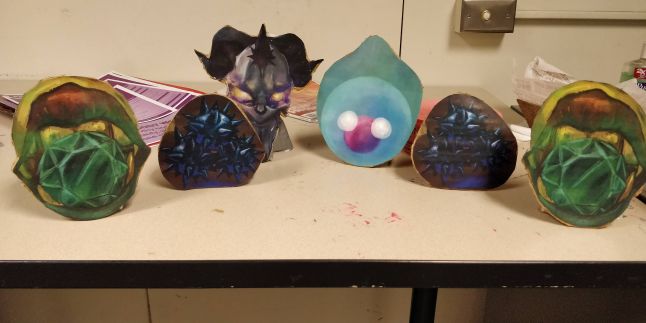 Finally, have a backup plan. We had a few Nintendo Switches with Super Smash Bros on hand in case all of our machines broke, or if the builds decided they wanted to break. Thankfully we didn't need to use them. However, if we did, nobody would be mad about a Smash tournament.
Conclusion
Launch parties are achievable things for indies/students to do for their project and the benefits could very well outweigh the costs. However, you really should evaluate what amount of time you have left on development, because missing out on critical features isn't worth having a release party for. Just under half of our game's revenue a week after launch has been generated from the release party alone. Good luck!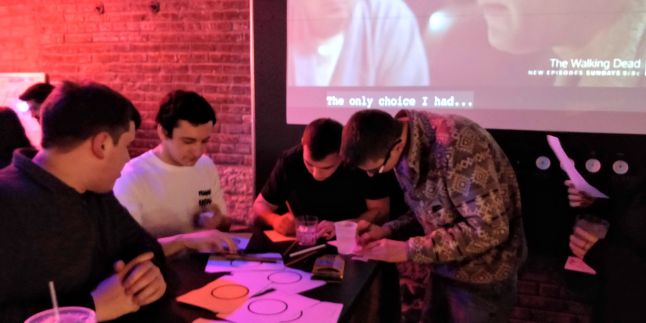 Move or Die GDC talk: https://www.youtube.com/watch?v=gB8CvsOjDvg