(I initially posted this article in my blog LEAP TO THE FUTURE. )
Last year, I wrote these articles about the nature of the Japanese mobile game market and so now I'll briefly summarize the last year's trends and this year's forecast in the industry.
1. Nintendo and Sony advance in mobile games
2016 it will be remembered as the year that two console-platform-holders Nintendo and Sony advanced into mobile games market extensively.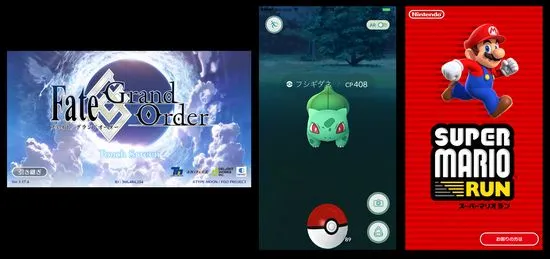 The two BIG titles, Pokémon Go by Niantic, and Super Mario Run by Nintendo launched in 2016. They showed how the Nintendo IP is overwhelmingly popular. Pokémon Go got 500 million downloads within only 8 weeks and Super Mario Run got 40 million downloads within only 4 days. Both records are incredibly amazing!
Also, Nintendo has a plan to release Animal Crossing and Fire Emblem for Smartphone this spring. Super Mario Run had a problem with the selling method, but I think that these two titles will probably take a more suitable monetization method.
The other console-platform-holder, Sony (Sony Interactive Entertainment) established the subsidiary Forward Works having a strategy to provide their IP titles for smartphone in Japan in April 2016 and the new company held the press conference in December, showing some titles to be released like Hot Shots Golf, Wild Arms and Arc the Lad.
What we should not forget is Aniplex, a Japanese anime and music production owned Sony Music Entertainment Japan. Have you heard about Fate / Grand Order ? The mobile RPG got Top3 in grossing ranking in Japan beyond Pokémon Go last year. The game is designed as a brilliant fusion of JRPG and Visual Novel.
According to the report of the AppAnnie, Pokémon Go earned sales of $950 million last year! And so, look at this monthly ranking (sum of grossing in iOS and android). Aniplex's Fate / Grand Order outperformed the sales of Pokémon Go and was ranked 4th in December 2016.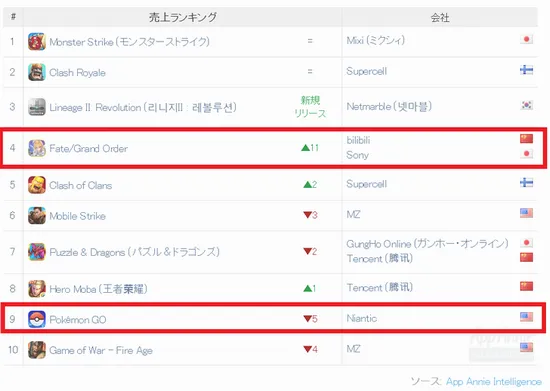 monthly grossing ranking worldwide in Dec 2016 (@App Annie)
2. PvP is becoming popular
It has long been said in Japan's social game industry that Japanese online gamers prefer cooperative to PvP. Nevertheless, in 2016 some PvP titles got a brilliant success like Clash Royale (Strategy), Shadowverse (Digital TCG), Yu-Gi-Oh! (Digital TCG) and Shiro-Neko Tennis (Action-Sports).
Just as Mario Tennis is based on the world of Super Mario Bros, Shiro-Neko Tennis is a competitive sports-game based on the world of Colopl Rune Story (Action-RPG). It features popular characters of Colopl Rune Story playing tennis.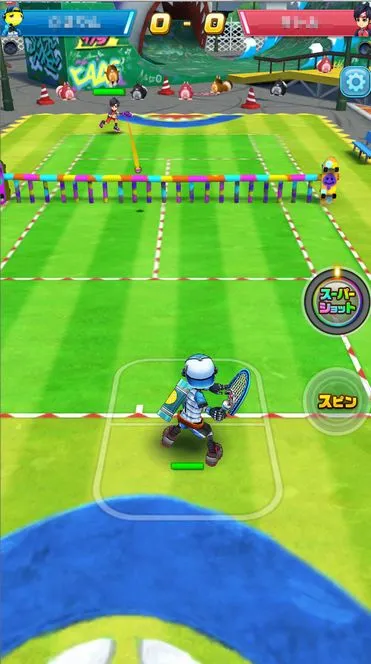 Shiro-Neko Tennis by Colopl
Of course, the new trends are affected mainly by the success of worldwide PvP games like Clash Royale and Hearthstone. It shows the possibility that Western and Asia PvP games might be successful in Japan's mobile market.
However, if those game titles try to keep their success in the long term, it is necessary to maintain users who are keen on getting enthusiastic about the game while relaxing the stress of the users who want to avoid the PvP match as much as they can be defeated.
Referring to Clash Royale's monthly average of gross ranking on Google Play (Japan), you can see a decline over time. We have not conducted a detailed analysis on the cause, but steering the game balance of the PvP genre in Japan is not easy.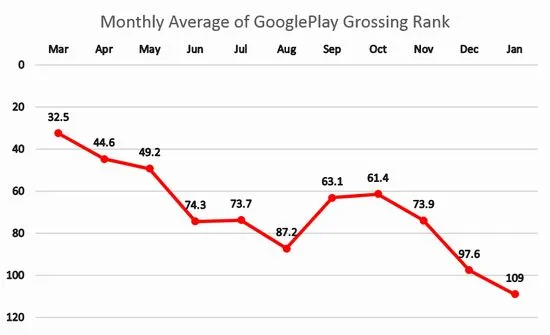 Source: Average Data from AndroDB
This graph is based on AndroDB. The monthly average ranks are calculated from daily grossing ranking on Google Play. The average rank in Jan 2017 is calculated from daily-data until Jan 21.
3. Success of Digital TCG
As mentioned above, Digital TCG titles got a great success in the market. It is similar to the phenomenon in the 1990s that Yu-Gi-Oh! TCG and Pokémon TCG were born from Japan due to the influence of Magic the Gathering, becoming very popular worldwide.
There are three reasons why digital TCG had a success in 2016.
a. Many teenagers who were crazy about the TCG in the 1990s become adult gamers.
b. Around five years ago, in the golden age of the Mobage and the Gree, many publishers released hundreds of card games following the ultra success of Dragon Collection by Konami. Now, many developers have assets of those titles.
c. As mentioned above, there are many excellent artists and art studios drawing attractive artworks of characters and monsters in the industry.
4. RPG genre is Red Ocean
As you all know, the RPG genre is very popular in Japan. In general, RPG tends to have a high ARPU and sales are large. As the result, competition in the RPG genre becomes more intense and development costs and advertising expenses have risen.
It is getting harder for Non-IP titles to succeed in the market.
The battle system has become complicated to the same extent as PS4 and PSVita's RPG. The presentations are also luxurious including the opening animation movie, the battle represented by the 3D model, full-voice, story demonstration.
Although many passionate mobile gamers pay attention to the new titles in the first month, they play with greed and judge the deepness of the gameplay, and so move on to the next new titles.
5. Growth of Asian publisher's share in the market


Seven Knights,  THE KING OF FIGHTERS'98 UM OL,  HIT
It is well known that Japanese Publishers occupy a high market share in the Japanese market, because Japanese gamers have distinctive preference and attracting to gamers is not easy. Therefore, the Japanese market is often said to be too closed market.
However, success stories of foreign publishers are increasing little by little. Last year, Korea's and China's publishers released some successful titles like Seven Knights (Netmarble), THE KING OF FIGHTERS '98UM OL (OURPALM) and HIT (Nexon) in 2016.
In general, when bringing Asian online game titles to the Japanese market, characters and their presentations, for instance illustration and voice are very important for success. Asian publishers have been gaining much knowledge to attract Japanese users.
6. Diversification of monetization method
In traditional, Japan's mobile F2P games adopting Gacha-model tend to introduce new units into Gacha every two weeks or month. Introducing units high frequently make it difficult to manage complicated game-balance and it tended to inflate unit performance.
Rapid inflation of unit performance shortens the practical period when the user's unit exerts its strength and reduces the user's willingness to purchase. It is the problem that happens in some titles over the medium to long term. On the other hand, Digital TCGs take longer interval like 3 months to introduce new units. It is a sufficient time to tune game balance.
Pokémon Go introduced some innovative monetization method like Egg Incubator, Lure Module, Incense and Lucky Eggs. The brilliant success of the game gave a surprise and impression to Japanese mobile game developers who usually adopt Gacha model.
Although Japanese mobile game developers have developed dozens of location-based games since 2000, those games tend to be low-ARPU and most of the developers prefer to develop high-ARPU Gacha model games.
Also, Super Mario Run is the courageous challenge to try out selling out model. It is hard to say the result is a success that meets expectations, but some industry people evaluate it as an approach to earning revenue from late-majority users in Japan's mobile market.
7. New companies specialized in service
The new companies like Mynet, funplex and so on, specialized in providing online game service have been growing fast. Those companies don't develop online games on its own, but purchase online games other companies are servicing. They improve the quality of them and get better revenue from them.
Those companies can avoid the big risk of developing games that are unpredictable whether to success or fail. On the other hand, developers get proceeds from the sale of their titles and can devote themselves to development of new titles.
In most online games, sales decline after several years, therefore when sales fall short of service cost, developers make a decision to stop their service. If instead of stopping the service you sell it to a company specialized in service, total life cycles of the game would be extended and all users could continue to play it.
Purchase and sale of online game title have expanded rapidly in recent years and its market is called "secondary market" in the industry. Several companies are entering the market. The most remarkable growth is the two companies of Mynet and funplex (GREE's subsidiary).
Conclusion and forecast
The above trend continues this year and chances for foreign companies are expanding. And one more I forecast that games for women will increase considerably.
Thank you for reading this to the end. I hope this article gives you valuable insights. Ask me in the comments If you have questions about this article.
(C) Aniplex
(C) TYPE-MOON / FGO PROJECT
(C) Nintendo
(C) COLOPL, Inc.
(C) Netmarble
(C) OURPALM
(C) Nexon