It's not every day you help launch a new game engine.
As you may have read, this week has seen the release of a new 3D game development engine aimed at AAA-quality games – the Open 3D Engine, O3DE for short.
To make things clear, this story isn't just about Amazon open-sourcing Lumberyard – it's been a huge, cross-industry project involving hundreds of people in dozens of organizations including ourselves, the Linux Foundation, Intel, Popcorn FX, WWISE, Niantic, Wargaming, Carbonated, Apocalypse Studios, and many others.
Here at Kythera AI, as a founder member of the Open 3D Foundation, we're providing that engine's AI toolset. It comes in the form of a binary add-on, the Kythera AI Gem - not fully open source, but available to use for free for the first time.
Open source is still relatively uncharted territory in the games sector, especially at the more commercial end, so a new open source game engine has the potential to drive cultural change. We don't yet know exactly what that change will look like, but we're certainly keen to help shape it.
Kythera AI is Available to All
One immediate change for us will be in who is using Kythera AI. Where previously our users have all been commercially licensed clients, now any game developer, at any level, will be able to start using Kythera AI for O3DE.
The Gem contains some of our core tools – intelligent 2D and 3D navigation, behavior trees, an advanced spline tool, and our sophisticated debugger and authoring suite, the Kythera AI Inspector. A full list of Kythera AI features is available on our website, and our devs are continually improving and expanding them. As O3DE itself evolves, we'll be making more of those tools available in the Kythera AI Gem – our intelligent formations and powerful spatial query system (SQS) are already on the roadmap.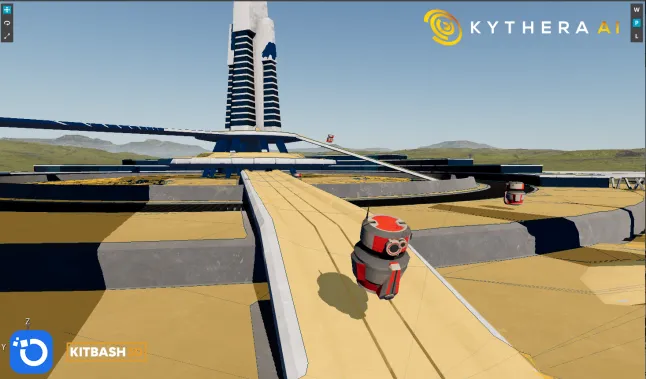 With the new engine, we look forward to an influx of users from the open-source community: indie studios and lone developers, hobbyists and hackers. To help them learn, we've contributed a comprehensive reference guide for the Gem to the O3DE documentation, and our in-house level designer has built a new demo, "Kythera City", containing practical examples of our AI at work, a cast of robots and rocket-planes to play with, navigating the ground and sky. Our debugging and behavior authoring suite, the Kythera AI Inspector, is on hand, allowing users to watch these AI agents think, or re-script their behaviors in the Inspector's visual behavior tree editor.
Necessarily, we've been revamping our license agreements to suit new users. First off, under our new Community Licence, the Kythera AI Gem for O3DE is free for non-commercial projects. Beyond that, it includes a new licensing structure aimed at small studios and independent developers: a free trial period, followed by a royalty arrangement that applies when projects start making money above a certain threshold, and a buyout option that can be invoked at any time. The full details are in our EULA, which ended up being surprisingly readable for a legal agreement.
And, although we've been calling it an open source game engine, one of the exciting aspects of O3DE, and our AI Gem, is that they are applicable beyond the games industry. There are partners in the Open 3D Foundation from a diverse range of disciplines. If you're creating content for film, simulation, animation, or anything involving 3D modeling, the project can help you, and our AI feature set can help in all of these areas. We're excited to see our tech applied in new ways!

Let's make beautiful worlds full of intelligent life!
We're looking forward to seeing what you can do with Kythera AI. We've designed our toolset to be versatile and scalable, to enable designers at all levels to be truly creative. We've opened up a community forum as a place for users to discuss work and help each other learn. This is a new journey for us as well as our users, and we can't wait to see where it goes.
For us, the most exciting thing about this is the sheer possibility. For the first time, we won't know what projects our AI is being used for! But we know that indie devs come up with amazing ideas every day, and we're proud that we'll be able to help them turn those ideas into great projects.
You can download Open 3D Engine from the O3DE website, and read the Kythera AI Gem documentation to get started with Kythera AI. We're eager to see what you create!
This post is adapted from a blog post on Kythera AI's website, written by Robin Johnson and Joy Thurston.