The AR/VR industry seems to have made its mind up on platforms, based on responses to Digi-Capital and AWE's Global AR/VR Industry Survey (full details in Digi-Capital's 300 page Augmented/Virtual Reality Report). While there are still opportunities for niche players and startups, clear standouts are now top of mind across the XR industry.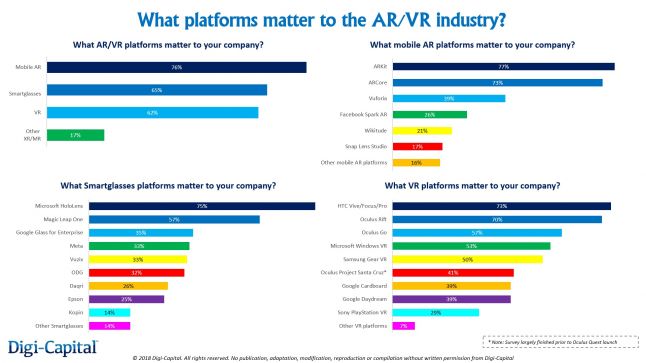 At the top level, mobile AR matters more to the industry than either smartglasses or VR today. And in mobile AR, we're really talking Apple's ARKit and Google's ARCore. For smartglasses, where most of the activity is enterprise focused today, Microsoft HoloLens outweighs all others. For nascent consumer smartglasses, Magic Leap One is top of mind despite not being an actual consumer product (it's primarily a developer product today). The least surprising result is Facebook and HTC platforms leading what VR companies care about, and that's before Oculus Quest launches next year.
All of this could change as new platforms launch, particularly if Apple enters the smartphone tethered smartglasses market (which Digi-Capital has forecast for late 2020 for a while now).
Base camp
At the top platform level, mobile AR matters to 76% of all respondents, with smartglasses (65%) similar to VR (62%). Mobile AR's installed base of over 900 million by the end of 2018, growing to nearly three and a half billion by 2022, had a clear impact on the industry's mental model despite its early stage. However, the overlap shows cross-platform approaches are prevalent for many companies. 17% are focused on other XR platforms, including Web XR, projection-based AR, screen based AR, heads up display, holograms and augmented audio.
Twin peaks
Mobile AR companies are equally focused on ARKit (77%) and ARCore (73%), again showing the cross-platform nature of the market. Vuforia (39%) came in ahead of the mobile social AR platforms of Facebook Spark AR (26%) and Snap Lens Studio (17%), as well as Wikitude (21%). Of the 16% of other platforms (some of which provide specific point solutions), 6D.ai, 8th Wall, Unity and inhouse mobile AR platforms came in strongly. Such a strong showing by Apple and Google makes mobile AR appear to be dominated by those platforms, with clear points of differentiation needed for others to thrive.
Business or pleasure?
Smartglasses have been largely enterprise focused to date, with 75% of companies saying that HoloLens matters to their smartglasses focused businesses. The Q3 2018 launch of Magic Leap One (57%) had a clear impact, even though it is not an end-user product yet. Google Glass for Enterprise (35%), Vuzix (33%), Meta (33%) and ODG (32%) are broadly similar in scale, followed by Daqri (26%), Epson (25%) and Kopin (14%). Other platforms mentioned include RealWear, Mira, Leap Motion North Star and the hoped for (but as yet unconfirmed) Apple smartglasses. It is going to be interesting to see how this distribution changes if and when Apple enters the market.
Two horse race
VR companies' major priorities are HTC Vive/Focus/Pro (73%) and Oculus Rift (70%). These are followed by Oculus Go (57%), Microsoft Windows VR (53%), Samsung Gear VR (50%). Oculus Quest (formerly Oculus Project Santa Cruz) was not announced until after most survey responses were completed. Even with that limitation, 41% of respondents were already focused on the platform. Given industry response to its launch at Oculus Connect 5, it seems reasonable to assume that Oculus Quest could index significantly higher in subsequent surveys. Google Cardboard and the more advanced Google Daydream both came in at 39%.
Perhaps the biggest surprise in the VR sector is Sony Playstation VR (29%), despite it being the high-end VR headset leader by sales. This result could be because survey participants are much broader than game developers only, and PSVR is a peripheral for the Sony Playstation 4 game console. Other VR platforms mentioned included Pico, Web VR, Lenovo Mirage and StarVR.
It's not over until you win
While the industry seems to have picked its winners (for now), consumers and enterprises aren't as sure yet. Even with an installed base of 900 million ARKit and ARCore capable phones by the end of 2018, no AR/VR platform has truly scaled in terms of active users yet. And that matters far more than the industry's mental model.
As in many consumer tech markets, whether Apple enters or not is critical. For the last few years, Digi-Capital has forecast Apple launching smartphone tethered smartglasses in late 2020. But as with all things Apple, the only folks who really know are Tim Cook and his inner circle. So don't place your bets just yet.
(Full details and more can be found in Digi-Capital's AR/VR Analytics Platform andAugmented/Virtual Reality Reports)
(Isabelle Hierholtz is User Strategy Director of Silicon Valley based AR/VR adviser Digi-Capital)