[Event booths can be a fantastic exposure opportunity for indies, but the costs, planning and process can be deceptively complex, Here, indie developer and Insomniac alum Nathan Fouts writes a detailed report about his experiences promoting his Xbox Indie Games titles Shoot 1UP and Grapple Buggy at PAX East, with a detailed breakdown of costs and caveats.]
I've been to E3 and GDC many times in the past, helping to demo games for various companies for which I've worked, but I have never had to organize and exhibit my own games and company until PAX East 2010 at the end of March.
It was a mammoth amount of work, but there seemed to be the potential for great marketing and an improvement in sales.
Given the rising popularity of this and other events, I thought there may be some other independent developers that would like to see, in detail, our successes, trials, and tribulations.
(Note: this is from the perspective of exhibiting at PAX East, not at E3, GDC, SXSW, etc.)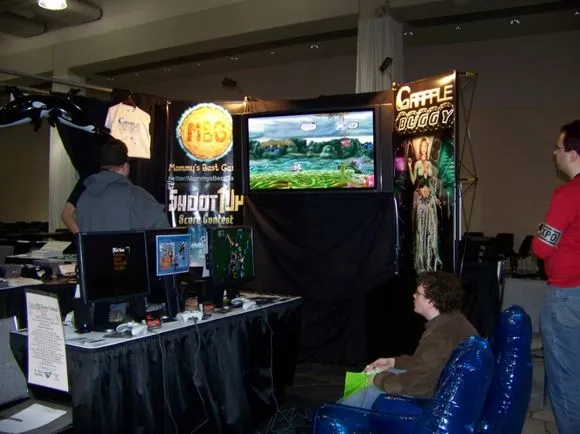 Booth layout
We displayed a playable demo of Grapple Buggy on a rented 50-inch plasma TV, since the game looks great in motion and easily attracts attention. We had two computers and 20-inch monitors running Shoot 1UP and hosted an hourly high score contest.
A final monitor looped a trailer highlighting games for our PC publisher, Blitz Game Studios (Weapon of Choice was announced for the PC during PAX, published by the Blitz 1UP program).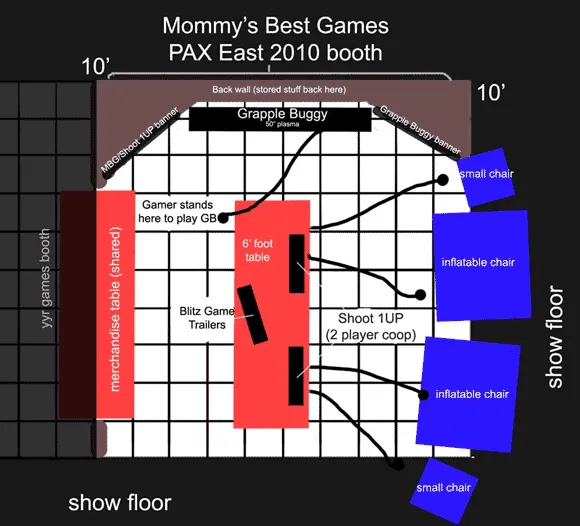 After talking to the people organizing the expo, they agreed to let me sublet my booth to our publisher. Our publisher paid us $500 in exchange for a badge and a space to show off their new games. We did this in order to help defray some costs, though I think it may have confused gamers approaching our booth.
---
General Expenses
I'm detailing some of large ticket items here, with the full budget available later in the article.
Flight from IN to MA: $786. This includes two $308 tickets, plus three checked bags (2 bags at $25 each and one at $35 totaling an additional $85 EACH WAY!) The three bags contained booth materials and swag, and each weighed 50 pounds. Our clothes and laptops were considered our carry-on luggage.
Funny: If the dimensions of your luggage are over 62 inches, or over 100 lbs, it costs $100 as checked luggage, instead of $25. We were able to borrow a portable display wall, which came in a great carrying case that was 5 inches too big. Our solution was to "Frankenstein" a long, thin, 60 inch box out of two other boxes to transport the display wall and easels.
Hotel for 4 nights: $995. We chose a hotel within walking distance to event. We could have gotten a room a few miles away for about $200 less, but figured the physical effort, time, and rental car cost would equal out.
Awesome: Paying $42 dollars each time the hotel delivered boxes up to the room. Due to shipping time constraints, we had some of print materials and shirts shipped to our hotel directly after being produced.
For some reason, at this hotel, they didn't give us the option to pick it up ourselves (from the storage room). I didn't ask at the time if there would be a charge, assuming a tip would be cover it. How wrong I was!
Floor space, 10'x10' booth: $1,050. Originally, only 10 foot by 20 foot spaces were available, but after talking with the agreeable people handling PAX, they allowed us to split the smallest booth in half, provided we had someone committed to sharing it. (We split with yyr games, creators of Snake 360 and the recent arcade-retro Falling.)
This is separate from subletting to Blitz Game Studios as part of the Weapon of Choice deal. I worked hard on lowering the cost of the floor space, but other gremlins snuck and stole all my monies (as we'll see next).
Audio Visual rentals: $1,720. We rented a 50" plasma TV (including speakers and stand) and three 20" flat panel monitors for $1,110. We opted for a Monday morning pick up, because it was 100 bucks cheaper than Sunday night pick up (not surprisingly). We had four personally-owned laptops hooked up to the TV and monitors and decided to hide the laptops underneath the tables and behind our booth.
Mistake: Thinking audio from the laptops, hidden under a table, would be loud enough. It was not! Friday at noon -- the show opened at 2 PM -- I ran out (yes literally) to Best Buy down the street to buy three sets of basic speakers to accompany the monitor setups. This cost $70 total, but fully returnable with receipt and boxes, and no reshelving fee. YIPPEE!
GIANT 'Hidden' Cost (contained in the $1,720 A/V rental cost above): $575. Through some confusion on which "exhibitor manual" I was supposed to use, I didn't notice the "official" audio visual rental vendor associated with the show. I found an independent rental business to get my A/V goodies -- the big TV, stand, and 3 monitors. But, because they were not the official A/V rental house, each 100 lbs of equipment I rented was subject to a $115 "crate handling" fee, resulting in $575 of exhilarating charges.
I say "hidden" because the crate handling fees were detailed in the manual, I simply didn't believe they applied to me since my rental cost covered travel and setup. Work with me here: How could my rental guy schlep the TVs all over town, to the expo hall, then apparently not be allowed to carry them 300 more feet, to my booth, inside the hall? Exhibitor services said it was because of "outside contractor liability coverage."
Humorously if I had rented from the official AV place to get three 19" monitors (closest match to the 20" ones I got), a 50-inch TV (with speakers and stand), it looks like it would have cost just over $1,600. I would not have been subjected to the $575 "liability handling" charge which would have put me about 100 dollars less than what I spent.
Moral when dealing with rentals: Damned if you do, damned if you don't, but I guess you're slightly less damned if you go with the "official" rental contractors. I originally budgeted $1,000 for rentals and, based on the classic issue of incomplete information, blew my budget to smithereens!
---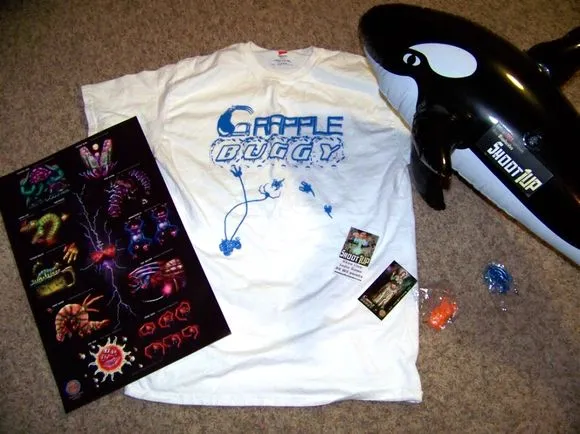 Print, Merchandise, and Swag Expenses:
T-Shirts, fifty: $321. These featured Grapple Buggy and we sold the shirts for $10. We sold four of them. I struggled with the decision: "Do you offer the shirt for the current game or the next game?" Maybe we should have done Weapon of Choice shirts instead.
Posters, fifty: $77. We printed special "The Aliens of Weapon of Choice" posters for the show to sell for $3 a piece. I think we sold three.
So sad: The posters came in a plastic wrap which would have protected them, only we opened it prior to leaving. As they shifted in our luggage, several posters had roughed-up corners (which we couldn't sell of course).
Note to self, and you, dear reader: don't open them, and make sure you pack them really well (possibly rigidly).
Game soundtracks: No MBG cost. Hamdija, MBG's musician, did the music for all of our games and his company Lillirun Records created CDs for Weapon of Choice and Shoot1 UP in time for the show. He paid for these and reaps the money for the three CDs we sold. Plenty still available -- we will ship!
Vinyl Booth signs: $198. We had two large banners made to hang from our display wall. One banner had Mommy's Best Games' logo, and the other had Grapple Buggy's Commander Javeya, nearly life-size. A graphic artist family member with printer connections helped us order the banners. If you don't happen to have a graphic artist cousin, uprinting.com had about the same price.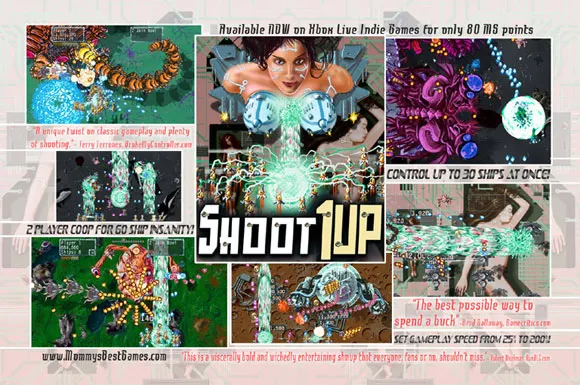 Print material: $250. We handed out postcards with Grapple Buggy on one side and Shoot 1UP on the other for people to be able to take something home with game information. They are fairly cheap and an easy way to get game info directly into someone's hands. We printed about 3,000 and have about half left. (Would you like a postcard?)
Giveaways: $105. For the Shoot 1UP high score contest, we gave away a killer whale as the hourly prize. We also purchased a literal gross of "sticky bug shooters" to hand out, and special, disgusting vials of ooze labeled "Tetravaldisae" (featured in Grapple Buggy) to the some of the press. I love weird, silly swag.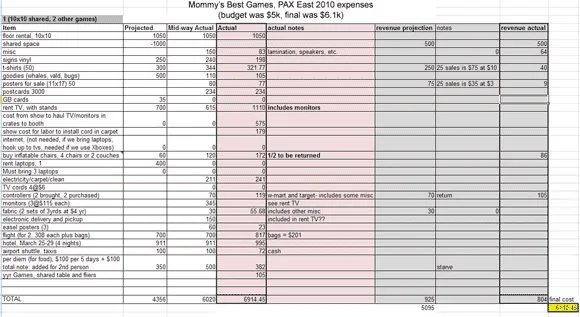 All the gory budget details. Click on the image for a larger version.
---
Top Ten Lessons Learned
1. Get registered with the show as early as you possibly can. It's possible you'll get a better booth position. We got in late and stuck in a corner behind an enormous bus showing off VR or something. It was like some hell dimension in which you sit on the interstate forever, only we paid a lot of money to be there, and were trying to sell things.
2. There may be lots of charges associated with rentals and hauling. If renting TVs, chairs, etc, find out who's hauling them, and what the charges are. Do they deliver them to your booth or just the loading dock at the show?
3. Expo shows will probably expect your company's insurance to cover liability should someone fall in your booth. Check out what your general insurance policy handles.
4. Get print material done as soon as possible, preferably four weeks in advance. (Shirts can take a while; double-sided print takes longer). Extra time equals more options and no rush-print or rush-ship charges.
5. When setting up, remember that everything about your booth and the space you create is dynamic. If you feel walls or orientation are problems, talk to the show coordinators and make changes.
As we set up, we decided to remove a three-foot high side partition and changed our orientation for increased visibility, while other exhibitors rotated their entire booth after they saw how traffic flowed the first day.
6. Don't think you can do it all yourself. I had my wife, our producer Neil, and on Sunday my wife's cousin. Get as much help as you can to work the booth. When you are busy talking to press, you need other people to lure in players, talk to more press, watch (and sell) merchandise, and SELL, SELL, SELL your game. Also check about someone going to the bathroom for you.
7. Get your "game sales pitch" down to one sentence so you can quickly mention it people who look interested as they walk by. We handed out our postcards with Shoot 1UP and Grapple Buggy. It was easy to point to both games being played and convince people to come try them out.
8. If you see a person with a Press badge and they're not too busy, jump on them and sink in your fangs. Make sure your spiel for the game is super polished and easy to convey. You may have a meeting with them later, but if not, start talking then about why they should hear about your game.
9. If you are talking to a journalist and they mention "coming back," ask if they could interview you right then. On the flipside, if they ask if you can do an interview now, drop everything and talk to them. I was running the high score contest for Shoot 1UP periodically and missed some opportunities. Shows are busy and press can't always make it back.
10. Find out if the show coordinators can provide you with a list of media that are confirmed to attend the show. Get their emails, introduce yourself, and find out if they have any availability to cover your game. Fifteen to thirty minute blocks of time is usually plenty.
Results
The show cost us a lot of money but did we get any real return from it -- did we make any money? Well, we clearly failed to sell much merchandise. I think we have a long way to go to figuring that out; maybe we could make higher quality items, along with a bigger booth to host a better merchandise table.
The good news is Shoot 1UP sales increased by 30 percent! The boost didn't pay for the show by any measure, but it was certainly substantial and is probably due in part to gamers at the show, and press generated during the show (and Spring Break, as well, honestly.)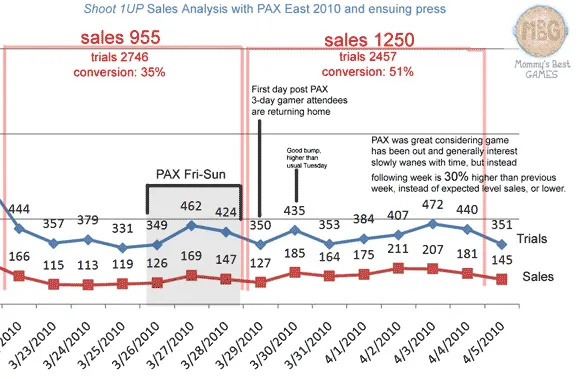 We also got a lot of good press as media got to play the forthcoming Grapple Buggy hands on and talk about Shoot 1UP. I made sure to do as many podcasts and video interviews as possible. There are more pictures from the show on the MBG dev log as well as links the stories we garnered at the show.
Overall exhibiting at the show was incredible and we will definitely work to improve our approach and exhibit again in the future. Particular to PAX, it was an amazing experience getting to talk to gamers not involved in the industry who were enjoying our currently released games and wanted Grapple Buggy!
If there's anything I didn't address but you're curious about don't hesitate to email me and I'll see if I can help. Exhibiting's not for the faint at heart but I think it can be an extremely powerful marketing tool that more independent developers should consider.