In June 2020, following heightened border tensions, the Indian government banned 59 apps with links to China, including Bytedance's TikTok, Tencent's WeChat and Alibaba's UC Browser, claiming that they were "prejudicial to the sovereignty, integrity and security" of the country. The relevant companies were informed that the continued availability and operation of their banned apps could result in penal provision.
On September 2, the government banned a further 118 apps of which 33 were mobile games, including Tencent's PUBG Mobile, Lilith Games' Rise of Kingdoms, NetEase's Knives Out, and Moonton's Mobile Legends: Pocket.
NetEase sees 15 games banned, but Tencent faces biggest revenue loss
NetEase and Lilith Games saw the most substantial losses, at 15 and six banned game apps respectively, whilst Tencent only saw five games fall foul of the Indian government.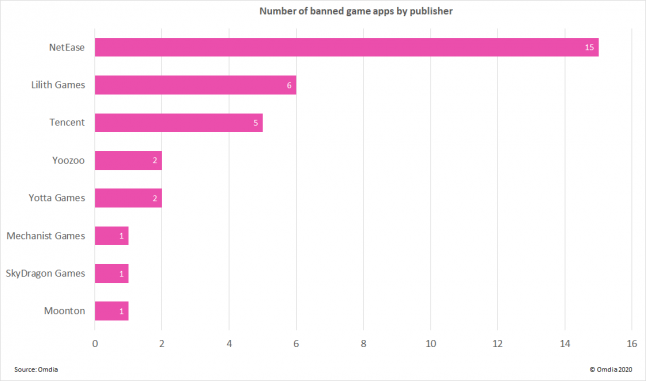 Two of the top 10 earning titles for August 2020 were banned in this second wave: Tencent's PUBG Mobile, and PUBG Mobile Lite. According to Airnow Data, these two apps alone represented 17.3% of net revenue generated from mobile games in India for the month – a sizable portion of the market. However, for the other publishers, revenue generated from the banned titles is comparatively very low.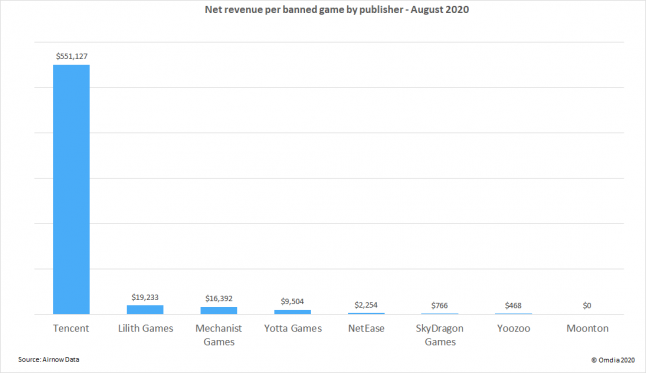 In fact, the Indian userbase represents a tiny fraction of the publishers' overall income. Lilith Games, NetEase, Yotta Games, Yoozoo and Mechanist Internet Technologies are all multi-million dollar publishers, generating a minimum of $5 million on a monthly basis. As such, a loss of tens of thousands of dollars or less is a drop in the ocean.
Low spend per capita softens the blow to publishers
Despite PUBG Mobile's popularity in India, spend on entertainment is very low. Omdia data shows that mobile games spend per capita in India was only $1.49 in 2019, compared with $5.05 in Brazil, $22.33 in the UK and $97.53 in high-spending Japan. As a result, the blanket ban will not have any substantial impact on the relevant Chinese publishers in terms of revenue.
Local content creators, not app companies, will suffer the most
Games such as PUBG Mobile have contributed to a thriving live-streaming community in India. In 2019, YouTube stated that India was its largest and fastest-growing audience in the world with more than 265 million monthly active users. What's more, 1,200 channels from Indian creators have rapidly accumulated upwards of one million subscribers. Just five years ago, there were only two creators who had breached this milestone.
YouTube has become the flagship video platform for mobile gaming, and Indian content creators have played a significant role in this. For professional players and streamers, the ban signals a loss of livelihood. Many mobile gamers earned a solid income through audience donations, channel subscriptions and ad revenue, and would rely exclusively on PUBG Mobile content. The ban necessitates a rapid shift to alternative content, in order to sustain income levels where possible.
Players will look to Free Fire, Call of Duty Mobile to fill the void created by app ban
Garena's Free Fire and Activision's Call of Duty Mobile have proven extremely popular in India. In fact, Free Fire was the top-earning mobile game in the region for August 2020, beating out PUBG Mobile by almost $2 million: a considerable margin. We are likely to see the government app ban accelerating the community shift towards these growing titles that have traditionally been in the shadow of PUBG.
Free Fire and Call of Duty Mobile offer similar experiences to that of PUBG Mobile: realistic, first-person shooters with battle royale elements. It is therefore logical to assume that content creators would shift towards these titles, as they can offer their viewers a familiar experience which reflects their established preferences.