I'm feeling a bit confused. Maybe it has something to do with the Pandemic, maybe it has to do with the waterfall of bad news every day, maybe it has to do with me locked at home for the last 97 days (and counting), but I am attending a digital event, and that event had a virtual happy hour mixer. My response was skeptic, almost negative – how do people will organize a networking party with everyone quarantined?
I was not planning to go. Really. The problem is that would go against one of my vows for this mind-blowing scenario we are living in: to be open to virtual business development experiences, without prejudice. Then, I saw myself in a clear prejudice-situation: only because there is no in-person gathering and free booze, it would not work. Again, I recalled a recent trending discussion about harassment and excessive alcohol drinking in business parties, mixers and events. As you may conclude with me – I was worthy to give it a try.
The great think is that I was able to tag along some great wing men and wing women from the office. They were eager to try this to-be-weird situation with me. We signed up and waited. The mixer house arrived and was a click away. We closed our eyes and…click.
We were baffled with what we encountered. A nice virtual space set in bird's eye POV, where sponsors had their small sofa-and-chairs spaces on the corners, and a lot of virtual tables. We were scattered automatically around the place, but just two clicks and we were all together again filling table number 7. Our event-platform pictures were used to show who we were, and, when joined a table, immediately a horizontal layer of small videos screens appeared, literally if you would have done this in person.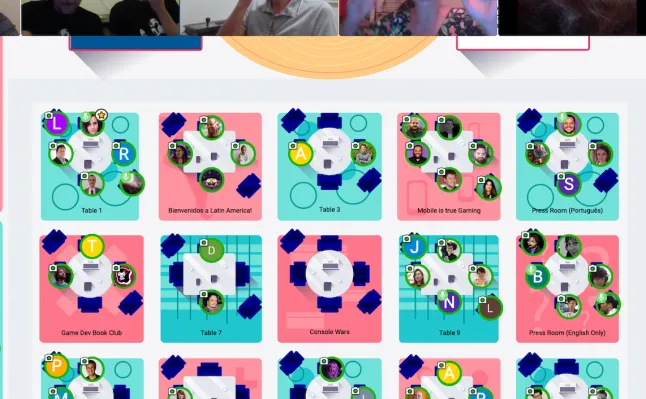 Some people were drinking their own alcohol, which is fine – but note – much less people were drinking. No open bar, obviously. I got a coke from the fridge just to look cool (right?). Soon, the situation was pretty much understood, and we decided to start choosing other tables to talk to people and mingle. It worked wonderfully well. I need to mention that the space colors and setup were excellent, a very good job by the organization. It was a very classy "party". I was expecting to stay for just an hour, maximum. I left about 4 hours later, with a bunch of new contacts and after lots of great moments and laughs, all on camera.
I feel bad and ashamed about my reluctance and about my preconceptions. Organizers put a lot of work into these virtual events and need to be recognized for it. The room was still full when I left, event with attendees from all over the world (there was this nice lady that was based in South Africa, and although it was only 11PM for me, it was 5AM for her! Party haaaaaard.).
I hope this gives a note of appreciation for these virtual gatherings, definitively a breath of fresh air in these confined times. Like CardiB, I liked it.