We came up with the idea of the contest about three months ago. We hadn't worked out any of the details yet, but there was a strong desire to bring together as many top game designers as we could in one place and have them challenge each other. We understood the risks – after all, it wasn't some kind of math contest with just one right answer for each question. But the harder the challenge looked, the more we wanted to try and realize it.
We began by writing questions to try and figure out whether we even had the necessary amount of materials to assess contestants. We turned to our fellow game designers for help and asked them to remember the hardest tasks they had ever faced in their career. The feedback came quickly (our colleagues had even more hard tasks than we expected them to share) and soon enough the first set of questions was ready. However, the first questions raised the first problems – they were way too hard and most of them had no straight answer. It was good for later rounds (we planned having up to three), but for the first one we needed simple questions with simple answers, which, apparently, simply didn't exist in game design. Who'd have thought it?
The solution was found unexpectedly – in the contest's plot, which was being developed at the same time.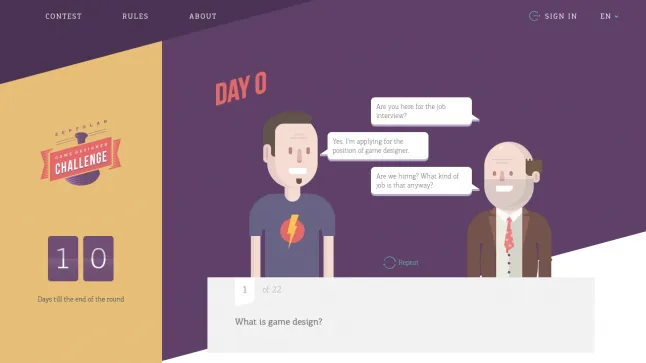 The story was a bit sarcastic and told the tale of a young game designer working for an unknown company in a crazy environment. His colleagues posed strange questions and came up with even stranger answers, and analytics were busy calculating the sizes of the employees' shoes. This company was all about chaos, not about a healthy working environment. "Warning! Any resemblance to real people or professions is purely coincidental" – reads the disclaimer. And that was exactly what we needed to justify the silly tone.
In the end, we got what we wanted: a fun contest with a somewhat wacky concept that nevertheless contained some serious tasks.
Of course, the first round is the easiest. Everyone can try to answer the questions and get to know the characters, and then they can decide whether or not they want to register and participate further. What if someone misses the first round, you ask? Unfortunately, that means missing the whole contest.
About the main prize: we had no doubts that it should be a trip to GDC. It seemed natural that the winner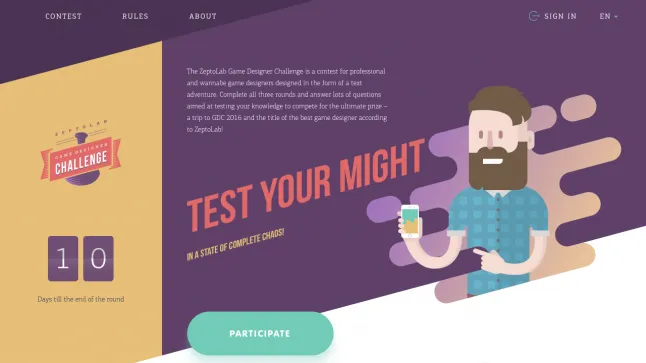 would want to chat with their colleagues face-to-face, attend the showcases and share his or her experience with industry leaders. Maybe, one of the winners will even want to join ZeptoLab. Why not?
Registration for ZeptoLab Game Designer Challenge is open till February 7, 2016. The contest is being held on https://gd.zeptolab.com.
Co-author: Sergei Maslennikov - senior game designer at ZeptoLab