Marketing is hard for anyone! Yet you still need to let people know about your product if you want to sell a decent amount of copies. Especially for game developers, one way to make your game and your studio known is to attend events and conventions, where you could showcase your game in a booth. But how does one prepare for a game expo? Here is my quick guide on how to show your indie game at any expo, complete with my reasoning behind all those time consuming tasks.
How to filter events
There are quite a lot of game shows and expos lately, which is an excellent trend, because this offers you a lot of alternatives (even if your cash is low). But sometimes it can be confusing and hard to figure out where to go. So make a list of game events you consider attending (here's an almost complete list) and then check out which one of those events could showcase your game for free (ie through indie submissions, or competitions). You need to be early with this because submissions always have deadlines, and those deadlines are sometimes months ahead of the show.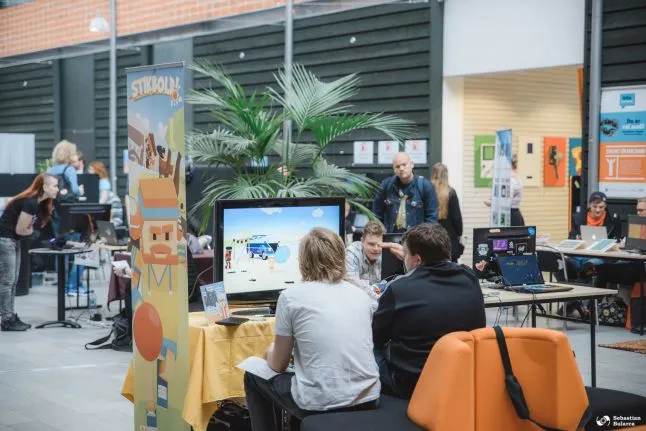 How to show your game at Creative Coast!
Another good filter for game events is travel and lodging costs. A good rule of thumb is that the closer the even is to your home, the cheaper it is for you to get there with all your stuff, and also to find where to sleep overnight (maybe you have friends who could host you a few days). I also think that new places tend to be more expensive because you don't know the lay of the land, and consequently you don't anticipate certain expenses that are uncommon in your life.
In conclusion, identifying the most cost effective way to exhibit your game is to check for the expo location, check for submissions and check for your familiarity with the place.
PRO TIP: If your goal is to show your game to consumers, don't look only at game related trade shows. Take an interest in your local festivals! It might be very cheap for you to attend, and you might get a lot more people interested in what you are offering since you would be one of the few, if not the only, gamedev around.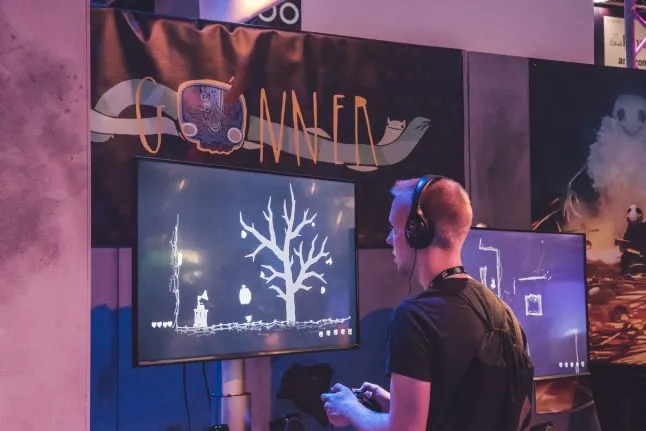 How to show your game at GamesCom!
How to plan for events
If you have an overall plan (and for your sake, I hope you do ), add the events you want to participate in as deadlines. Include submission deadlines, too, especially if they are months away from the actual event. A good submission process also has a checklist for all the materials you need to prepare. This makes it very easy for you to generate your marketing tasks. Besides a playable build, this list usually includes screenshots, artwork, a good text presentation, a trailer, a game and team logo, sometimes even good marketing pictures with your team. Use it to generate your task list and build everything with a mindset to reuse it all. Remember to make it easy for you to update your material. Naming conventions are a wonderful, wonderful thing.
PRO TIP: You should build your event calendar one year before. I kid you not. If an event you really want to attend to is too expensive and does not offer any indie submissions, ask if they search for speakers.
How to prepare your booth
Make sure you are aware of the booth dimensions well in advance.
Sometimes, exhibition conditions for indies are not optimal and you are lucky to get a table and one chair. However, the offer differs from expo to expo and sometimes you need to abide by strict rules. For example, if you participate in a competition you might not be allowed to have over the top big marketing materials to draw attention to your game. So make sure you ask.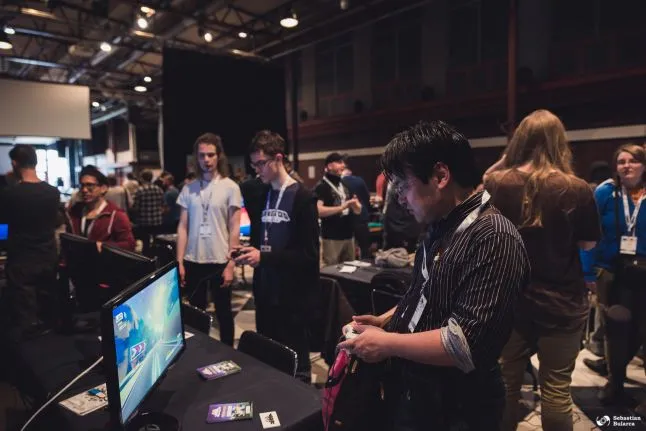 How to show your game at Nordic Game Conference!
Its nice to customise your appearance for every show. But I think there is a "survival kit" every indie has to have, to make sure you can have at least a decent presence at any show. Here's my list:
Easy to carry hardware.
Invest your cash in a very performant laptop or a portable desktop. Make absolutely sure your system(s) should be capable of running your game flawlessly. However, while carrying a laptop or even a desktop in a fancy, compact case is easy, when it comes to displays things get complicated. The marketing rule of thumb is: the bigger the display, the more people will it attract – but how do you carry one with an economy flight ticket? My suggestion here is figure out where you can rent a display on location. It might be cheaper than paying for extra luggage. And you might as well rent your keyboard, mouse, controller, headset – or else prepare an easy to carry pack. Remember that expos are LOUD so it makes no sense to invest in a sound system, unless you are very, very rich.
PRO TIP via Sebastian Bularca: You can just buy the extras and make good use of the return policy – if you dare. The problem is that you need to be able to cover the cost if the items will no longer be accepted. It's a risk at a trade show, where its impossible for you to ensure full safety of the item and the package. But then again, no risk, no reward.
Bigger marketing materials
A normal computer on a normal table is not very inviting. So you need to brand your booth, make it feel as a tool that promotes your game. The easiest way to brand your booth is to have a table cloth to put over your table. Just buy a few meters of material and choose a colour or pattern that fits your game. Make it long enough to touch the ground, this way it does a nice job covering all the ugly cables and can also serve as a safer storage place. You can even DYI some branding on it: draw your logo (s) or simply glue some printed artwork on it. Don't forget to include contact information and especially a call to action. It might be rumoured that QR codes are out of fashion, but boy are they useful to make it easy for anyone to quickly follow you on Twitter or subscribe to your newsletter. And its noting easier than printing big QR codes to glue on your tablecloth.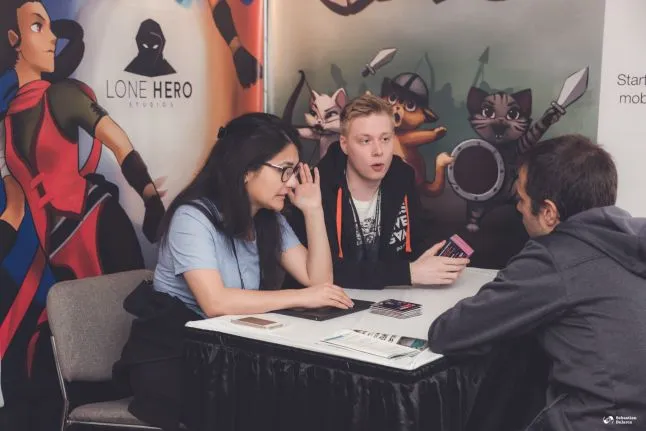 How to show your game at Game Connection!
More expensive alternatives are ordering a banner (there are really a myriad of sizes and hanging options), making props like toys based on your game characters, customising your booth furniture, getting a carpet, and more. Just remember to take in account transportation cost, too.
PRO TIP: Never print anything you can't reuse. For example, print a QR code instead of a release date – even if you do not miss that date, your banner will become irrelevant the moment you launched the game
Smaller Marketing Materials
Business cards are a must and they have a way to never be enough. Make sure your business cards represent you well, and that you don't run out of them. Flyers are good to have, too. However, expect to see a lot of them in the trash can at the end of the day. The way around this is to make your flyers as small as possible. People do not want to walk huge expos full of swag, so you help them by downsizing your promo stuff. And the more useful and/ or pretty you can actually make it, the higher your chances that people actually pay attention.
Furthermore, anything that you can give away is a huge crowd pleaser. So design your pins, stickers, bracelets, t-shirts, or simply let your imagination run wild IF you have the cash. But just like in the bigger materials case, remember to take transportation costs into account, too. One way to limit your expenses with give away materials is Contests. Have a limited number of pins, tshirts, or whatever it is you plan to have, and organise contests where people can win your swag. This way you engage your crowd and you ensure that people come back.Finally, the poor man's choice of give aways is candy which you can buy from the location.
PRO TIP: Sure, odd fonts and creative designs are cool, but the most important role of a business card is to make it easy for that person to contact you. No one will contact you if they have trouble deciphering what your name is, so make it easy for them. Furthermore, make sure your card is well read by a card scanner app for smartphones.This is a practice that grows in popularity, so download a card scanning app and see how your card reads.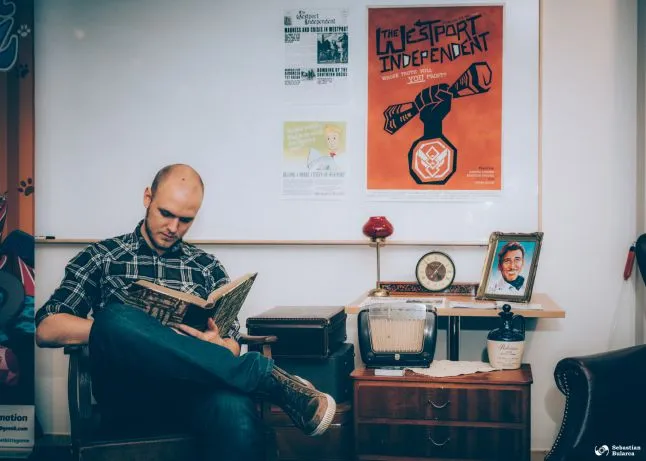 How to show your game at local events!
Build Improvements
Make sure you know how your game looks in expo conditions like low light or artificial light. Remember that most people will pass by and glance at your game so increase the font for anything that says Come Play Me. Think of idle times and use those in your advantage – let your game play your trailer when idle for more than 5 minutes, or at the very least make a screensaver that invites people to play. Don't assume that people will naturally know your controls. Display them somehow, even on a printed paper somewhere where its easy to see as you play. Try to limit your demo sessions, too. While it might be flattering to hook people instantly so they never leave your booth, its not cool to have only one person take over your showcase and not let anyone else try your game. If you have instant fans, tell them to return!
Cleaning materials
Have a way to clean your system and especially your controls every now and then or at the very least, at the end of the day. Lots of people means lots of hands on your keyboard or gamepad, and some might be sick, or have greasy fingers from lunch. Its always a good idea to clean your stuff and its also inviting for people who are aware of other people's greasy fingers And don't even think of not cleaning your headset if you are showcasing VR. Oh and make sure you have a hand sanitizer, napkins, pens and paper, and a few trash bags around.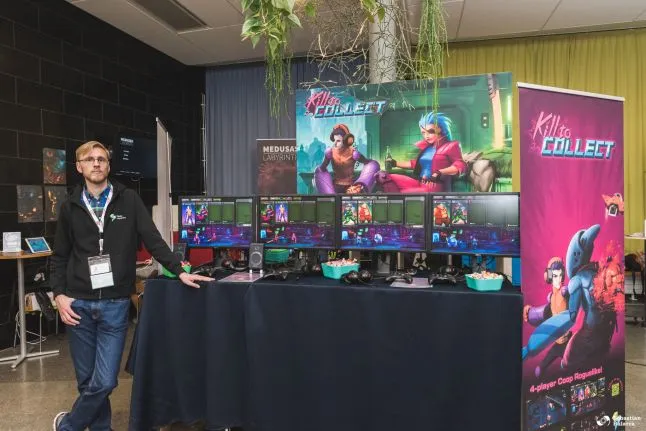 How to show your game at Sweden Game Conference!
Game Keys
Now this is a debated subject, which is why I saved it last. You can distribute game keys at expos, but printing them is not the same as printing business cards since each card has a unique key. So if you plan to do that, don't leave it for the last minute. If you DO leave it for the last minute, you can DYI by printing "business cards" with a blank space to write down the key by hand, but I wouldn't wish that task to anyone.
Now should you print game keys? There is a lot of controversy with game keys being sold on various reseller websites, and a lot of those stories happen because developers distribute them sometimes uncontrollably in bundles, to press, and – you guessed it – at expos and trade shows. Considering you will see thousands of people per day, can you really know to whom you already gave a key?
If you do decide to distribute keys, make sure you have a limited number and you keep track of them. If those are Steam keys, Valve allows you not only to tag them but also to easily track them so you see, for example, if your keys have been redeemed. Just keep in mind that too many free keys will greatly devalue your game, and be ready to keep an eye on the keys you plan to give away.
Do you have more advice? This list is certainly not complete, more like a primer, but I hope it helps!
***
Originally posted on www.laurabularca.com where I write all kinds of gamedev stuffs. If you are interested, follow me on Twitter @sarienn <3