Hi everyone! I'd like to talk to you about my mammoth. You see, deep down inside I know I am not REALLY a game developer, so obtaining an extraordinary success is crucial because it is the only way to ensure other people's recognition and respect (especially in the video games industry). Of course there is another part of me that couldn't care less about gamedev fame*, but this wiser, calmer Laura had a terrible time shining through while Heart. Papers. Border. was submitted for Steam Greenlight.
I think that's because, even though everybody passes Greenlight, the process is still oftentimes the very first step to get out there and ask actual strangers about Your Game, Your Work Of Art that defines you as a person and as a professional (regardless of whether you like to admit that or not). And even though the question Valve actually asks Greenlight voters is:



Would you buy this game if it were available in Steam?
and not:



Would you say this game idea has any merit? or Would you think this game doesn't sux?
sometimes the No votes can feel like a personal critique that validates your worthlessness as a game developer (thank you impostor syndrome <3)
But the No votes are actually the easy part and the trivial bump to pass. The hard part is the TRAFFIC. Or the lack of it. And comparing it with the data you can find is… how should I put this… depressing. Greenlight simply does not drive the traffic it once did… or does it?

How to Greenlight – The Essentials
You see, I think every sort of post mortem Greenlight data one could find on the Internet is skewed towards success, even if we talk about campaigns with low Yes votes ratio. Succeeding on Greenlight does not mean passing it, but instead it's accessing an otherwise engaged community to generate awareness about your game. We managed to get 1547 unique visitors and I know other really good projects managed to get less than that, despite being featured on very successful online magazines like Rock Paper Shotgun. Of course, it is very easy to explain this situation: especially since the Steam Direct news, the number of projects submitted on Greenlight per day has almost tripled. In the 16 days Heart. Papers. Border. was up for voting, 529 new projects were submitted on Greenlight, with an average of 44 submissions per day and a maximum of 67 submissions on February 21.
I also tracked traffic through Google Analytics for Heart. Papers. Border. so I can tell you where most of our 1547 visitors came from:
I know that from those 58% direct referrals, a really huge chunk of it came from DailyIndieGame, a public Steam group with almost 207000 members (Thank You, Robert and you awesome RGDA bunch!!!! <3 ). I don't dare think what would have happened if I wouldn't have had that help.
Now what does this data tell me? I know I really craved that Rock Paper Shotgun feature, too, and that I expected thousands of visits just like that in the first few days like my friends from Move or Die had, for example. But I think those wishes were ill directed. If there is one thing I should know by now is this: nothing good happens Just Like That. There is no getting around building a community, working very, very hard to generate awareness, to understand your players, being transparent and generous and helpful, all this on top of actually making a good game. When it comes to Heart. Papers. Border., I think Greenlight really helped me to get a better sense of where to look.

How to Greenlight – The Good, The Bad, The Ugly
The good news is that 640 people took an action to let us know they would buy Heart. Papers. Border., a 66% success rate from everyone who voted (which is statistically good for Greenlight). Some of those 640 people even took the time to leave us warm, encouraging comments on our Greenlight page, and a few became true friends. This is truly uplifting and humbling in the same time. How often are you in a position where 640 people, most of them strangers you will never meet, actually take the time to do an action that directly helps you? In marketing terms, this means we validated our idea with 640 potential customers. I sincerely hope we will not let anyone down.
The bad news is that we clearly have a lot of work to do to build a community for Heart. Papers. Border. Especially since we are building this game as a service and we are preparing for a very long release strategy. But one thing that's often overlooked is to have an opportunity to gather and study data, which is what Greenlight, unlike many other popular marketing options (like, say, attending conferences), does. What Greenlight excels at is a simple, straight forward option to ask players if they would like to play your game.
Sometimes the best strategy is the easiest one, yet we often tend to over complicate the complexity this implies. That is why it's simply common sense to have a game landing page, newsletter signup, social media presence, artworks, screenshots, trailers and press releases as early as possible. They don't have to be elaborated, just clean and honest, and they need to express the game in the simplest, most up front way possible and provide comfortable ways for people to react to it. I am grateful that Greenlight reminded me of this.
The ugly thing, I think, is that a lot of game developers obsess about press and celebrity endorsement in the wrong way. The numbers clearly show that press won't bring you traffic, but that what press DOES bring you is well expressed endorsements that you can use in your own channels. My point is, actually, to stress wisely. Do all you can do (thank you sincerely, John, for getting back to me!) but expect nothing in return. Just focus on giving information, everywhere and in any way you can.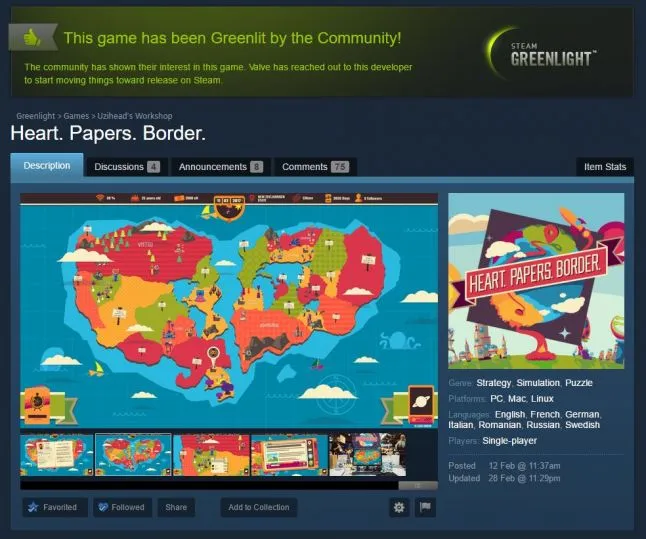 How to Greenlight – The Checklist
To summarize, here are a bunch of personal tips for Greenlight and not only. I do hope they help, and I of course appreciate your feedback, because if you take the time to write it, it means I did at least something right <3
DO pay time and attention to your Greenlight presence. Here is a checklist:

Have a nice looking, preferably ANIMATED logo. It stands out from the crowd (thank you Xelu!)
Have a Gameplay video. Making the Gameplay clear is essential.
Have nice looking banners IN your description
Have English text and make sure your English is correct and reads well
Do not be shy to add the languages and platforms you aim to release the game for, even if you don't have it running on all of them yet.

DO use a Google Analytics ID for your Greenlight page. This is how:

Make a Google Analytics account and then read THIS and THIS to learn how to get your Greenlight page tracking ID
Add your Google Analytics ID in your Steam Greenlight page, right under OWNER CONTROLS
After a little time, you will be able to see your traffic data on Google Analytics. Choose REAL TIME when you know you will do something that should generate traffic. If you want to get an overview of your traffic sources, go to ACQUISITION -> All Traffic instead.

DO NOT get Greenlight for granted. Even though you'll probably pass, that is not why you should use it.
DO use Greenlight for Traffic! Keep a constant eye on your visitors, both on your Item Stats and on your Analytics. See what brings you people!
DO engage with your community on your Greenlight page often: post Announcements and Discussions even if it might seem futile. A lot of people look at Discussions, Announcements and Comments first, and if there are few of them, they just assume the game is bad and pass it on.
DO respond and be proactive if someone makes an effort to help you. Those people will become your most loyal players, so listen, and give them time and attention!
DO use Analytics to see which social network brings you the most awareness and post content there
DO help! Write about your experiences, exchange data with other developers, talk about Other campaigns, not because its good for you (it is!) but because that is the kind of world we all want to live in, isn't it?
DO have an info hub outside Greenlight where you can direct people for more info**
DO have materials ready for those that want to generate content about your game***
* Actually, I just want to find my niche and live decently while providing something of value for that niche
** We are working on www.heartpapersborder.com 2.0 version. Please do like our Facebook page and follow me on Twitter because that is where we tell all the news first.
*** We are working on a Press Kit, A Press Release, and a bunch of Artworks and Screenshots to be available SOON (TM).