In this article I want to share with you our experience passing the Steam Greenlight process.
The 1st thing you should know about Steam Greenlight is that it's a black box. No one really knows how the Greenlight system works.. Valve says that they don't want developers to rush for traffic and for likes and that the main aim of Greenlight is to get the games that community chooses for the Steam Store. How do they do it? We can only guess...
First of all, let's say some words about the icon. We decided it to be animated, to show all sides of our gameplay on the one side, and to make you curious about it on the other.
Then, let's talk about your Greenlight page.
Take a look at ours: http://steamcommunity.com/sharedfiles/filedetails/?id=379919825
As you can see, we've used images (even animated GIFs) in it. The feature of inserting images is not documented in the official formatting help, but if you're familiar with BBcode, you should be OK with it. Just use [img] tag to insert images.
In the making of our Greenlight page we used the structure that is widely used in the Kickstarter. Big headers, lots of pictures, etc.
Your should try to show some interesting art right in the text.
Another important part of your Greenlight campaign is a video teaser. I'm not a pro in making videos, but I think our teaser is quite good for a small indie team. We've spent about 2 days making it. We tried to make it dynamic and not boring. We tried to show all parts of our game in it - a storyline, gameplay, fights, etc.
Don't make a beautiful video that doesn't show your gameplay because the main reason people watch your trailer is that they want to know how your game plays. They don't want to look at your beautiful art (they have screenshots for that), they want action.
And now… Let's take a look at some charts.
Basically, the 1st day will show you everything. Here is ours:
The most important here is Yes/No votes ratio. 73% of "yes" is very good. Actually, many sources say that even 50% is very good ;)
Then, the next interesting number is "current rank". It says we have 1200 votes and that is ⅓ of a way to top 100. That means that you need 3500 "yes" votes to get to top-100.
But getting to top-100 doesn't mean getting to the store. Many people say that top-100 is a queue to the store. But that's not true. That's not a queue. Getting to top-100 gives you a chance to get greenlit, but your place doesn't matter and I will prove it later.
Don't forget to add a Google Analytics code to your Greenlight page (there's an option in Steam dashboard) to view your traffic.
For our particular case the internal (Steam) traffic took an overall of 92% and only 8% was our community (twitter / facebook / our site).
As you can see, the curves of the votes are all pretty much the same - fast growth at the beginning and less traffic after the first 2-3 days.
But not our case. We've got pretty much the same amount of "yes" votes every day:
We don't know what was the reason. Maybe Steam give you more traffic if you get a good yes/no ratio, but we didn't feel much traffic drop even on the 5th day:
Here is the screen of the last few minutes before making it to top-100: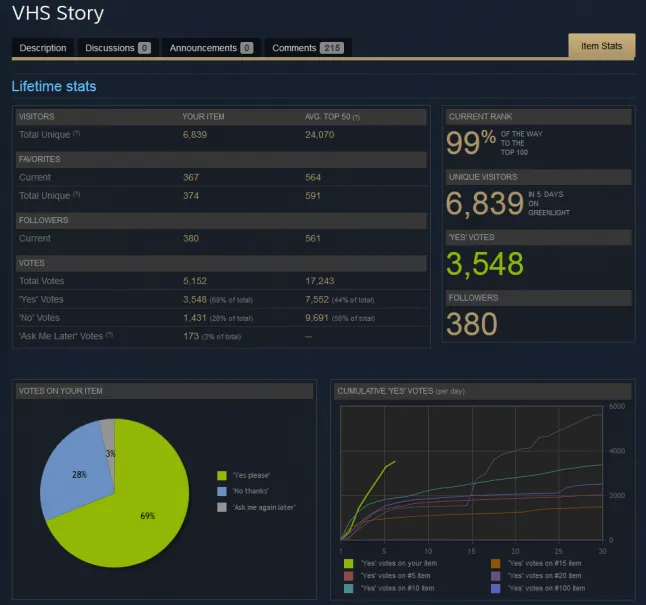 Then, we thought that it was only the beginning of our race, but actually it was the end. After an hour we were on the 86th place and an hour later we were greenlit.
Certainly we didn't even reach the top-10, but Valve decided to greenlight us. We still believe that the main reason was our yes/no ratio.
So, we got greenlit in exactly 5 days. We didn't use any advertisement or didn't have much our "own" traffic. We just started our campaign and that's it.
I know, there are lots of assumptions in this article, but still I hope it can be useful for you.
Ask any questions, I'm available in the comments.