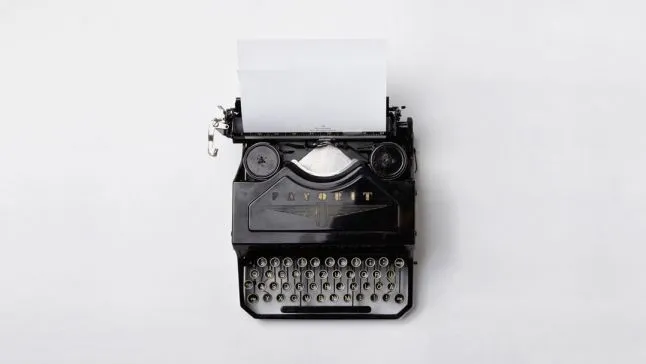 Back in the early 2000's Bungie kept fans of Halo informed with news, updates, and new feature developments. Players couldn't get enough, and a fervent community blossomed. Some of my friends still talk about how following that devblog inspired their careers.
This article was originally published on Launch Your Indie Game.
Sure, other game developers had been doing that since the beginning of the internet, but Bungie somehow managed to get regular fans interested in the game development process, which if you've been writing your own devblog, you know is no easy task.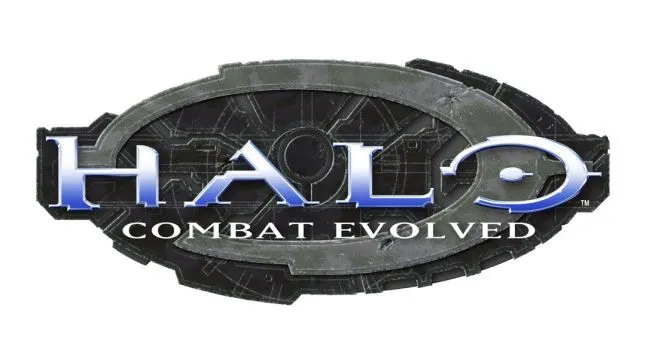 Since that time, practically every indie game developer I know starts and keeps a devblog for every new game they make.
But unfortunately, it doesn't typically go as well as Bungie's did.
Most devblogs start really strong, with great intention. And then it happens — they slow down, and often grind to a halt. Which is a real shame because devblogs can be a powerful marketing tool for promoting games. Well, if they're done the right way.
I'm going to explain exactly why devblogs typically die, offer you a new way of writing them, and then show you how to double your traffic (maybe overnight) with what I call The Republishing Strategy.
Why All Devblogs Eventually Slow down and Then Die
Although seemingly trivial, blogging is time-consuming. Even the shortest of posts require gathering facts, writing drafts, getting approvals, formatting, photo creation, and more. Not to mention those of you who are naturally long-winded (like me), or produce even more time-consuming content such as video.
After all is said and done, the average devblog post takes about a full 8-hour day to produce, publish, and promote.
But although the work sucks, it's not really the problem.
Devblogs are typically about explaining feature design, development, and the deeper intricacies of overcoming programming challenges. And while that can be fascinating to the game development community, game developers make up a relatively small part of your actual playing audience.
In other words, most players don't really care how you make games, they just want to play them.
So there you are spending a lot of time on producing content for only a fraction of your audience. And that means your devblog is more about preaching to the choir than it is about acquisition, which further means your traffic probably hasn't increased much since you started.
I see this all the time.
To add insult to injury, as you get closer to launching your game, you have less and less time to put towards marketing efforts that don't generate a reasonable return on investment, time that would be much better spent just getting your game out the door.
The Republishing Strategy
Like I said before, most of your players probably won't be game developers. But those are the people who get the most out of your devblog, and leveraging that community can be a powerful catalyst for "starting the fire," so to speak.
So instead of always riding the line between general posts and development talk, we're going to just draw a line in the sand and decide that at least 50% of your devblog will be for game developers and the other 50% will be for everyone.
I'll unpack this in much great detailer, and even leave with a list of things to do along the way, but here's a quick overview:
You're going to write in-depth game development tutorials using your games as the illustration, so that the meatier posts on your devblog transform into timeless resources for other game developers
Then you're going to republish those tutorials on a bunch of other game development websites, forums, and groups, so that your devblog traffic doubles
And finally, you're going to measure incoming traffic for clues as to how you can improve results moving forward
I call this The Republishing Strategy. And here's exactly how I recommend you execute on it:
1. Write In-Depth Game Development Tutorials Using Your Game as a Case Study
The first thing you're going to do is write an in-depth game development tutorial using your game as an example. It should be highly desirable for like-minded game developers, something they would typically search for on Google. And it should clock in around 2,000 words.
To figure out what you should write about, simply ask yourself this question: What have you accomplished in making your game that other game developers could learn from?
Here's a few title examples for articles that you might write…
How to Build a Match-3 Puzzle Game in 1 Day with Unity
The Beginner's Guide to Writing Roguelike Games in HTML5
The Ultimate Guide to Making IO Games Fast and Cheap
How to Design a Strategy Game Based on Fun, Not Timers
How to Design a Procedural Game That Feels Linear
You get the idea. They don't all have to be "how to" articles, but they should be very crunchy so that game developers want to read them.
Devblogs are typically locked in time, meaning once your game launches the content isn't relevant anymore. The Republishing Strategy turns all that on its head, making your devblog a timeless resource for aspiring game developers.
Finally, publish one of these articles every other week (or once a week if you're up for the challenge), first thing in the morning on a Tuesday or Wednesday. And promote in any other marketing channels you're using, such a social media.
Action Steps
Write 2,000-word game development tutorials using your game as the sole illustration (the longer the better)
Use at least 5 images throughout the post
Link to at least 3 major websites (e.g. Unity, other development resources, Amazon books)
Go heavy on the development language and buzzwords that other game developers are likely to search for on the internet (e.g. Unity, hierarchy tree traversal, procedural)
Always include a link to your game's website, newsletter, or marketplace page
Publish at least 3 of these articles a month
Always publish on Tuesdays or Wednesdays
Always publish first thing in the morning
And one more thing…
I understand that this whole writing thing might not come naturally for you. But I highly encourage you to stick with it, or at least give it your best try. The more you write, the easier it will get. Always start with an outline, and use blog post formulas to expedite production time.
I promise that if you trust the process you're going to see a much bigger return on your devblog investment than you ever have before.
2. Republish Your Articles on Popular Game Development Websites, Forums, and Groups
After your article has been published on your own devblog for about a week, then it's time to republish it on various other game development websites and forums. But there's a few things we need to do to the article before that happens.
First, if you're not already using Google Analytics with your devblog, please install it now (it's free) and make sure it's working. I'll explain why that's necessary in just a minute .
Next, insert a link back to your original post right after the first paragraph in your article. It should read something like this:
This article was originally published on My Nintendo News.
And finally, insert a short bio at the end of your article and keep it under 300 words. It should read something like this:
Shigeru Miyamoto is a game designer at Nintendo. He's currently working on Super Mario Bros. 4 for Nintendo Switch. For more great articles like this, subscribe to My Nintendo News.
No, Super Mario Bros. 4 doesn't exist. Just let me dream.
Again, you get the idea. Take this short template and put your own words to it. The goal here is to get people to click back to your studio, game, or devblog. And keep this as timeless as possible, don't say or link to anything that will need updated in the future. The last thing you want to do is have to go back to every republished post and edit it. That would be an epic waste of time.
One more thing to note here, if you're republishing your article on a syndicated blogging platform such as Gamasutra, then these new additions to your article make perfect sense and you should do them. But on certain forums such as Reddit, these added elements will feel inorganic. Be self-aware about where you're posting, follow community rules, and always present your work appropriately for the audience.
Now, the moment we've all been waiting for. It's finally time to republish the article…
Here we're looking for highly trafficked game development websites, forums, and groups that make sense for what you've written. Here's a short list of game development communities that I know work really well for this: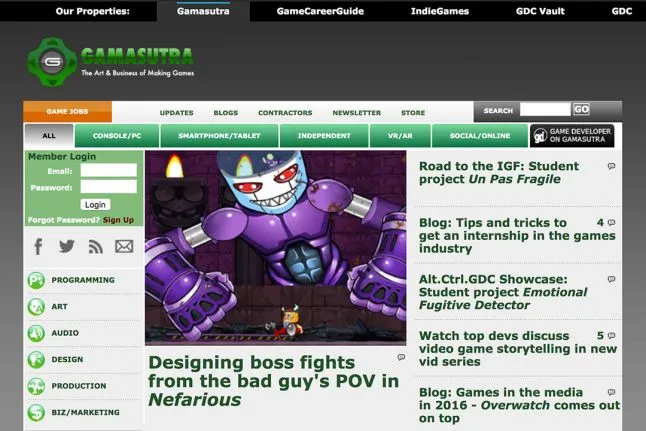 Front page of Gamasutra where your post could be featured.
Obviously this isn't a comprehensive list. There's also framework forums, platform blogs, and Facebook groups to consider. Use your inside knowledge, experience, and gut instinct to put together your own list of websites, forums, and groups where you feel the community could benefit most from what you've written.
The worst thing you could do is blindly republish everywhere.
The Republishing Strategy should be a two-way street. You're helping fellow game developers learn how to make your games, and in return they're helping you by checking out your games. There are a few staple communities you can rely on for every post (such as Gamasutra or Reddit), but beyond that, the websites and forums you republish on should vary based on what you write.
Action Steps
Install Google Analytics and make sure it's working properly
Insert a link back to your devblog after the first paragraph of each article (where appropriate)
Insert an under 300-word bio at the end of each article, complete with links back to your devblog or more (where appropriate)
Republish articles on highly trafficked websites, forums, and groups that make the most sense for what you've written
That's the bulk of The Republishing Strategy, but you know how I roll, we need to measure and optimize what we've done as a last step.
3. Use Analytics to Measure and Optimize Your Republishing Performance
The day after you republish your first article, open your Google Analytics dashboard, and if you're a relatively low traffic or new devblog, you should see that your traffic has doubled overnight. I'm going to be honest, it's pretty awesome when you see that happen for the first time.
Take a moment to enjoy the fruits of your labor.
After all is said and done your dashboard should look something like this…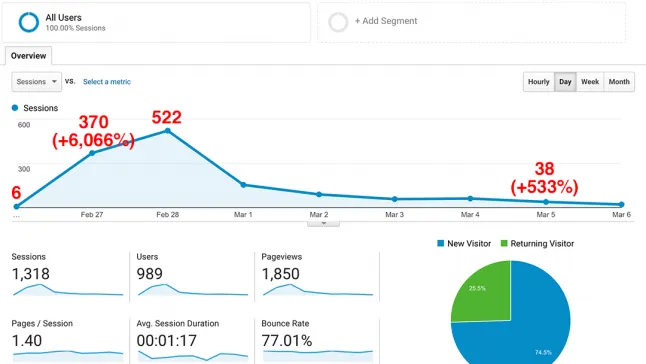 Here's a screenshot of me using the republishing strategy to increase my traffic by 6,066% on day 1, and by 533% by day 7.
You should see about 500 new visitors from a week of republishing.
Obviously it's going to be different for everyone, and depends on a lot of factors. Suffice to say, this is attainable fuzzy math. In any case, over time you're definitely going to see direct traffic rise slowly.
If you've already got thousands of people reading your devblog each day, it could take around 1 month for you to see your traffic double from these efforts. If you're a hit game with tens of thousands in traffic each day then you're going to see great percentage bumps for your efforts, but you probably won't double your traffic from this strategy alone, at least not quickly.
After a full week of republishing, it's time to analyze your traffic for performance. Inside the Google Analytics dashboard navigate to Acquisition > Overview.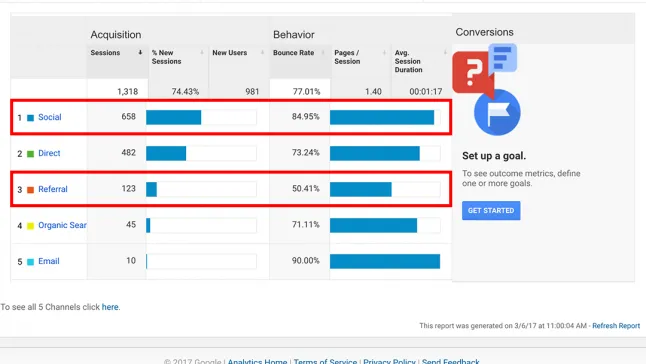 Where to go in Google Analytics to see your acquisition channels and traffic.
The tabled data at the bottom of the report is showing you which channels sent the most traffic to your devblog in the last month. Click on Social and Referral for a detailed description of exactly which websites sent you the most traffic in those channels.
Pay special attention to percentage of sessions and look for the traffic that isn't performing well. Consider how you might improve them, or whether or not you should keep republishing there.
Also, don't rule out that your content may have missed the mark, or that it might suck. No offense, but that can happen. Stay self-aware, question your content, and experiment with change before completely abandoning a certain website or forum.
Analyzing your referral traffic once a week is going to help you stop wasting time on what's not working, and spend more time on what does.
Action Steps
Measure referral performance weekly
Note referrals with poor performance, and consider optimizations
Experiment with new websites, forums, or content
Rinse and repeat
And for those of you number-junkies out there, you can also use Google Analytics to figure out which referrals send the most traffic to your website or marketplace pages. It's possible that the website or forum you're getting the most traffic from isn't the same one that drives the most sales. How to do that is way beyond the scope of this article, I'm just saying it to show just how important measuring your marketing can be.
So there you have it, that's my republishing strategy for devblogs.
Your Devblog Probably Won't Be an Overnight Success
I hope you're as successful as Bungie someday, but let's be real here…
Your devblog probably won't be the overnight success that theirs was back in the day. It could happen, but it probably won't. However, this is the best way I know to improve what you're already doing, double your traffic within a month's time, and convert your devblog into a selling tool that pays dividends long after your games have launched.
That's a pretty big win.
Game marketing is a process, and overnight successes are few and far between. But I know that if you implement this strategy you're going to see your traffic numbers double, and climb from there.
That said, I'd love to hear from you…
How did you feel the first time you saw your traffic double from implementing this strategy, what types of results have you seen since, and what have you done to optimize your devblog each month?
---
Justin Carroll writes about indie game marketing at Launch Your Indie Game. Get his free email newsletter for help launching games and growing a business.