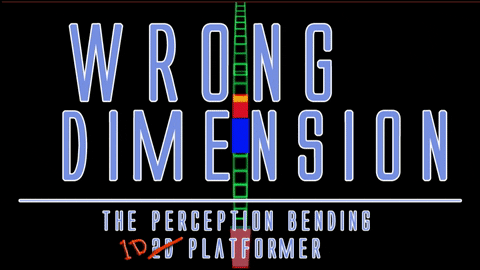 I am currently working ona game called Wrong Dimension - a "one dimensional platformer" full time thanks to an investment from a gentleman I'll name as Mister K. (Don't really want to give his full name out in case some other enterprising devs flood him with investments requests)
I want to share with you how I went about securing this investment.
Wrong Dimension is a weird game. It looks strange and it's very difficult to understand what is going on, on screen without actually being at the controls. However, as I came up with the idea, I knew it would be incredibly fun to play. So I sat down and spent a week making a tech demo for the game, and then put it on Steam greenlight. I quickly learned that I put it out way too early, and that it wasn't ready for release. The previous version had a different graphical style and was much harder to decipher. People on Greenlight (mostly) did not like what they saw. Some got very irritated at the simple boxy design, and some couldn't understand what they were looking at so they voted no. However, I took all the comments (there was some good ones too!) into consideration. I also decided to launch a Kickstarter just, by the off chance it would catch someone's eye and I could get enough to devlop the game how I had hoped. I honestly did not expect much because of the experimental nature of the game.

Then, I got a $10 pledge. With me only charging $1.99 for a copy of the game, I was quite surprised. I knew I wasn't going to succeed with the Kickstarter by that point, but knowing someone liked my game idea enough to cough up $10 made me happy. It was the first money someone had given me for my games. I then got a message of encouragement from this backer saying this:

"Hi Mike,
Good work so far. This is an intriguing concept. While there's skepticism on the Greenlight page, there's at least one game, Line Wobbler, that got a similar idea to work and made it fairly fun http://aipanic.com/projects/wobbler .
When I saw Line Wobbler in person, it was like reading a new language. It made no sense at first, but after several games, it became legible and then after even more games, it became intuitive. I think Wrong Dimension could have a similar experience.
I hope you continue to develop the game and aren't discouraged by some of the overly negative comments.
-J"
It was very refreshing to read that someone understood that this type of game had to be played to be understood fully. Because that is so often used as an excuse for a crappy game, knowing someone knew it wasn't the case here was awesome. We got to talking about the game and it's design when he said :
"If you'd like help with funding, I can provide a direct investment for development costs. I understand there's a risk it won't be greenlit on Steam or that it would take a long time to do so... "

I didn't really expect him to be serious. I thought it would be something like him adding to his KS pledge or such. Not quite. Fast forward a few days, and he's investing enough into Wrong Dimension to allow me to work full time for at least a month, plus pay a mucisian to create original tracks for the game! (Which I'm super excited for) I was pretty blown away that someone would take a chance on such a strange game.
So, how exactly did I get an investment?
Well, the truth is, I didn't. My game did. I took a risk and developed an odd game experiment and put it out there. Sure, I made some mistakes (and learned from them!) which have hurt the game's chances (I have some serious Greenlight repair to do), but in the end, by following my gut and taking a chance, I was able to move one step closer to a full time career only a month after starting work seriously on game development.
The moral of the story is don't be afraid to take risks on your game designs! Do things new and different. Make things interesting and fun, but don't be afraid to create something unsusual. Be yourself, and be honest. Show the passion and love you have for your games. Be real, and personable. No one cares about a highly manicured indie developer. Be professional, but be yourself. Let the world see the love that you have for the games you make.
Good luck! -Mike T.