UPDATE: I'm flattered this post got so much traction. Please visit my personal website at www.nickhatter.com for more great posts like this!
F2P Summit is London's hidden gem for mobile game and free-to-play developers. For one, they have a very respectable and coveted list of speakers, including famous "Candy Crush legend" Tommy Palm. In addition, it's a small venue, there's not many "third-party vendors" trying to sell you their solution, and the speakers are easy to approach.
For everyone who attended, I felt the main messages the speakers were conveying were mostly unified: make the games you love, and don't do it just because you think it will make a load of cash.
Now as you can imagine, given the negative publicity that free-to-play sometimes gets, this may seem surprising. And sure, there was a talk given on recognising that some of the biggest mobile hits "borrowed" (stole) from promising game concepts. But let's face it, that happens on non-mobile platforms too a lot and it's nothing new. It happens in Music. It happens in tech (Steve Jobs even admitted that "great artists steal").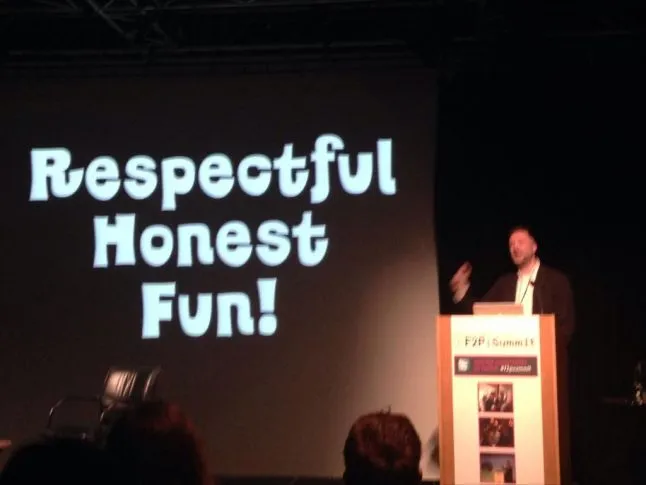 One speaker that particularly stood out which was Steve Sopps, CEO at Lumo Developments. The focus of Sopps' talk wasn't about how to make more money. It was about how to provide a first-class player experience and more fun game, with successful monetisation coming as a secondary. His philosophy was "Respectable, honest, fun". It was about not tricking your users into thinking that their life is going to be amazing just because they invest £40 into your game.
Left: Preach it Steve! Free to play should be this.
A great analogy Sopps gave was this: have you ever wanted a pair of shoes and thought they would change your life, only to find that after buying them, you have "Buyer's Regret" ? Because that's all they are: a pair of shoes. One of his pearl's of wisdom was this: be clear about what the benefit of the in-app purchase provides, and be honest.
Another great pearl from Matthew Wiggins, CEO at JiggeryPokery, which was: "If you don't love it, they won't love it". If players sense you're just on a money grab exercise, this will backfire. And I think like a lot of things in life, money can be the side effect of being a great artist, and truly loving what you do. The best example that comes to mind of this is of course Dong Nguyen who made Flappy Bird. He didn't care about the money. He just wanted to make a cool game that people enjoy.
After this event, I for one certainly made some new friends (and fans); everyone there was someone who deeply cared about player experiences and making fun games, rather than focusing on just becoming the next top 10 grossing game.
I started my own company because I too, care deeply the player experience (and love what I do). That's why I work such long hours for so little pay.
In summary, F2P Summit definitely restored my faith in games (and humanity). And my sentiment about the conference was certainly echoed by other attendees, such as Exient's Lead Game Designer, Del Hartin. So if you want to learn how to make better games, learn some very cool tips, and meet some great people whilst avoiding sales people, F2P Summit is most certainly the place to be.
Note: After F2P Summit, I went for drinks with the legendary game designer Jon Hare (designer of Cannon Fodder, and Sensible Soccer). How's that for cool? So definitely some amazing networking opportunities.
The author of this article is Nick Hatter, CEO at giftgaming, a non-intrusive in-game ads platform that delivers surprise gifts containing powerups and real-world discount coupons.