Occasionally I hear people say that Nintendo's doing fine, and that their handheld business is doing just fine. And, to the extent that it's making money, that's true. But what I don't see acknowledged is that Nintendo's handheld hardware market is contracting and has been doing so for over two years.
I'm not talking about the contraction from the heights of the Nintendo DS era, when worldwide shipments peaked at a rate of well over 30 million systems per year. I'm just talking about since September 2012, shortly after the introduction of the Nintendo 3DS XL.
Here, just look at the figure I've put together below. It shows the stacked TTM console model shipments for Nintendo since the end of the first year of the Nintendo DS back in late 2005.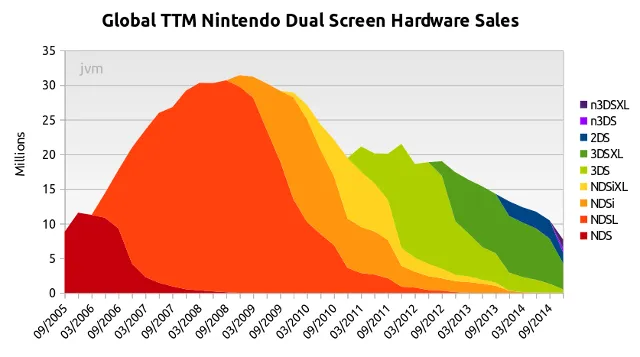 As that figure shows, shortly after the introduction of the 3DS XL, the annual sales rate went into decline. The introduction of the Nintendo 2DS in late 2013 did not stop that decline -- in fact it kept on falling at the same rate, essentially.
And now we have the New Nintendo 3DS models, which are primarily out in Japan and Australia but will hit the U.S. and Europe in the coming weeks. It is possible that sales will tick back up once those models are released worldwide, but the soft launch of the new model hasn't done much to help Nintendo's business.
As I said in my other recent blog post, I'm impressed with Nintendo's adoption of digital sales. They should be commended for that! However, the continued erosion of their active hardware base is a serious issue, and one they'll need to address directly.
[Matt Matthews has another Nintendo analysis, about the company's digital sales, live now on Gamasutra blogs.]