As we continue into 2019, the global gaming market continues to rapidly grow and evolve in ways that demand our attention. So, let's review some of the findings in the most recent App Annie report (*). In 2018, mobile games accounted for 74% of user spending in the App store. Naturally, mobile games are the most rapidly growing segment of the gaming market, even outperforming sales of console games, PC/Mac games, and handheld games. In 2019, mobile games are expected to approach 60% of the total user spend across all games, and this reflects a 35% increase since 2013.
China, the United States, and Japan continue to serve as the three most prominent markets in terms of user spending. Together, the three markets have generated 75% of all mobile gaming revenue in 2018. From 2016 to 2018, we also see that user spending has been growing remarkably fast in both mature and emerging markets.



(Source: App Annie 2019)
Games continue to rank as the top category in revenue and downloads in both iOS and Google play stores.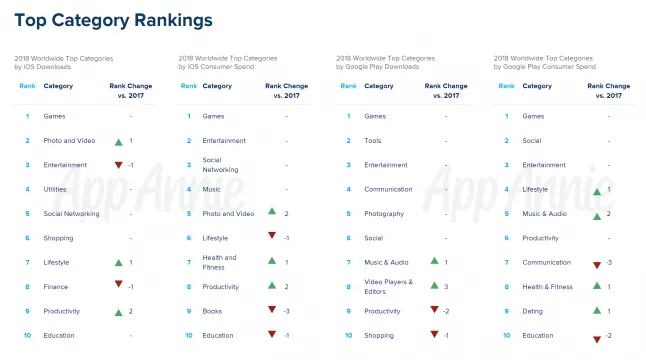 (Source: App Annie 2019)
A curious observation for 2018 is that no clear line distinguishes the performance of mobile games from console games in terms of popularity. The success of battle royale titles -- such as PUBG Mobile and Fortnite -- demonstrates that mobile devices can deliver very powerful gaming experiences, at least comparable to playing on a console or PC. Also, we can observe a growing trend that mobile games are becoming more attractive even to hardcore players.
In recent years, Chinese game publishers have been diligently searching for ways to tap into the high revenue potential of overseas markets, particularly the lucrative American market. Today, we can see their strategies are greatly paying off. The average overseas user in North America now spends 140% more on Chinese-published games when compared to 2016.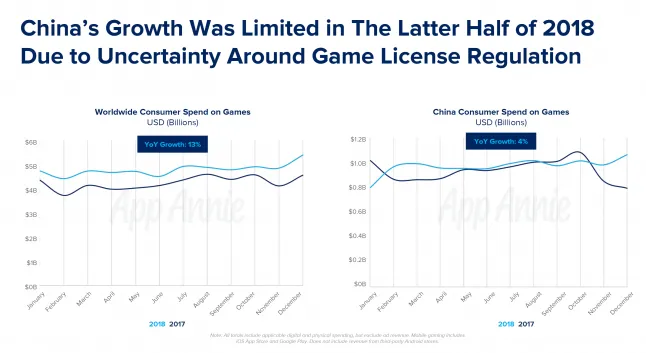 (Source: App Annie 2019)
On the domestic front, the suspension of game licensing by the Chinese government for many months caused lower year-on-year growth. But despite this challenge, publishers headquartered in China are still managing to increase their global market share of user spending on games. Fortunately, the Chinese government restarts game licensing in early 2019. As one might expect, while waiting for the domestic market to heat up again, Chinese game publishers are using the opportunity to focus their expansion into overseas market, with mergers and acquisitions becominging an increasingly popular method to do so. For more insights into Chinese M&A strategies, please review my previous article found here (**).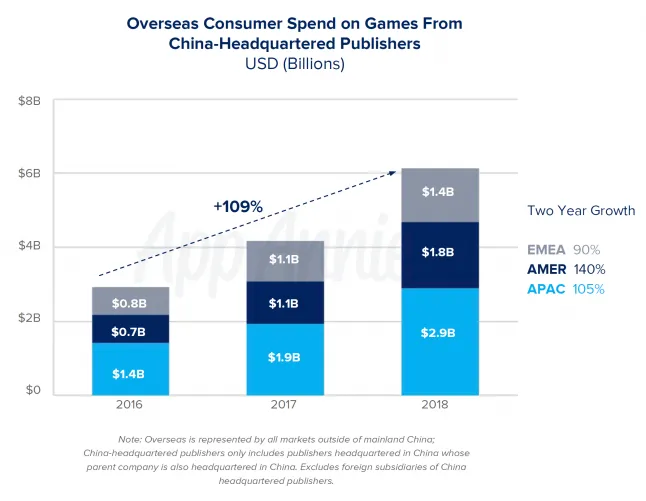 (Source: App Annie 2019)
App Annie believes hyper-casual games with simple gameplay will rapidly fuel downloads and user engagement in 2019. Spending by mobile game users is expected to dominate the revenue performance of the overall gaming industry, estimated to eventually account for 60% of the total. This estimate includes PC/Mac, Console, Handheld, and mobile devices in its analysis.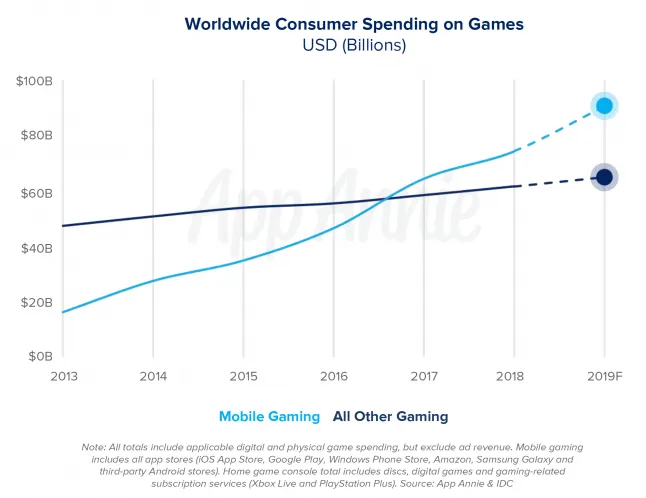 (Source: App Annie 2019)
Even though the Chinese government has restarted game licensing for the domestic market, conditions continue to be ripe for Chinese publishers to explore lucrative opportunities overseas. I expect this trend to continue for the foreseeable future and for M&A to continue to be one of the most popular strategies for China-headquartered game companies to promote themselves across the world.
Please review my insights about Chinese game company M&A strategies here (**). And be sure to follow me on Linkedin in order to learn the latest insights, trends, and opportunities of the global mobile gaming market.
You can download the original App Annie report here.
References:
* The State of Mobile in 2019 – The Most Important Trends to Know
** Opportunities Revealed! Crucial Facts for Pursuing Success in the Global Mobile Gaming Market [Report]
Research Assistant: Sherri Haslam, Vitani Shan
Editing: Philip Daay
You can check out my other Blog Posts here
You can follow me on twitter @MantinLu
Seasun is a leading Chinese online games publisher focused on creating high quality games/game engines that push the boundaries of player experience in action entertainment. The company is also involved in small-medium sized investments for game studios worldwide. We have recently started up our U.S. studio in Redwood City, CA to create top quality content for the western market.
Seasun has shipped many successful titles, including the popular MMORPG series JX (http://jx3.xoyo.com/), the MMOARPG titles First Myth (http://fs.xoyo.com/index1) and CQ (http://cq.xoyo.com/), along with our FPS MAT (http://xd.xoyo.com/). The "JX" series has grossed more than $250 million and has achieved a daily active user count of 3.3 million. We are currently building a special team of highly talented people to create the technology for our next-generation MMOARPG at this studio.
Founded in 2015 and based in San Francisco's East Bay, Magic Fuel Games is focusing on developing games that capture the imagination of players. With a core team of industry veterans, bringing decades of development and AAA experience from games that have captivated gamers around the world. The company's Series A was funded by Seasun Inc in February 2016 and has been growing its team and developing its 1st product since then.
Kingsoft, Seasun's parent company, is publicly traded in the Hong Kong Stock Exchange (SEHK: 3888) with market value of 3.8 billion USD. Kingsoft has created 3 other subsidiaries alongside Seasun: Cheetah Mobile (NYSE: CMCM), WPS Office, and Kingsoft Cloud Service. Kingsoft has over 4,000 employees worldwide.