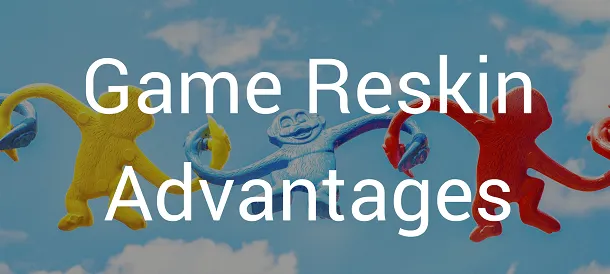 Game Reskinning Benefits and Advantages
There are many benefits and advantages of game reskinning (A.K.A. rebranding) in the marketing industry. Reskinning first made notable success in the late 80s when a game reskin became one of the highest-selling games in the old Nintendo Entertainment System.
The critically and commercially acclaimed Super Mario Bros. 2 was a visual re-interpretation of a Japan-only advergame called Yume Kojo: Doki Doki Panic (Dream Factory: Heart-Pounding Panic, 1987).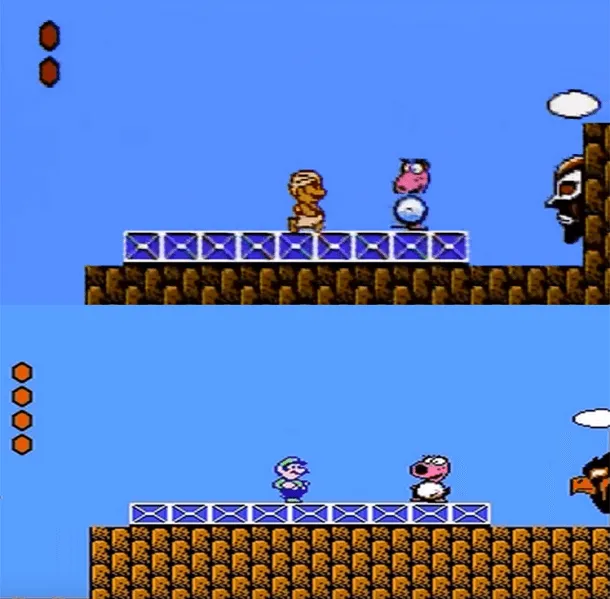 The story goes that the first Super Mario Bros was the forerunner of the newly established Nintendo of America. However, its original Japanese sequel, Super Mario Bros. 2 (now called Super Mario Bros.: The Lost Levels), proved to be less of an improvement over its predecessor.
Not wanting to risk Nintendo's growing popularity, the young subsidiary company instead released a different version of the game in the United States by using an old Super Mario prototype game engine that was already being used for Yume Kojo: Doki Doki Panic.
The new Super Mario Bros. 2 game was a phenomenal success. The game reskin made an impact not just in game development but also in marketing.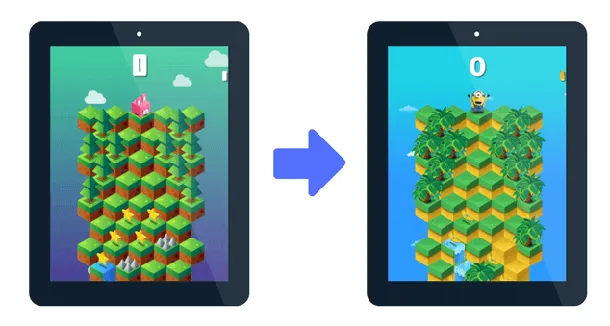 Why Use Game Reskinning
Even though the story seems a lifetime ago, the benefits of game reskinning (a.k.a. rebranding) still resonate the same way today. Game reskins have become massively popular in present-day digital marketing due to their favorable advantages over building games from scratch.
Using the process, you can produce a brand new game within a shorter period at a lower cost. Since the game engine has already been tested, you can focus more on the sensory elements of the game. You end up with a product that not only has superior quality but has been optimized to appeal to a target audience.
Let's elaborate further on these benefits and advantages of game reskinning.
1. Lower Production Cost
Developing a game from the ground up requires a lot of work. More work means more money needed to complete a project. By using the same engine, we are practically skipping the coding phase of our development cycle. We can just focus our work on creating game assets.
Moreover, games built from scratch will typically cost at least twice as much as reskinned ones. This differential cost can help companies save a lot of money. A decrease in production cost often leads to an increase in profit.
2. Faster Turnaround Time
Having a faster turnaround time comes as no surprise with work significantly reduced using game reskinning. This benefit is crucial for time-sensitive projects.
We often encounter brands or agencies with tight deadlines, such as ad campaigns, trade shows, and new product releases. Game reskinning is a huge leap forward for these projects. In many cases, a reskinned game can be available within 1 to 2 weeks.
3. Proven Quality
Gaming projects are often delayed by quality and financial issues that are completely unavoidable when starting out. Working on a game template, whose quality has been proven, minimizes the risks of experiencing inherent development problems.
By changing the look and feel of an already profitable, working game, the game development period is going to be uncomplicated. We have the app ready; only the game assets have to be changed.
4. Increased Audience Engagement
This is where reskinning shines the most. Going back to the story of Super Mario Bros. 2, the graphics of Yume Kojo: Doki Doki Panic was based on a Japanese television show, which American players are unfamiliar with. By using the famous Mario characters, the old game instantly became a hit to a wider audience.
The concept of adapting a game to target an audience is very effective in business organizations seeking different or wider marketing reach. By changing all the sensory elements that are presented to a player, an existing game can become a new platform for brands to tap into niche markets.
Game Reskinning Projects
Ever since we started out developing games, we have made hundreds of game reskins for brands and companies with different requirements. Here are a few of our game reskinning achievements.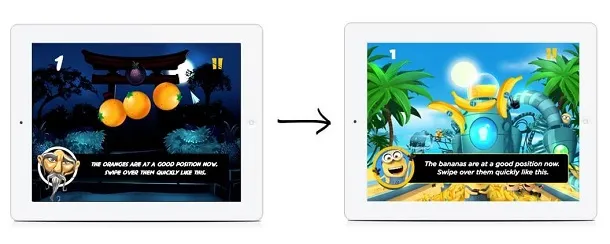 1. Minions Banana Frenzy
We have worked with Chiquita and Universal Studios to develop a fun banana slicing game called Minions Banana Frenzy. The game was used for the Despicable Me 3 ad campaign.
We reskinned our original game, Fruit Blade, to include Chiquita bananas and the Minions—yellow-skinned henchmen of the film's lead character. Banana Frenzy was deployed on the campaign's dedicated website.
The game gave fans of the film franchise a fun and engaging experience. Players who enjoyed the game were likely drawn to watch the new animated movie.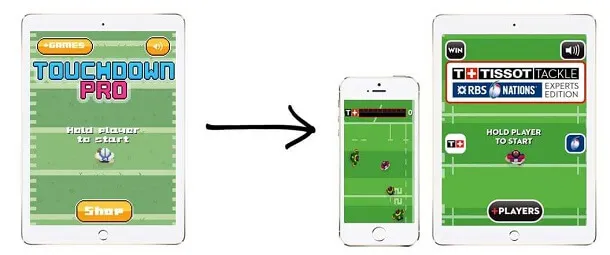 2. Tissot Tackle RBS 6 Nations
If you're into rugby, you've probably heard of the RBS 6 Nations Rugby Championship Tournament. It's an annual rugby tournament involving six European sides: England, France, Ireland, Italy, Scotland, and Wales.
We helped Tissot launched a rugby game in conjunction with the tournament. Using the engine from our pre-made game, Touchdown Pro, we rebranded the deep aspects of the game, to provide a social experience for Tissot's target audience.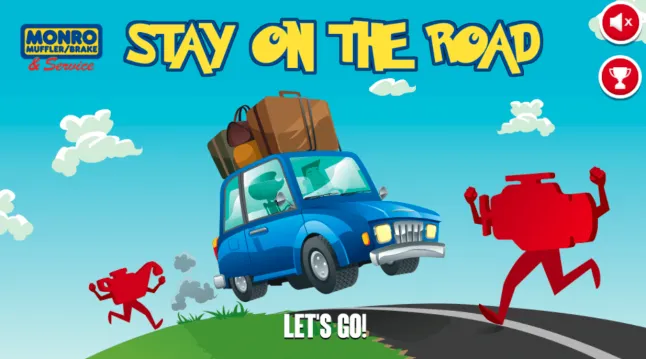 3. Monro Stay on the Road
We helped Monro, an automotive service company in the U.S., build a racing game that advertises the brand's recognizable qualities and service offerings. Built using our game engine Confident Driver, this game reskin project is designed to promote brand awareness and car safety to its target audience.
Be sure to check out the rest of our game reskin services to learn more about the process in other industries.
HTML5 and Game Reskinning
Game reskinning has been around for a very long time. Only this time, we have the Internet and HTML5 technology that make reskinning apps and games an even more feasible practice.
HTML5 Technology is the modern standard for creating and displaying content on the Internet. In other words, games built using an HTML5 framework can be played with any modern device with an updated web browser.
HTML5 games work well with Windows, Mac, Android, iOS, and other operating systems. On top of that, they are inherently reskinnable.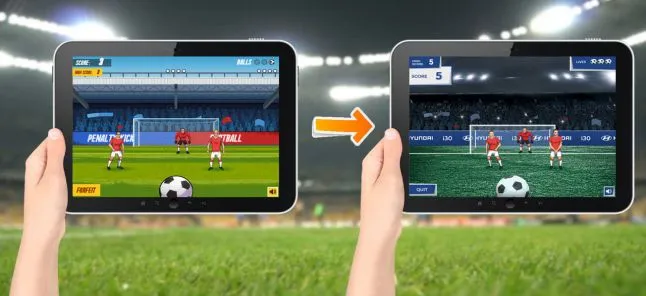 Summary
Because of the advantages of game reskinning, many brands have adopted games as an effective medium for digital marketing.
If you're planning to launch a brand activation or marketing campaign, be sure to contact us for game reskin services.
Listen to episode 3 of our podcast series to learn more about game reskins.