Since we've only worked as developers for the other game development company, we don't really have experience in promoting games, especially how to do it from scratch. So we started our turnkey game development studio to earn money in order to create and release our own projects.
The beginning
Our marketing journey began with studying and analyzing all lectures from GDC and other events, articles, etc. The particular emphasis had been placed on marketing campaigns and that should take as long to be devoted as the development itself.
We are now at the stage when we have the first gameplay hour, which is enough to start active promotion, despite the fact that the project is going to be released in only 3 months.
The Steam page of the project is also available and we have already managed to collect more than 4,000 people who have added the game to their wishlists, though we didn't do much. (Side note, when the game is released, there is a chance that it could be featured on the home page if 7,000 to 10,000 players adding the game to their wishlists.)
Apparently, the first rule is to post the game page as soon as you have the first screenshots and description. Also, you need to organize your page very well.
We drew up a plan for all the stages of the game within its marketing campaign, briefly indicating what you need to do at the start of the project, when there's a demo, when there's an audience and when the release comes.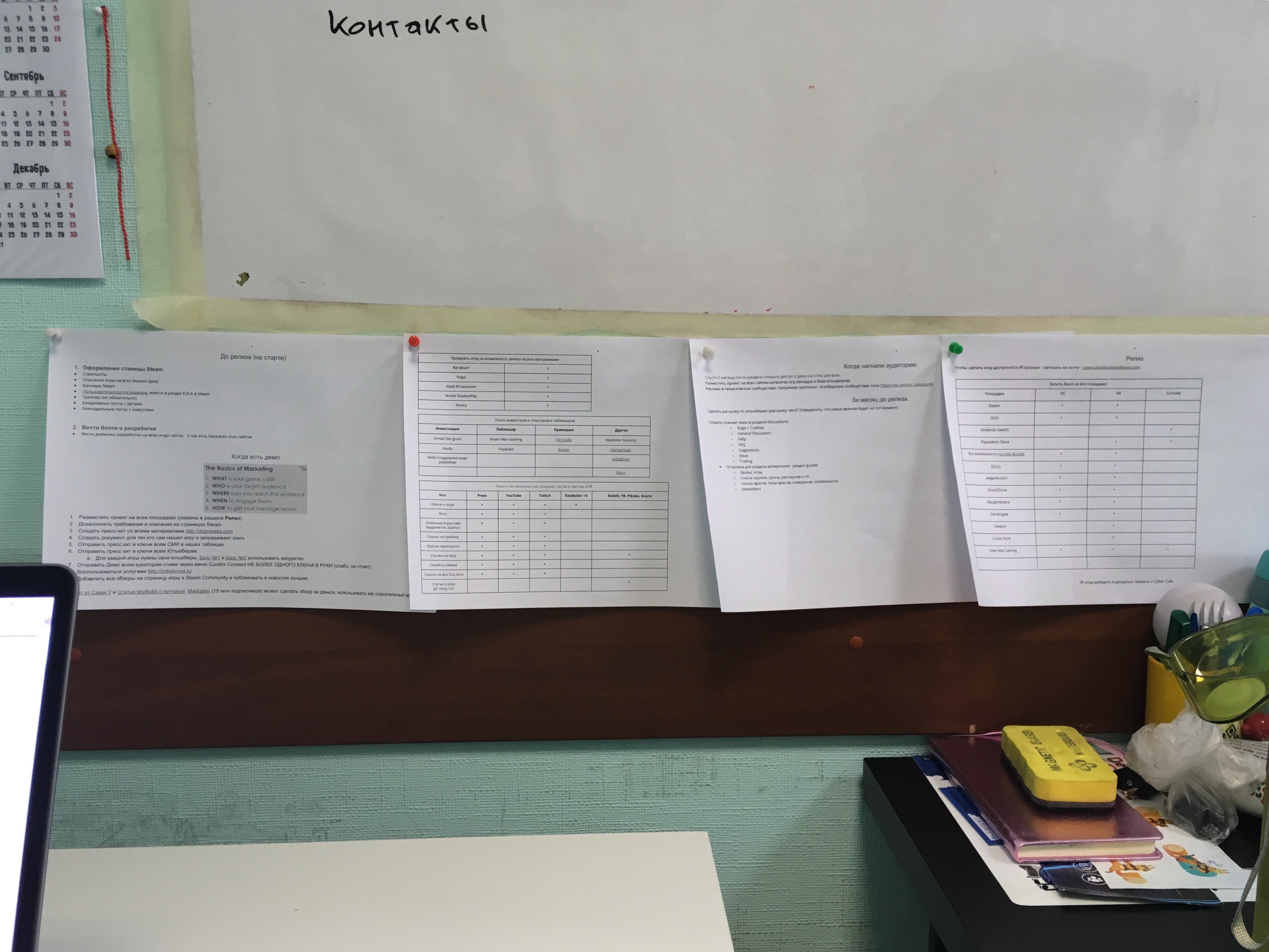 Start
The second key point is to be registered on KeyMailer https://keymailer.co which connects developers with YouTubers, streamers, etc. It pulls information from your Steam page and YouTube can see your project and request keys to it.
At the moment, keys to our project PROTOCOL (a PC game, which has a VR support, and also will be on Linux, PS, Xbox) have been requested by YouTubers with 2.8 million subscribers in total.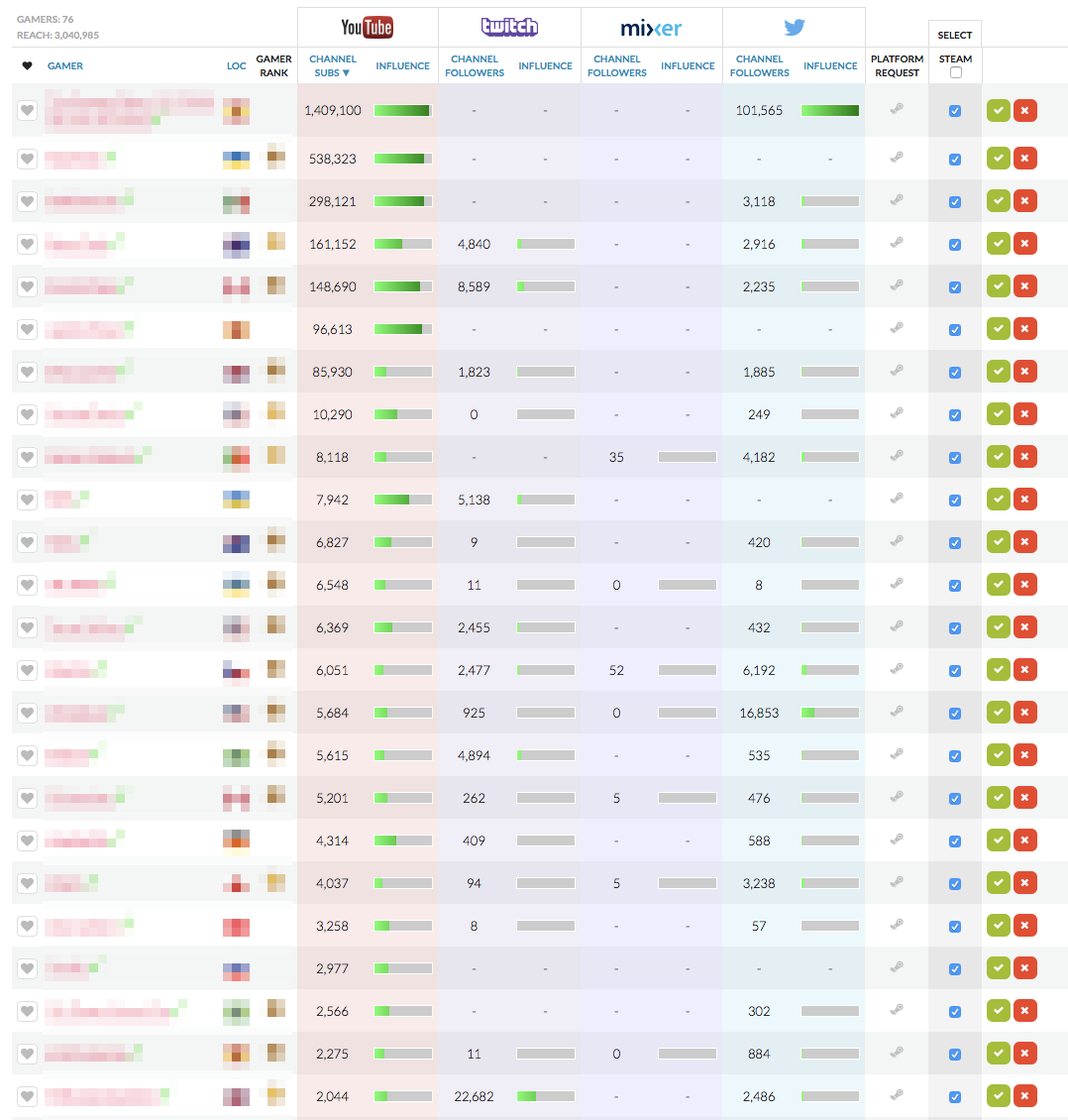 Details
Developers agree that Keymailer is one of the most effective ways to reach out to content makers.
We know that streamers often talk about the lack of adequacy and ease of communication with developers, that's why we prepared a convenient Press Kit with all the materials about the game and the team in 11 languages.

It turned out to be a beneficial solution, since many of them used the materials for the video previews, whose positive effect on previews raised awareness and recognizability of the project, due to its relatable style.
Positioning
It's necessary to start a marketing plan with the positioning - to figure out WHO your target audience is, WHERE its niche is and HOW to get through to it. I see no reason to go into details due to the different kinds of projects.
We have always wanted to make games like Bender his lunapark - to rock out and do whatever we want.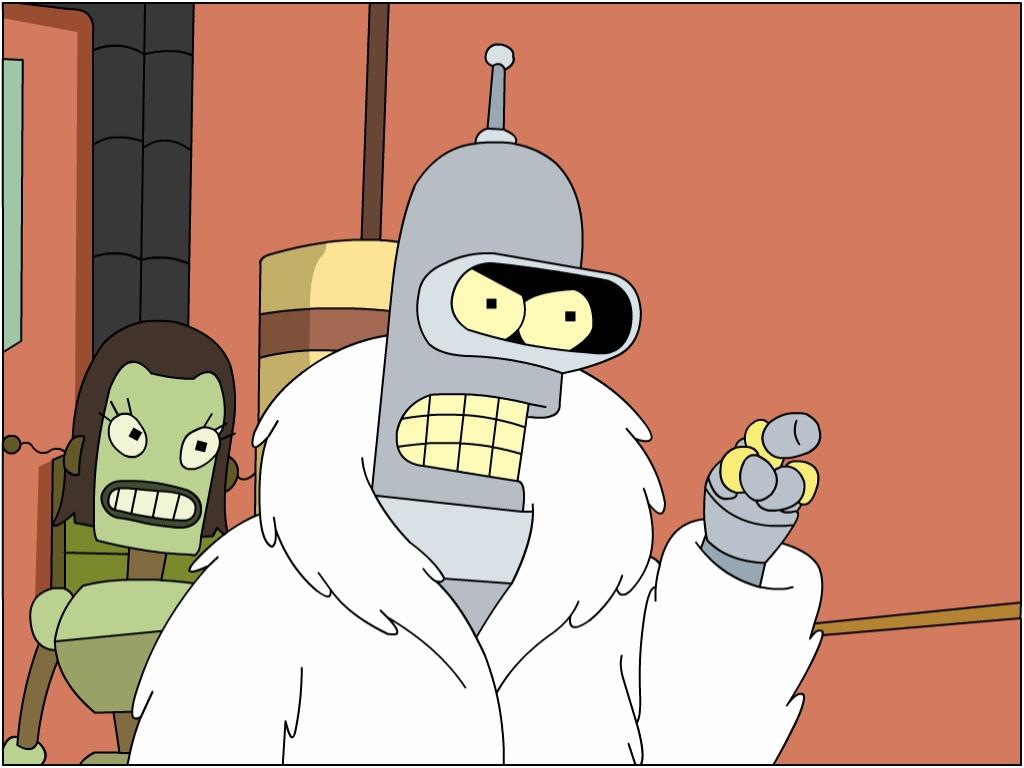 Therefore, in our first project, we went crazy and combined all in one: sci-fi, conspiracy theories, artificial intelligence, a lot of humor and also aliens.
In the trailer, we decided to get a little naughty too and made it a bit extravagant. Though we expected a strong negative reaction to it, we were pleasantly surprised to find a good response and interest in the plot of the game.
We collected games similar to ours and searched for YouTubers who might have potentially been interested in them. So when we send the keys to YouTubers, we know that it could be reviewed since the genre is similar to their favourites. At the same time, we purchased ads on the Keymailer home page for 5 days which is $300. This is the total amount of money we've spent on the marketing campaign so far.
But we also didn't forget about direct mail, since not everybody is registered on Keymailer. The email was prepared as briefly and clearly as possible with all the necessary links.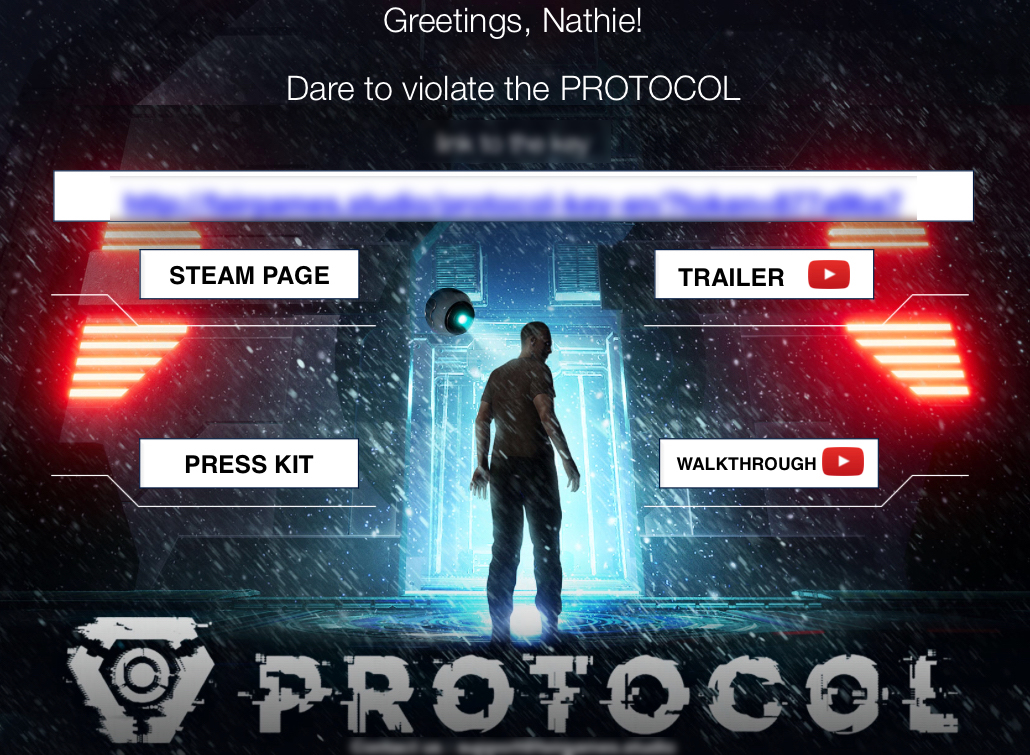 Steam provides a limited number of press keys, which is ok, but it's also not enough to send them out to a great number of YouTubers. Therefore, we developed our own mailing system, in which the keys are given only to those who opened the email. The savings were enormous.
The total number of views at the moment has exceeded one million. This doesn't give us a lot of new wishlists as we expected, but we're getting more and more exposure among players.
At the moment, we put the free demo on itch.io that everyone can try. Here's the link: https://fairgamesstudio.itch.io/protocol. It also caused new reviews, feedback, and followers.
We have two months left before the release and we're building up the core marketing plan of the project, which will be until the release and after the release.