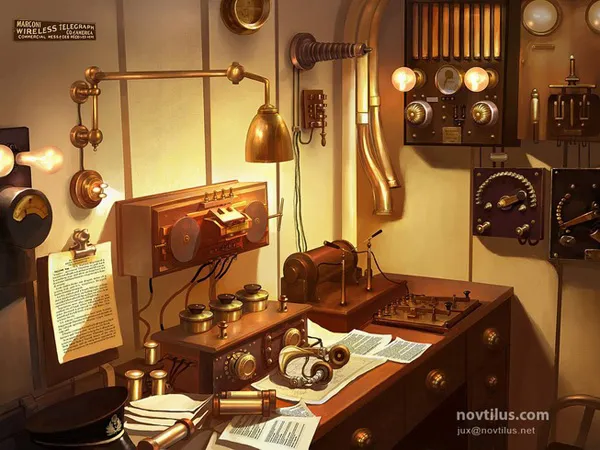 -Image from 1912 Titanic Mystery by Suricate Software
Our company Novtilus makes 2D art work for all types of mobile and social games, our clients often call companies of our type art vendors(or art contractors). When we or our fellow art vendors work for a client, it's no big surprise that at certain point of time, the client would complain that they are unsatisfied with our work, art quality, delivery speed, what so ever.
Of course we positively want to solve the problems, otherwise they would lower the work completion rate, or even scare away the client.
Here are my opinions of how to:
Fix your wrongs:
So first of all, listen carefully to what the client has to say, admit it's your fault, and let the client know you're attentively looking for what is going wrong within your team and trying to find a solution. To clients, the fact that you're able to make mistakes is not that horrible, if you show them the attitude of trying hard to fix. And never tell the client "You're wrong", or argue with the client, it's stupid.
Then before talking to the client again for a solution, carefully check your team. Are the problems about art skill or management? If the skill level of your whole team couldn't meet the demand of the project, you have but two ways to go: Staff up more skillful artists, or give up the project. But most often, the problems are about management.
Typically, you may check a few things:
Are the project description documents, art references correctly passed down to the artists who do the job?
Are the feedback made by the client correctly collected, and passed down to the artists who do the job?
Are the to-do list for certain art piece correctly passed down to the artists who do the job?
Are there some confusion of file versions?
Are there some problems in the check up, that unqualified work somehow find its way to reach the client?
Are the artists motivated, are they responsible?
In conclusion, find out what are mishandled, while your team is dealing with the information flow, file version and check up; Or even your established way of doing things, and your management structure are making problems.
Once you find the problem, talk to the client again. If they know you will do things to make changes, other than stay in words, they would be very happy.
If the client's side goes wrong
After we have completed a picture, we would put a suffix to the file name "_V01" and send it to client; If the client requests a fix, when it's done by us, the updated file name would end with "_V02" , and so on. After a project is finished, check back the files we delivered, if most of them end up with "_V02" or "_V03", it means we and the client hit the sweet point of cooperation. That the client takes minimal efforts of having to write us feedback, and we too take minimal efforts to fix art works. This is a win-win situation.
If on the contrary, most files end up with a number bigger than "_V04", that means you and the client are in red water. That you have to do a lot of fixes to each picture, and the client would be tired of writing you feedback. Both sides spend more resources, time, and budget, to get acceptable work.
At this time, even without the client's complaints, we would looking for wrongs internally. It's also probable that the problem comes from the client. To our experience, one type of clients we art vendors should be careful with.
This type of clients have bad management over their internal teams. For example, they would get only two pictures per month from an in-house artist, that would be very inefficient and expensive. So they resort to outsourcing with a fixed price, that would save money and funnel down the impact of mismanagement to the art vendors.
If you often end up your files above "_V04" and feel something is wrong with the client, you may check the following points:
Do they give feedback which are against basic art principles?
Do they give feedback which are contradictory with what they told you last time? That you may feel the picture is viewed by two different people?
After the picture is done, do they ask you to make lots of changes which neither correct wrongs nor help improve quality?
Do you feel that they are not pressed by a schedule and keep on being nitpicking?
Do they ask you to make many turns of fix, which could be fixed all in a time?
In this case you can talk candidly to the client about those points. If that could bring a change, that is great. In some cases the clients' organization is too complicated, and their problems are too incorrigible, it's not for a mere art vendor's lot to make changes. If so, you'd better say bye-bye to the client for the next time.
For working for them would be a constant lose of money. Don't try to ask your client for extra budget for extra fixes. That would result in much higher budget than market price, and much more time. Even your client would agree for once, that would be not sustainable. The best strategy is to find ways to deliver your project at "_V02" and "_V03".
We feel fortunate that all our long time clients are all "_V02" and "_V03" ones. There are our mutual efforts in it. And also partly due to the reason we avoid doing business again with clients who have costed us too much.
For first time cooperation:
When a new client come to us, for the first commission, they would ask us to do only one picture, and see how this is played out: To see our quality, internal management, and speed. This process is also very valuable to us, for we can see if the client is familiar with the process of outsourcing, if they are with good management, and if they are too nitpicking.
Don't enter a big contract before the first test work is done. This is a lesson we have bought with high price. If you tumble into a big contract, then shortly afterward you find the client is a problematic one as described above, you sure have entered yourself into a trap.
More of my articles about games & art production: