China Game Publishers Association Publications Committee (GPC) recently released a report of China Gaming Industry in 2016 (*). I want to share some of the findings here to conclude the China game market in 2016 and see what's the trend of 2017.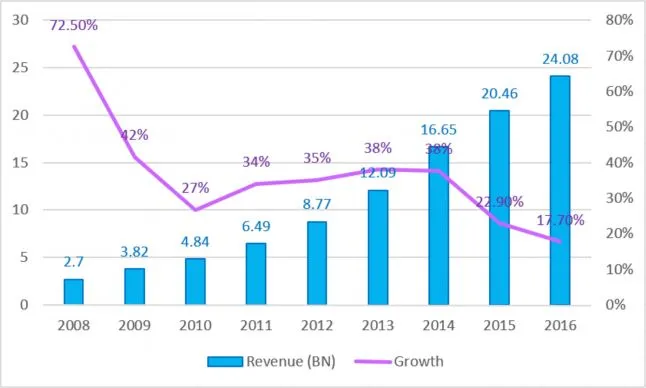 2008 - 2016 China Game Market Revenue (Source: GPC 2016)
Revenue generated by China game market in year 2016 reached 24.08 billion USD (165.57 billion RMB), increasing 17.7% compared to year 2015.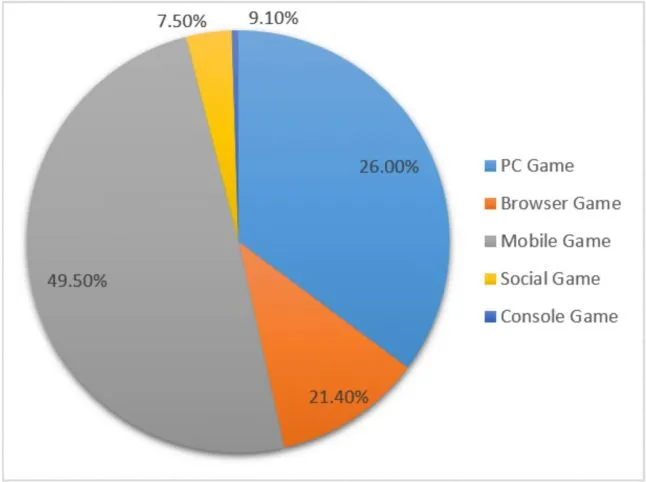 China Game Market Revenue Distribution (Source: GPC 2016)
Mobile game ranked top among all the segments, sharing 49.5% of the entire market with the most rapid growth rate.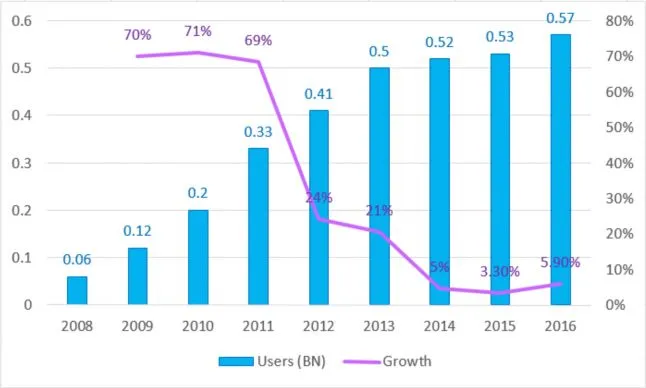 2008 - 2016 Game Users in China (Source: GPC 2016)
The number of users of China game market reached 0.57 billion in 2016, increasing 5.9% compared to year 2015.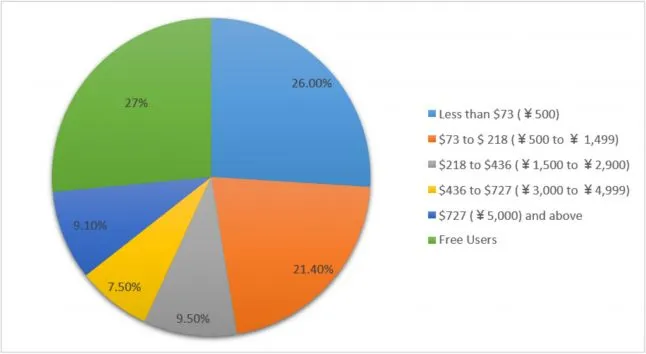 Spending Preference of China Game Users (Source: GPC 2016)
In 2016, nearly 75% of users in China were paid users. 26% of the users are willing to pay less than 73 USD (500 RMB), 21.4% of them spent 73 USD to 218 USD (500 RMB to 1,499 RMB), and another 26.1% paid more than 218 USD for games.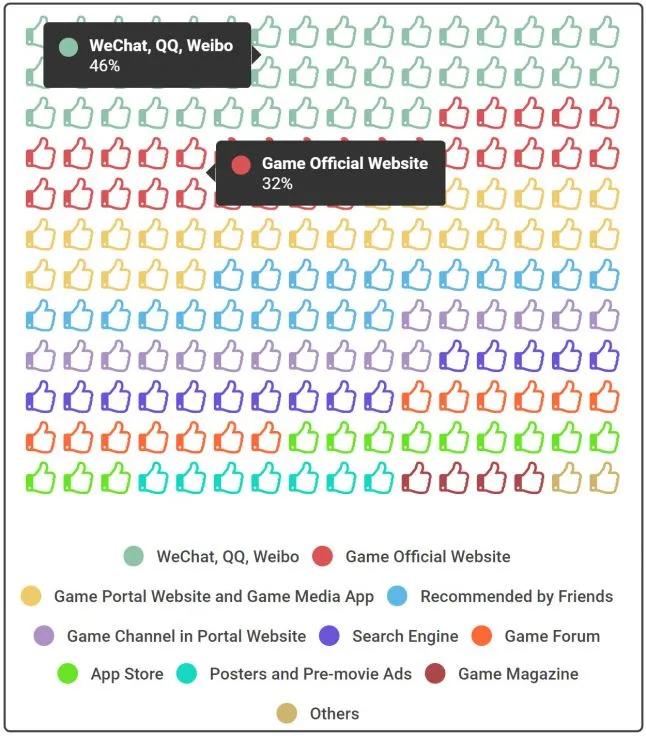 Channels for Users to Obtain Latest Game Information in China (Source: GPC 2016)
In 2016, social channels such as WeChat and QQ became the most common channels for the game users in China to learn about latest game information. The secondary channels include game official website, media, etc. Also, the recommendation from game streamers influences the choices of game users greatly. That being said, social media became the most influential channel for potential users to choose the games to play.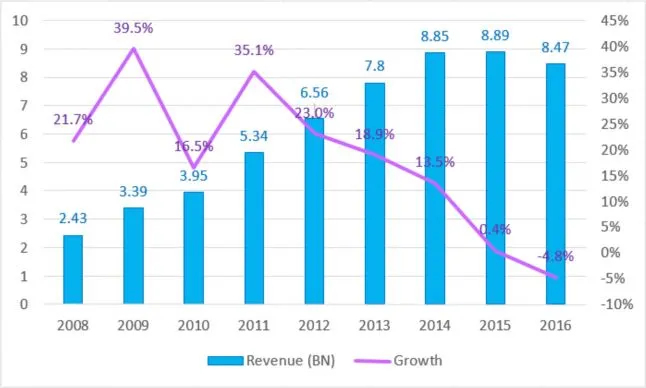 2008 - 2016 PC Game Market Revenue in China (Source: GPC 2016)
Revenue of PC game in 2016 decreased 4.8% compared to 2015, with 8.47 billion USD.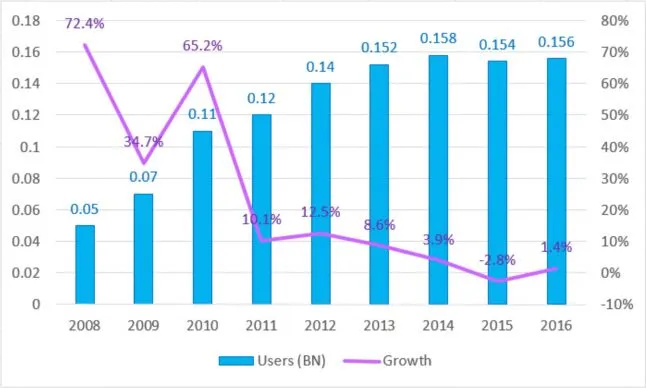 2008 - 2016 PC Game Users in China (Source: GPC 2016)
PC game in China attracted 0.16 billion users in 2016, increasing 1.4% compared to last year.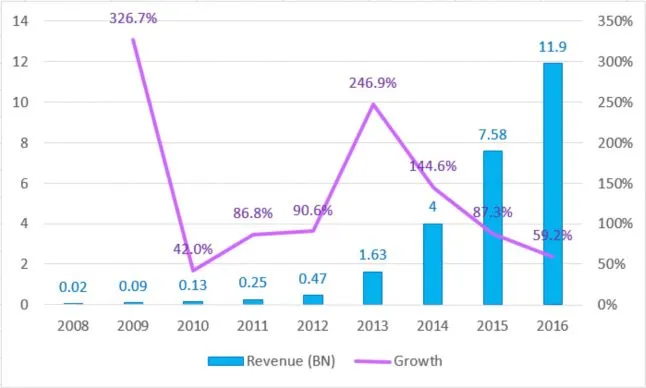 2008 - 2016 Mobile Game Market Revenue in China (Source: GPC 2016)
Mobile game market in China generated 11.9 billion USD in 2016, increasing 59.2% compared to last year. More and more high quality mobile game titles have been released in order to survive in this fierce competition of mobile market.

2008 - 2016 Mobile Game Users in China (Source: GPC 2016)
With impressive performance on revenue, mobile game market in China obtained 0.53 billion users in 2016, increasing 15.9% compared to 2015.
In summary, China game market was doing great in 2016 and the trend is still ongoing. Although the growth rate slows down, the actual revenue increase keeps stable. It's obvious that the momentum of growth of the mobile game market is still flourishing. Many reasons contributed to the growth, including more varieties of mobile game genres, increasing number of smartphone users, easy access to mobile game content, and improved mobile network, etc. Inevitable, that also means that the market size of those relatively traditional platforms, including PC game and browser game, has been decreased.
While the market size of PC games decreases, the number of users increases. As mentioned in my previous article, there is a trend that developers in China creating mobile version of their traditional PC games (**). This actually helps to retain the users within the original PC game while they play the corresponding mobile version at the same time. However, the diversion of users caused by this trend also lowered the revenue of those original PC games.
Last but not least, putting the game onto the most popular social channels becomes one of the most important user acquisition strategies in China game market. How to integrate a seamless experience between the games and the popular social channels would be the next challenge for the game developers who want to thrive in the China market in 2017.
* You can download the original report here.
** Choose the Right Mobile Genre in the Right Market by Understanding ARPU
See Original Blog Post on Linkedin
You can check out my other Blog Posts here
You can follow me on twitter @MantinLu
Seasun is a leading Chinese online games publisher focused on creating high quality games/game engines that push the boundaries of player experience in action entertainment. The company is also involved in small-medium sized investments for game studios worldwide. We have recently started up our U.S. studio in Redwood City, CA to create top quality content for the western market.
Seasun has shipped many successful titles, including the popular MMORPG series JX (http://jx3.xoyo.com/), the MMOARPG titles First Myth (http://fs.xoyo.com/index1) and CQ (http://cq.xoyo.com/), along with our FPS MAT (http://xd.xoyo.com/). The "JX" series has grossed more than $250 million and has achieved a daily active user count of 3.3 million. We are currently building a special team of highly talented people to create the technology for our next-generation MMOARPG at this studio.
Founded in 2015 and based in San Francisco's East Bay, Magic Fuel Games is focusing on developing games that capture the imagination of players. With a core team of industry veterans, bringing decades of development and AAA experience from games that have captivated gamers around the world. The company's Series A was funded by Seasun Inc in February 2016 and has been growing its team and developing its 1st product since then.
Kingsoft, Seasun's parent company, is publicly traded in the Hong Kong Stock Exchange (SEHK: 3888) with market value of 3.8 billion USD. Kingsoft has created 3 other subsidiaries alongside Seasun: Cheetah Mobile (NYSE: CMCM), WPS Office, and Kingsoft Cloud Service. Kingsoft has over 4,000 employees worldwide.