This is my 11th Tokyo Game Show, if I recall correctly. I went every year except one, between 2004 and 2015 – first as a journalist, then as a Sense of Wonder Night judge, and now, many years later, as an actual exhibitor, in the "indie area," with Necrosoft Games' Gunsport. The indie section is free to exhibit in for qualifying companies, but you still have to rent a monitor (and possibly a PC), and you still have to fly out there, so there's quite a bit of cost involved for a foreigner like myself. Was it worth it? Well, it's a mixed bag.
Gunsport, featuring one of the new teams (left) we showcased at TGS.
What is today's TGS?
The Tokyo Game Show has changed a lot over the years. When I went for the first time in 2004, there were still PS2 games on the show floor. The PSP was on the horizon, and was coming out in Japan in just a couple months. Likewise the DS was not yet out, and the GBA was still Nintendo's current console – developers would still regularly release games for the GBA for two more years.
These were heady times. Japanese devs were high off their successes with the PS2, were ready to transition to a new platform with the PSP, and anticipating the challenge that the DS presented. Each console had an existing analog too – the PSP was "basically" a PS2, in terms of processing power. The DS was "basically" an N64. It was all very familiar, and the console industry was feeling optimistic, and there were a lot of interesting ideas and experiments being undertaken. You could see this all on the show floor of the Tokyo Game Show.
One console generation later, and that would all change. The era of the PS3 and 360 were the beginning of the end for Japanese console games, and you could see that in the booths. Every year, the booths shrank. There were fewer games – the games that were there looked more and more dated compared to their American or European counterparts. There were some standouts, of course. But by and large, it was clear that Japan was moving away from console. 2013 was the last time I decided to write about the phenomenon.
And then, along came smartphones. This revitalized the Japanese games business – here was a way to make money again, though it was largely the new upstarts that made it, less the older more lumbering console businesses (something we've seen here in the US as well). For a while, this was depressing to me, but once I accepted that this was going to be the dominant model, I started to see things a little differently.
Now, a couple years later, I do think this money has trickled down through the rest of the industry, or at least has inspired optimism. GungHo has bought up and sustained console developers, such as Grasshopper Manufacture, while also investing in indie titles. Sega's partnership with Atlus yielded a much more impressive showing for both companies at this year's TGS. The smartphone booths are less about showcasing, more about swag and community engagement. Smart moves have been made to ensure this year's TGS is at the very least, not depressing.
Now, to the indie section!
So where do I fit in to all this as a foreign indie dev? Not exactly where I'd hoped. In 2013, the indie section was in a separate building, and from what I heard, was rather under attended. Due (I thought at the time) to that disappointment, the indie area was moved onto the main show floor in 2014, which was great, and showed a real commitment to the future of the industry. I presumed that's where the booth would be again, because it was clearly more successful there. Unfortunately that was not the case. We were stuck in the back room, so to speak. (Here's a look at the space during setup)
The indie section was separated and ignored. We were in a separate hall, away from all the folks with money. We were crowded into a relatively small space – 50-something games in a booth smaller than a single booth for a single company in the main halls. There was almost no signage announcing that we existed, or that hall 9 was even populated by anyone. There were tiny aisles between the games facing each other, making it tough to go through and visually browse. I feel for the games that were facing the back wall – they were pretty tough to see.
The first day, I'd say about 60-100 people came by, and I knew at least half of them personally. That is to say, they just came by to check out my game because they knew I was there, and sought me out specifically. Keep in mind there were theoretically almost 30,000 people there that day.
The second day, I had seen around a dozen people by 12:30 PM (show opens at 10), and they were all friends, so I shut down, put a big frowny face on my monitor, and walked around the show floor, since I had to go to the Sense of Wonder Night show at 2:00 anyway (I was a judge there), and had nobody helping me that day. That's apparently when all the Japanese press came by, as well as two publishers who were looking for me. Well, what can you do!
My abandoned station.
The first two days are "business" days, so all attendees were industry, media, or other professionals. Public days are the real deal, with 100,000 attendees at times. Both of these days were much better for me, with a pretty steady stream of players, maybe a couple hundred. At first we had pretty low traffic flow, but one of the guys helping me out had the idea to turn my monitor sideways, since I was on an edge table. (Big thanks to the folks who came out to help me, Paul McCann, Rico Trask, and Aaron Steen – I would've gone insane without you fellows.)
This worked to attract many more people, and also get us out of the hair of our neighbor, who we kept bumping into with our four players. Saturday and Sunday, the public days, were much more akin to what we were hoping – but still massively smaller than what you'd get on the show floor.
The ole sideways monitor trick.
Takeaways
In all, if the indie section is in a crappy side-hall again next year, I would not advise going if your main drive is to generate grassroots buzz. You simply won't get the traffic, unless you've got something that generates buzz all on its own – the VR booths were well trafficked simply for the novelty. And if you do go, make sure to bring flyers. Folks love those things.
If you're looking for feedback from Japanese devs, though, or to do some cross-cultural testing, you'll have better luck, there. As long as you can speak Japanese and ask people what companies they're from, you can get some interesting conversations going. On the first day, the lead programmer of Guilty Gear played Gunsport – the next day, a battle systems designer for Guilty Gear came by and played for 45 minutes straight with his friends (unrelated to the first guy!).
Koji Igarashi played the game, and said it was "very interesting." Ex-Konami lead Tak Fujii (Ninety Nine Nights 2) played as well. All had interesting, honest feedback, which was useful in terms of the early play experience, especially since language was occasionally an issue, making visual feedback all the more important.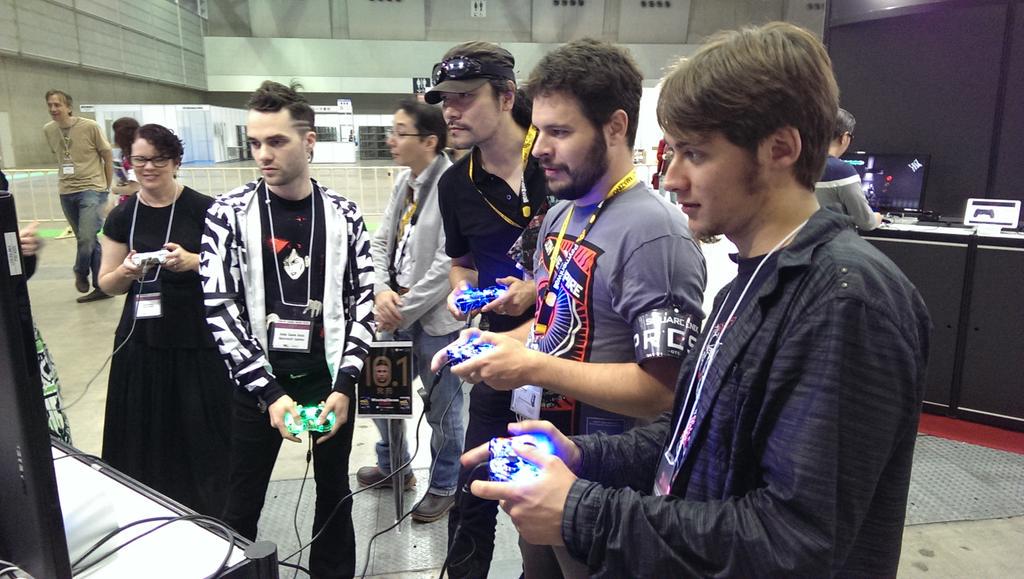 Iga plays Gunsport.
We were also able to test a lot of things we were wondering about (in terms of visual design, and team balance), with players who were much more diligent and willing to learn than we often find at Western conferences.
So would I go again? Well, it depends. If it's in a crappy hall again, I might rather just take specific press meetings and call it a day. But on the other hand, you never do know who's going to wander by...