E3 2016 revealed that the game industry has fully embraced VR. As major industry players continue to invest, Red Fox Insights takes a look at how VR is shaping gaming's future and what challenges it must overcome.
Major Players Go All-In
During E3 2016, nearly every major player in the industry (save for Nintendo, more on that later) promised to support VR throughout this year and into 2017. President and CEO of the ESA, Michael Gallagher, revealed that in 2014, only 7 companies previewed virtual reality products at E3. Last year, 27 companies displayed advancements in VR products and gameplay. This year, there were 57 VR products at E3.
Here's what the industry's biggest names have been up to:
1. Microsoft and Project Scorpio
During Microsoft's E3 2016 press event, Phil Spencer announced Project Scorpio. Project Scorpio is the latest addition to the growing Xbox One family and is "built specifically to lead the console industry into true 4K gaming and high-fidelity VR...premiere VR experiences, without sacrificing performance."
2. Bethesda Enters VR
One of the biggest surprises from Bethesda's show was a new focus on VR, including partnerships with HTC Vive. According to the team's official blog, supporting titles like DOOM and Fallout 4 are "just the beginning of Bethesda's future in virtual reality."
3. Ubisoft's VR Projects
Ubisoft dedicated precious E3 event time to share two VR titles - Eagle Flight and Star Trek Bridge Crew. For the live PvP demo of Eagle Flight, Ubisoft invited Oculus founder, Palmer Luckey, on stage to help demonstrate (spoiler: his team wins).
4. Sony and PlayStation VR
Sony and PlayStation, the early adopters of VR in the console space, continued a strong VR push during their press event. They announced several new PS VR titles, like the Farpoint and Resident Evil: VII, and gave an official launch date and price for the hardware, October 13 for $399.
5. Oculus' E3 Booth
Oculus Rift and Samsung Gear VR, powered by Oculus, had booths in E3's West Hall. The booth sat alongside Sony, Microsoft and Nintendo and showcased multiplayer and single-player, including Insomniac Games' new title, Feral Rites.
6. Valve Hard at Work
HTC and Valve had a presence at E3 with the Vive, announcing Fallout 4 will be a fully supported VR experience come 2017. Joel Breton, HTC's Vice President of VR Content, speculated that over 1,000 people would try HTC Vive at E3 2016. It's also estimated that roughly one third of Valve's team is working on VR and AR experiences.
Going Mainstream
The announcements and support shown at E3 are good indicators that VR is getting mainstream attention. Captivating a mass market means refining tech in ways that allow users to experience immersive, accessible gameplay not available on other platforms.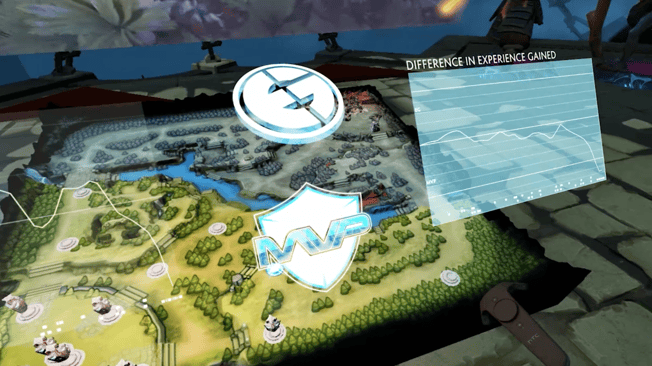 A broad acceptance of consumer VR technology, and the huge push it's getting from the industry, leads analysts to believe VR will actually monetize better for publishers than esports.
However, industry analyst Michael Pachter suggests that even with the push VR is receiving, the "large market opportunity [is] at least 3-5 years away" and he does not expect publishers to "deliver meaningful revenue contribution from VR anytime soon."
VR: Challenges Yield Opportunity
With some revenue predictions outpacing esports, and a near unanimous embrace of VR as a future platform for gaming, creators are seeing an incredible opportunity for growth. However, several obstacles make navigating VR's future far from easy.
1. "It's Not Fun"
According to President and CEO of Nintendo America, Reggie Fils-Aime, VR is "not fun, and it's not social. It's just tech." Fils-Aime more recently described how VR is still not ready for the mainstream.
As a result, the company shows a reluctance to embrace the technology - but hasn't counted it out. Fils-Aime continues, "we want to make sure that our next content is going to be mainstreamand mass market approachable, and when something like VR is at that point, you can expect Nintendo to be there."
2. Platform Wars
By locking software on the Oculus store to a specific brand of VR headsets, Oculus is coaxing a platform war. Some argue this won't bode well for a young VR market, struggling to get a foothold and find its killer app.
At E3, there were first-party Oculus titles that will never be available to Vive owners.Engadget reports, "Nobody blinks when Sony announces an exclusive PlayStation game, but for the Vive and [Oculus] platform, this is completely unprecedented. Until now, there was no such thing as a hardware-exclusive PC game."
Even Valve's own Gabe Newell said that creating platform specific VR content "isn't a good idea for customers or developers."
3. "Bad VR"
Founder of Oculus, Palmer Luckey, claims "really bad VR is the only thing that can kill off VR." Apparently users experienced "bad VR" and the dreaded "VR sickness" as recent as E3 2016. Multiple people reported feeling sick while playing Resident Evil 7 on PlayStation VR.
Many factors contribute to "bad VR" including design, player movement, and frame rate. Sony requires 60 fps for VR, saying devs "cannot drop below 60 fps. Period. Ever." While Resident Evil 7's demo on PS VR apparently runs at 60fps, it's the absolute minimum. For instance, Sony's competitors; the Vive, Oculus Rift and Razer's HDK 2, all require at least 90fps. Balancing costs, with efficiency and the tech quality needed to properly run consumer VR continues to challenge the industry.
The Bottom Line
The ESA's Mike Gallagher says "the entire world looks to E3 to learn what is next in innovation and entertainment." Based on E3 2016, the industry agrees VR is what's next. New efforts and strategies from industry leaders have painted a future ripe with VR gear and content.
As virtual reality enters this mainstream market, new challenges must be addressed, and while it's clear the industry is ready to embrace it, only time will tell if audiences feel the same way.