After an interminable cycle of rumors and hype, Apple announced its iPad tablet computing device this week. CEO Steve Jobs considers the product "revolutionary and magical". Others see it as a half-baked attempt to expand the iPod Touch into something to compete with cheap netbooks.
In the gulf between those opinions, it remains to be seen what audience will develop for the platform or how successful it will be. The iPhone has done a great deal to transform the face of the cell phone market -- changing it into one led by smartphones, and delivering a huge number of applications, many of them games, to a receptive audience.
The company recently announced that 3 billion apps have been downloaded from its App Store. At the iPad presentation, Jobs said that 140,000 apps are on the store -- up from the 115,000 claimed earlier this month when the 3 billion downloads mark was first hit.
The same App Store is due to be expanded to the iPad -- again meaning that Apple will control the means and method of delivery to a captive audience.
And while the iPad is fully capable of running existing iPod Touch/iPhone applications, developers can also begin work on expanded versions of iPhone titles, or entirely new games native to the device. On Wednesday, the iPhone SDK was expanded to include an iPad Simulator.
To get an idea of the creative and business possibilities of the device, which launches in the U.S. in about two months, we spoke to current iPhone developers, and technology providers, about its potential impact.
The Technology Angle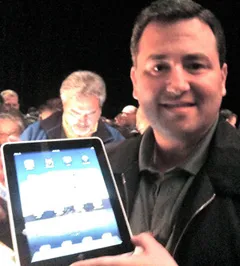 Mark Rein, vice president of Epic Games, attended the event in San Francisco and got his hands on the device after the presentation. Says Rein, "I really like the device and I think it is going to be great for gaming. I thought the [Gameloft and EA] game demos at the event were amazing considering the developers on stage only had a few weeks of access to it."
In December 2009, Epic readied a demo of Unreal Engine for iPhone. When asked by Gamasutra if it's safe to assume that it will move to the iPad, Rein replies, "I think that's a pretty safe assumption -- especially considering the iPad appears to already run iPhone games well. We'll have to get an iPad in our hands and evaluate it from a hardware standpoint before we can say for sure what we can do on it but I'm very excited about the opportunity the iPad presents."
Meanwhile, Brett Seyler, VP of strategy at engine provider Unity Technologies, thinks that the launch of the device will be great for his company. Seyler claims that more than 550 games already available in the App Store use Unity.
"It's hard to see the iPad having anything but a significant, accelerating effect on Unity's business, so we're very happy," says Seyler. Like Rein, Seyler pledges to support the new device. "Game developers are clearly on board and really excited to make new games for the device, and our developers having been on a coding frenzy to make sure we've got full support for it as soon as we possibly can."
Seyler thinks that the device's compatibility with existing iPhone games will only help things -- and that audience expansion will help expand the app market, in turn. "The iPad looks like it will expand the reach of these apps, and new ones, to new users and that will make the App Store an even more exciting, diverse marketplace than it is today."
---
Developers Weigh In
Of course, game developers who have experience in the iPhone market have their own take on what the device may mean. And "developers", in the context of the iPhone, can range from majors like EA and Gameloft, who got early access to the device from Apple, to startups like Neil Young's ngmoco, to one-man shops. This leads to a number of interpretations of what the iPad's launch might mean.
Ngmoco was co-founded by EA veteran Neil Young with the express aim of entering the iPhone market. It's little surprise, then, that Young is "very excited" by the device.
"In many ways it is a large format iPod, but that's in fact what makes it interesting. The display surface is now big enough to be a really engaging and immersive interface and it's an in-home venue device as much as it's a mobile device. I think that Apple just found a way to get into the living rooms without having to build a dedicated game console," he says.
"We're going to put a lot of support behind the iPad and try to help it become as successful as the other iPhone OS devices."
PopCap's director of mobile business development, Andrew Stein, describes the iPad as "an amazing piece of technology." He also makes the iPod connection.
"While it is obviously based on the iPhone, having a much bigger, high-resolution screen does get us thinking about the new experiences we could create that just aren't possible on the much smaller iPhone screen." He also likes the fact that it ties into Apple's App Store, calling it "a good thing in my opinion... It's one of the best shopping experiences available and users have proven that they like it and use it very extensively."
Kris Piotrowski, creative director at Capy (Critter Crunch) is sanguine about the "giant iPod" claim, saying that it "isn't necessarily a bad thing." At the same time, he says, "I'm a bit hesitant about making big statements about the 'revolutionary gaming possibilities' that the iPad may or may not offer for designers."
That seems to be more due to the current state of the market, not the device's inherent capabilities. "When the iPhone/iTouch came out, I was absolutely nuts about what the device could do, and what types of games I'd be able to make and play on it," he says.
"But I've had the iPhone since day one and I've downloaded around 200 different games on it, and I'm pretty jaded when it comes to games based on touch controls, and games created for a 99 cents to $2.99 marketplace. I hate nearly every app I own, so the idea of playing bigger, more touchy-er iPhone apps on shinier iPad isn't incredibly appealing to me at the moment."
Randy Smith, co-owner and designer at Tiger Style, is an experienced developer with a major publisher background, but also knows what success is like on the iPhone -- his game, Spider: The Secret of Bryce Manor, is an award-winning top download on the platform.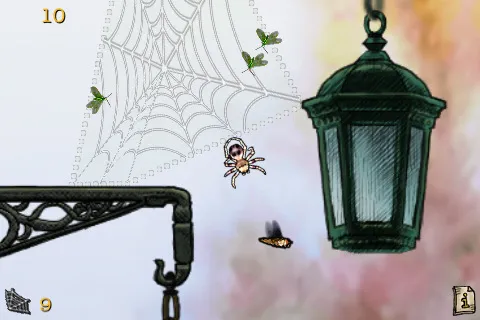 Spider: The Secret of Bryce Manor
While iPad's leap in screen size and processor power over the iPhone "makes higher production values possible," says Smith, he wonders about market realities, too. "If we made a killer game for the iPad with a $1 million budget to show what the new device is capable of, would we have any chance of recouping that investment? We'll have to wait and see how large that market becomes, but for now it's clearly not something Tiger Style can pursue."
Regardless, he sees iPad's potential in terms of game design. "We specifically designed Spider for 'bus stop play,' meaning that it's worth breaking out and playing even if you don't know if you'll have three minutes or 30 minutes to spare. If we feel less demand to nail that criterion, we can explore a wider range of concepts."
Indie resources also make market fragmentation a concern for Smith. "We already develop for the iPhone, iPod Touch, and iPhone 3GS, which have important technical differences. Putting the iPad into that lineup will require a bit more stretching of our development process, again for uncertain recoup."
To that end, Kimmo Vihola, managing director of Minigore developer Mountain Sheep, plans to follow a strategy we expect to see a lot of in the early days of the iPad -- tuning existing iPhone games, rather than moving into new projects immediately.
"We obviously want to make a high-resolution version of Minigore just for the iPad and fine-tune the controls to account for the larger display area and the weight of the tablet," he says, something Mark Rein sees as inevitable across the board: "At this point I don't see why anyone making an iPhone game wouldn't want to make a up-sized version for iPad as well."
---
Reactions: The iPad Itself
Reactions to the device itself vary. Some, like Chaim Gingold, Spore developer turned iPhone indie (Earth Dragon) are excited about the iPad's broad potential. Says Gingold, "What we are seeing, historically, is the long metamorphosis of computation from something that is used by nerds and specialists to shoot rockets to the moon and so on, to something that is designed around basic human needs and desires. Apple has always been one of the most innovative companies in applying computers to the lives of normal people."
And that, says Gingold, is tied into the device's form factor. "When you cuddle up with your friends to watch a movie on a couch or in bed on a laptop, something doesn't feel right -- it should be a different device we use to share photos, watch movies, share YouTube videos, and so on. The laptop is better than a desktop PC, but it's still not right. This feels more like it."
When it comes to form factor, Stein says, "if there's any company that can break ground here, it's Apple, and the focus on media and entertainment definitely gives this a shot at success." Young feels the device is a "netbook killer -- in that world it's unmatched in terms of its gaming capability."
Vihola sees the form factor allowing developers more freedom compared to the iPhone/iPod Touch. "On the iPod, you needed to design for simplicity to keep the visual elements both readable and accessible. The iPad makes it possible to put a lot more detail in and together with better handling of large, sweeping gestures, makes genres such as real-time strategy really come to life."
Seyler agrees. "The hardware looks plenty capable of running quality games, and the 10 inch multitouch screen should give developers a chance to get very creative with input design."
Most of the developers seem to see the possibility for expanded in-person multiplayer -- something the iPhone definitely does not excel at. Says Capy's Piotrowski, "Single screen multiplayer is probably the most exciting thing that immediately comes to mind for iPad-specific experiences."
Says Vihola, meanwhile, "It is going to be great for some of the more casual concepts as the bigger screen makes locally shared experiences more accessible -- imagine gathering around the iPad for board or trivia games," while Pusenjak says it "may be perfect for family games where multiple people can interact with it at the same time." Gingold agrees, "That should be fun to design for, and hopefully lead to some fun software."
The Same, But Different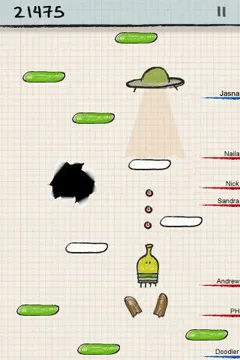 The increased screen real estate -- nearly 10 full inches of multitouch -- is exciting for developers, but the size of the device is like to present changes to the way people think about development, despite the nearly identical interface options to its smaller siblings. Says Rein, "I suspect we'll see iPad-only games that take advantage of the differentiated form factor of the device and the different ways you might use it compared to the iPhone or iPod Touch."
"Holding up the iPad for virtual joysticks isn't going to be as comfortable out of the box as with the much lighter iPod," says Vihola. At the same time, Igor Pusenjak, of Lima Sky, wonders if the form factor might affect existing accelerometer-based game designs. "How does it feel to play an accelerometer-controlled game, such as Doodle Jump, on a device of that size?"
And the upsizing of the device might make it tough to connect with an audience, he suggests. "One thing that makes the iPhone and iPod touch a perfect casual gaming platform is that you always have it with you in your pocket."
PopCap's Stein, without being specific, says that the company is "always interested in how we can adapt our games to offer the best user experience. This means thinking deeply about the game itself and how we can best present that in a way that remains true to the core essence of the play but takes best advantage of the features of the platform and makes the most fun and entertaining game possible."
Young is even more positive -- he is "really excited about the potential for doing away with simulated d-pads." Gingold also loves the multitouch angle, saying, "It will be nice to play with a multitouch interface where you wish you had transparent fingers a little less. The iPhone screen is so small, as soon as you touch it, you lose a lot of visual contact. I can't wait to play with all the new software Apple has made, and see what kind of UI designs they've invented. That's one of the most interesting things for me."
---
Finding an Audience Is Already Tough...
The iPad is reasonably priced at the low end, with the cheapest model running $499. Says Piotrowski, "Pricing is the part of the whole presentation that got me the most excited. It's right in between the iPhone and the cheapest MacBook, and it's really perfect for people who need a computer for day to day stuff, like email and organizing photos," while Seyler says, "I think we were all pleasantly surprised at the pricing. It should give the device much broader, quicker adoption than a higher price point would have."
However, PopCap's Stein isn't totally convinced. "The price, although still a bit expensive, seems quite reasonable for the technology that's packed into the iPad."
It seems likely that the nice price and Apple's clever marketing will help the iPad ride a wave of early popularity. But not everybody's sure what audience the device is ultimately going to attract -- which will affect its long-term prospects.
"The iPad targets a space between a mobile device and a home computer. I think this is kind of an odd move for Apple, who normally seems to prize an elegant simplicity," says Smith.
Piotrowski agrees with Smith about the device, but sees more potential in its position. "It's right in between the iPhone and the cheapest MacBook, and it's really perfect for people who need a computer for day-to-day stuff, like email and organizing photos. I think my mom would like one of these."
However, neither seems confident just who might buy it -- and whether that will turn into success for game developers. "I'm not sure who the exact market is, but I doubt people will be buying these things for gaming primarily, though that may not matter too much to its overall success. I really like how shiny it is, though," says Piotrowski.
"Who wants an iPad? Does it target folks like me, who already have an iPhone and a MacBook?" asks Smith. "Or does it target folks new to the Apple family, or those who don't own both devices already? I really wonder how large the install base is going to be and of what demographic it will be composed."
This ambiguity could lead to poor sales potential, says Smith. "The iPad is exciting, but it doesn't strike me as 'must have,' not to the extent the iPod and iPhone were," he says. But, he concedes, "If I'm wrong, and the install base is huge and hungry for games, then that's an exciting opportunity for us game developers."
Gingold notes that thinking about the iPad as a computer may be entirely wrong, as "consoles are another example of a computer that is just about addressing basic human desires -- in this case, play, games, and socializing," implying that the iPad will find its own niche.
"Adoption will be interesting," says Gingold. "I think that iPhone adoption started to really take off, in terms of seeing everyone around you with one, when the initial buy in price was 100 to 200 dollars, thanks to the weird subsidy thing the cell phone industry does."
He also thinks that the whole phone thing is essential to the iPhone's massive success. "I really think that people buy iPhones because they are the first cell phone without a garbage UI, plus it does lots of other cool stuff, like play games, surf the web, and be an iPod."
Unity's Seyler also thinks the iPad's user interface is significant. "The interface is what you'd expect from Apple: beautiful, intuitive, and crisp. These attributes have always set the iPhone apart from other mobile phones and I think it will do the same for the iPad."
The e-book functionality of the iPad, with its iBooks software and store, might help push the device, Gingold thinks. "I hear e-readers are rapidly growing in adoption, and they are totally at the cusp of a Model-T moment, so maybe the iPad can ride that wave. A non-painful e-reader would be nice."
Whether that will help game developers, though, is highly questionable. Pusenjak sees a direct connection, here, however, with the possibility of expanding the device to serious games. "I also feel the iPad will be very attractive to educators and we could see some great new educational apps and games."
Conclusion
If anything's become clear over the past couple of days, it's that there's a tremendous breadth of opinion on the device -- as these developers' reactions illustrate. There's the history of the iPhone, both good and bad, to consider, as well as the fact that Apple is hoping to create a new market for a device that slots in between a smartphone and a laptop.
To that end, Apple's marketing is so fulsome that it borders on the ridiculous. The iPad's slogan is "Our most advanced technology in a magical and revolutionary device at an unbelievable price" -- and the company's fans are instantly rapturous, as always.
On the other hand, the company is entering largely uncharted territory, here, a fact that the developers recognize. The iPad may actually have the revolutionary potential it promises, but only if it connects with an audience. It may be such a simple and appealing way to interface with the internet that it supplants computers; on the other hand, it may be such an inflexible and limited device it attracts nobody at all.
There's no doubt, however, that game developers will be pulled along by the tide until and unless the device bombs out of the market. And whether or not that happens won't be apparent for months. For now, it seems, cautious optimism in the face of serious questions may be the best approach. With a device this capable, with a future so uncertain, there's plenty room for innovation, and for failure.