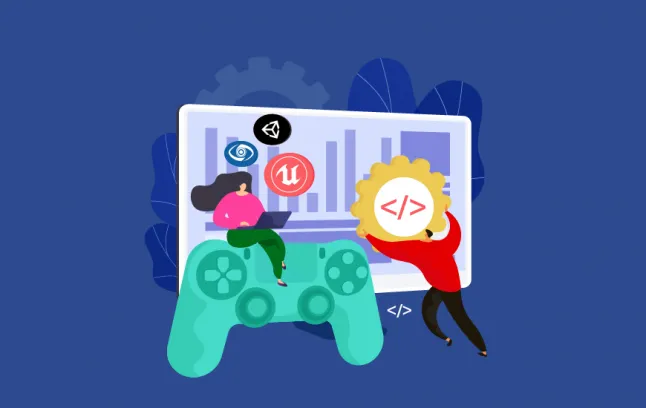 Developing a mobile game from scratch can be quite hectic and time-consuming. However, it does not sound like a good idea either, if you are building a game with elements already existing in a few games. If you think about it, until and unless you are not building a game entirely unique, re-coding scripts that might already exist does not sound like a wise choice either. Unless, of course, you can improve it.
Now, if you know what I mean, you might have understood that I am talking about taking the help of game development frameworks here. These frameworks are a database of already existing scripts to make sure that mobile game development gets easier for you. Different frameworks come with different advantages. Take no-coding or low-coding trends for example. Even if you are a beginner in the coding world, you can use these frameworks to execute coding tasks and build cool games.
Advantages of mobile game development platforms
If we talk about the real advantages of these development frameworks, they might have the heavier part compared to coding from the scratch. Let's have a look at a few of these advantages before we talk about popular game development frameworks existing in the market.
Game development frameworks make the development process faster and easier
Beginners or people with no coding experience can also try and build simple games
Functions such as drag and drop are an advantage that improves the development speed
With pre-existing scripts, more ideas and concepts can be integrated into the game
A few of these development frameworks are entirely free to use
These frameworks are the best tool to develop scalable mobile games
Best mobile game development platforms
Without wasting more time, we are discussing the list of a few game development platforms that you can use to boost up the speed of your game development process. Let's have a look at these tools.
1. CRYENGINE
One of the top names in the game development world, CRYENGINE by Crytek is a free tool that you can use to develop beautiful projects. The game development framework includes a range of effects, visuals, and more to make sure that your final projects lack nothing. The best part about this framework is that you do not have to pay any royalty for the first year if your annual revenue per project is limited to $5K. However, there's a 5% royalty on the annual revenue, once you cross the revenue threshold of $5K in the first year, or from second year onwards.
CRYENGINE allows you to create stunning environments with scripts existing already. Concepts and ideas are existing for almost every kind of project that you are working on.
2. Unreal Engine
This 100-percent-free game development framework is a perfect tool for aspiring game developers. In many games being released currently, the Unreal engine is getting popular as a development tool due to its features such as rich quality graphics, stunning animations, fast data translation, and 100-hours development tutorials among others.
The development framework allows you to build physical environments enriched with stunning visual effects for any platform you want. Moreover, already existing development scripts can boost the speed as well.
3. Unity
This one of the best hybrid app development framework is a perfect choice if you have a game idea but less or no development experience. The engine is a database of scripts designed to make your game environmentally rich and visually stunning. Not only that, but you can also use Unity to develop animated projects such as short movies, feature films, or animated shows. The engine makes sure that you are equipped with all the necessary tools such as 3-D real-world rendering, landscapes that evolve rapidly, and more.
4. Lumberyard by Amazon



"As a small team, using Lumberyard along with the support of Amazon has allowed us to move ahead faster and more smoothly than I have ever done in 20 years of making games."

- Jamie Jackson, SlingShot Cartel
The tool is free, yet a perfection for your game development needs. This framework makes sure that you pay no royalty, or any subscription fee to get access to the tool. Lumberyard is designed with many accessories such as integration with Twitch, tutorials, documentation, and more to make sure that you use it at its full potential, even if you are a newbie in the game development world. To get inspired, you can also explore the database filled with free sample projects to get an idea of what and how to build. A few games that you might have heard about are Star Citizen, Crucible, and Everywhere among others. These games are built on the Lumberyard framework.

To conclude
We would like to add that these game development frameworks that we talked about, are leading the market at this moment. Not only because of their features but also because they have been in the market for quite some time and proved themselves as reliable tools for the development process. Now, as you know that many other tools are existing as well, however, picking any one of the frameworks mentioned above can offer you more than you were expecting for the development of a perfect mobile game. Don't believe us? Pick any and begin!