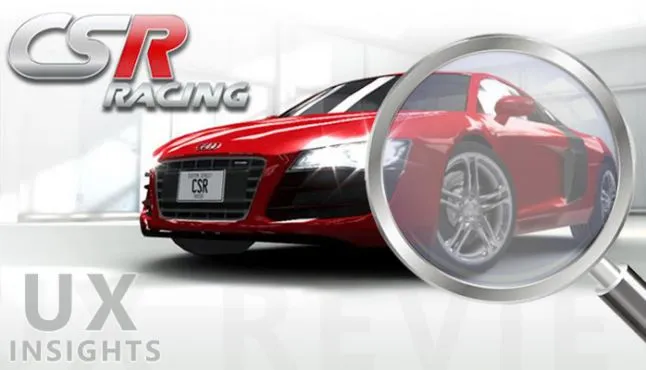 I have been playing CSR Racing and Classic versions lately, Playing them after a long gap since I played them in 2013, lots of new patterns and UX features tying in the core game play, currency sinks, social integration and monetisation have been introduced, which do account for a much smoother and better player experience in certain aspects.
CSR is known for gameplay designed specifically for mobile audiences, with short duration, mini bursts of races (between 10-15 seconds) also called snacking gameplay, which can be quickly consumed, when you are taking a break or in between other chores. Which is great. The gameplay itself involving gear shifts and aiming for perfect start timing has some level of skill. Not that difficult to get hang of, but variable timings of these controls across different racing modes, does makes it challenging.
Core Gameplay Loop
Race --> Earn --> Upgrade --> Race
This is the core gameplay loop more you race, more you earn, get better upgrades (Car parts) which let you compete in higher difficulty races and in turn earn more cash. This is also connected to a gas unit linked energy mechanics, which recharges after set no. of races.
Though more can be said about core mechanics this is a UX analysis so I will focus more on that.
Narrative driven gameplay instead of discovery mechanism, CSR has adopted the strategy of simplifying the choices for user by creating characters which guide you through the race, A suave agent who keeps telling you how to proceed through the game and also keeps you abreast with latest offers and deals. A mechanic character introduced later in the game also initially helps you with your car tuning and later guides you towards game offers.
These characters gain your trust early in the game as guides, and then later on strongly nudge you (not push) towards game deal and offers for various SC/HC purchases.
UX Tip : Introduce a slider control in settings, filtering the number of offers. Though some offers are relevant for progression in game, it does feel like a bit of hand holding, and some players might not take fancy to it.
CSR can introduce a slider settings options which filters the number of daily pushes these characters make to the player so as not to dilute their experience, A/B testing will give them exact figures of people opting for these settings. and then they can choose to roll it out universally by accounting how it affects their currency sinks. It will account for better user experience for different player types.
The Map:
Tier locked and with racing modes that cater to players of different skill and motivation types is a good interface choice as it keeps the UI super clean and intuitive to use, it also breaks away from traditional card based grid levels which make the experience dated and cumbersome, especially for games with long shelf life which have tons of new levels added every update and result in long lists of scrolling action and confusion.
Race modes offer good variety of racing options for players of all skill types
1) Regulation Races - Always offer easiest gameplay which can be won without any skill, even if you mess up your start time and do not get a single gear shift right. You earn a small cash amount of 500 coins. Low barrier of entry for casual players.
2) Ladder Races - Usually vary from "challenging", "easy" to "hard" gameplay level which offer average player right mix/ opportunity of earning more cash and hone their timings and skills for levelling up and competing in more difficult challenges.
3) Crew Battles - Are the toughest and act as a gate keeper in order to progress to next tier, most of these races are extreme, but with frequent updates and steady progression you can turn them to "Hard" mode. Which with a bit of luck and skill can be tamed.
4) Daily Races -These are basically linked to "daily rewards" and make the player feel he has earned it and create a strong association with this racing mode, since there are no more then 3 races per day and they offer good cash payouts. the player feels the need to try them out
UX TAKE - Good thing about these race modes is that their rewards payouts and skill requirement become very clear to the user after few attempts and create both mid term goals (earning cash, cool upgrades) and long term goals (tier unlocking, new cars etc).
Monetisation:
CSR employs two modes of monetisation Cash purchase of it's dual currency "Gold" and "Cash" and a array of video ads and interstitials.
Ad Monetisation: Interstitials, didn't find them effective
1) Which are pushed to NPU's usually after finishing a random number of races varying from 3 -8 disrupt user experience, as we are moving towards the era of contextual in -game advertising where users want a context or reciprocity bargain for consuming ads. In my case these ads had a lag period in loading and the close button appeared much earlier so i could instantly close it without watching, so i rate them ineffective at least in my case
Ad Monetisation: Videos, work well since they are contextual
2) These are connected to the energy mechanics "Gas" in this case each race consumes a unit, and you will need to recharge after a couple of races. recharge can be done either
1) By paying "Gold"
2) Free by watching ad or tweeting (spread virality) about the game
3) Waiting for a period of time.
UX Tip : I feel for a NPU the video ads work well here because, average ad length is not more then 10-15 seconds (same as average race session). A good way to motivate players to watch more of these ads is by making a up-sell, using recharge time comparison. In current implementation Watch ad button is hidden in a free recharge menu, if the buttons can be arranged as shown below
In the image on the right ,by showing the player comparative difference in time 14 seconds by watching an ad, and 4 minutes 32 seconds if you wait (even approximate), you are simplifying the choice for him, and bringing in to play comparison bias towards Ads button.

Shop Monetisation: Cash & Gold
Research supports the fact that humans genetically get attracted to shiny things which they hold precious in their mind. Use of "Gems" as premium currency by "Supercell titles" and "Gold Bars" by all "King.com" games irrespective of their theme, is not coincidental, it reinforces use of precious real world objects in the virtual world.
Also using real world currencies like cash, notes, credit etc is a mental model which resonates strongly with players since they are already familiar with how these things work in the real world and have assigned higher utility to them compared to say use of some vague objects like tokens or shells etc.
Shop Monetisation: Price order shuffle micro trend
I have been lately noticing change in price order sequence of shops, some games like "Farmville 2" and "Farm Town" on Facebook are using descending price orders instead of ascending, that is instead of starting with lowest price point say 0.99$ and then going all the way up to highest say 49.99$, they are doing this the other way round, presenting the highest price point first (49.99$) and then moving down towards the lowest (0.99$) so imagine if you have 5 packs/price points to offer this is how you usually arrange them:
Ascending Sequence: 0.99$ < 2.99$< 12.99$ < 24.99$ < 49.99$
Descending Sequence: 49.99$ > 24.99$ > 12.99$ > 2.99$ > 0.99$
The reason some devs are using descending price points are, so that the player spends enough time checking out all the offers, imagine if you have a scrolling price list top to bottom or left to right, Most players will look at the lowest price point packages at first glance when they enter the shop and may not even look at remaining offers (by not scrolling). This is a good work around and many games are adopting this approach.CSR makes use of this as well, to make sure player checks out all the offers as it has it,s cash and gold offer spread on two pages which need to be scrolled.

UX Tip : This is a small trick and makes the player check out all the offers, but players might get it after a while, so it do be a good thing to keep shuffling the price points even use a mixed shuffle instead of ascending or descending orders so, player is curious about checking this section regularly.
Edit -30/12/2014: Just after writing this article (originally on Linkedin) I saw "King.com", also adopting price shuffle in Diamond Digger saga on FB, and "Trivia Crack" top free app on US app store (rank 18 top grossing on US app store) using price shuffle in their shop. ditto for games like "Bingo Bash" and "Slotomania."
We are definitely seeing emergence of a trend , its no longer a micro pattern.
Social:
Many top of the line developers are trying to find ways to make social integration more richer, deeper and fulfilling experience, its a tough task but i have been seeing some serious trends emerging and developers going beyond the traditional social exchanges of share, like, Invite etc.
Focus is now on creating real value for the player by offering and creating exclusive content, social currencies which can be shared and acquired only through social exchanges, Speed seeds, speed fertilisers in "Farmville 2", sending moves/boosters in "King.com" games and even CSR coming up with a Friends only racing mode (unlocking even before multiplayer!) with exclusive content are proof of this trend continuing in 2015, though it would need a lot more tweaking and iterations to perfect them...would be interesting to watch!