Names of video games or gaming companies from China are more than ever familiar to our ears. Tencent is now the biggest gaming company in the world in terms of revenues, and games like Lords Mobile, Arena of Valor or King of Avalon are worldwide successes. So how did that happen? The gaming world in China is very much distinct in so many ways to what we have in the West, and making straight up comparisons without having any context in mind would be meaningless. But as I went searching on the Internet, I found out that there were little materials about the history of Chinese gaming, at least in English. This made me a little sad. After having gathered articles, blog materials and conversations with colleagues and friends, I hope to give some meaningful landmarks to give a better understanding on the topic.
The Study Machine
In 1983 the NES, or Family Computer was released in Japan. The 8-bit console would be an international hit with 62 millions units sold. And just like all the other foreign consoles, past or future, Nintendo would fail to sell it in China. At the time, the country was still opening up to foreign markets and fearful on the sudden influx of foreign products, especially if they were related to gaming. At the end of the 80s, when Japan game companies tried to export in China they were taxed at the impressive rate of 130%, a rate that is still applied today. In addition, games were facing a strong moral opposition from Chinese media and State. Video Games, often described as "spiritual pollution" were and are still accused of pulling back students from their studies, as well as giving them a bad influence.
Instead of buying over-taxed foreign consoles, most people in China would buy consoles manufactured locally. The most famous one would leave memories to a whole generation of Chinese gamers, the Xiaobawang (小霸王), little tyrant in English. The Xiaobawang console can be ranged in the category of Shanzhai (山寨) which refers to Chinese counterfeited products that sometimes even outperform the original product thanks to knowledge of the local market and creativity. Released in 1993, the Xiaobawang was sold as a study machine. It was equipped with a keyboard with Latin letters and you could learn simple coding languages. But what made the machine stand out was it's capacity to read NES cartridges. Though as I read in a few forums, some students of the time actually used it as a learning tool, the learning capacity of the console was mainly a marketing tool to sell to Chinese parents. As one of my friends recalls, "Nobody used it to study, just to play. It helped me to persuade my parents". With movie star Jackie Chan as its spokesperson, the Xiaobawang became a success in China.
Helped by a lenient approach on the state towards copyright infringement, Xiaobawang was one among many other companies that counterfeited Japanese companies to reach Chinese consumers. The console was supported by many smaller companies and game studios that were hacking games from Pokemon to Street Fighter and releasing Chinese versions at a much lower price on the market. Some companies even managed to combine various games in one cartridge.
However the game landscape was reshaped in 2000 with a bill from the State Council to ban the importation of game console, strictly censor game content and impose restrictions on gaming venues, mainly arcades and net bars. Pirated consoles would continue to thrive throughout the decade and Playstation and Nintendo would still try to release their console (the latter through Chinese intermediary company iQue), but they never managed to break through. Though the ban of game console was lifted since 2015, console gaming remains marginal in China, and most consoles are bought on the Black Market. These restrictions allowed for PC gaming, and net-cafes to thrive for some time throughout the country.
The Wangba era
The first internet bars (wangba) opened in Beijing and Guangzhou in 1995 to then grow at a quick pace, and then decrease by the end of the 2000s. Like in any other country, many students would go to Internet bars between classes to play online game. But this was not without risk as videos games were still considered as "digital heroin" for many parents and teachers. A friend shared with me how he had to skip lunch and escape his high school campus every night to reach the neighborhood's wangba: "Im very good at climbing walls, you know make some Wuxia. I would go with 6 or 7 friends with me. It was fun times."
Many of the games that were played are familiar to western players, such as Starcraft 2 or World of Warcraft, two games that were hugely popular once imported in China. Others are almost or completely unknown to us, many of them developed in Korea. A case in point is The Legend of Mir 2 (Chuanqi ä¼ å¥‡), a Korean game which was met with tremendous success. It was also the foundation for one of the first massive Chinese video game company, Shanda. The company published Mir 2 in 2001, and popularized the free-to-play game model in China for the years to come. Mir 2 was a milestone in the history of Chinese gaming: though its quality was rather low compared to the industry's standards of the time, it popularized MMO games as well as certain practices such as gold farming (selling virtual items with real money). But the time was also suitable for the release of home-made high quality games, such as Jianxia Qingyuan (å‰'ä¾ æƒ…ç¼˜). Though the game was not a huge hit it was regarded as one of the best Chinese MMOs. From the Korean-Taiwanese joint venture Dayu Zixun, the game Legend of Sword and Fairy (ä»™å‰'å¥‡ä¾ ç©¿) was also recognized as a unique RPG taking place in Ancient China. Its story was so compelling that it was adapted into TV dramas, movies and books…
It's also worth noting that, while foreign games were still dominating the market in the early 2000s, Chinese players could still localize the games through mods (user created content from a game). For example the strategy game Command and Conquer: Red Alert 2 did not have a playable Chinese army. But the mod "Rise of a Republic" (共和国崛起) added Chinese troops, which were made much stronger than any of the other armies.
Internet bar gaming continued to develop until the mid 2000s, despite government regulations growing heavier. An incident, which turned into a national event, motivated stricter rules. A fire in an unlicensed Wangba in Beijing on June 2002 caused the life of 25 young players. The government then multiplied crackdowns on Internet bars and push for their standardization by promoting chain stores against independent businesses. But while wangbas declined, the homemade Chinese game industry grew stronger, thanks to its lucrative business model.
Free-to-play Journey to the West
By the second half of the 2000s, the Chinese game industry dominates the national market. Thanks to protective policies towards the national game industry, Chinese games now prevail and foreign brands that manage to get in are strictly regulated. The rise of Chinese gaming also goes with the success of a specific business model: online free-to-play games. Offline games would quickly disappear in China due to rampant piracy. To stay competitive while having their games sold on the black market, companies would sell complete offline games for less than 20 RMB (less 3 euros) making the business unsustainable. The Chinese State took the last blow by investing 5 million RMB into online games in 2003 with the "National 863 Project", hoping to make China a global leader in online gaming and expending its influence by promoting games that looked culturally Chinese.
If free-to-play did not appear in China, Chinese game companies managed to optimize and extend it like in no other country. Successful MMO games like Zhengtu (征途) taking place in a Wuxia setting contributed to the spread of the model. The surge of the model in China also definitely had an impact on western markets. Zynga's browser game Farmville was released one year after Chinese game Happy Farm, a game that reached 82 million users in 2009. Free-to-play games are now more accepted on the western Markets, with global hits like Fortnite or League of Legends. But they remain commonly criticized for being often of a much lower quality than premium games, and for favoring players wallets over their skills. Critics of the free-to-play model were rather hot this year, with the use of lootboxes in premium triple A games, a casino-like mechanic that gives randomized items to players when making in game purchases.
In China however, these mechanics are widespread and well accepted. The model expanded after 2007 with the release of the iPhone and the development of mobile gaming. However the market quickly concentrated around 2 major actors: Tencent and Netease. Together they make more than 60% of the mobile game market revenues. Tencent, the market leader and first global game company in terms of revenues, can count on its social media platform Wechat and QQ, the two biggest messaging apps in the country, and government subsidies to promote its games. Also, as Google play is censored, the two companies can directly distribute their games through their own downloading platforms. But the dominance of these two companies did not stop a plethora of smaller companies to try their luck. For them, one way to survive in the saturated market is to try to make it abroad. Mobile strategy games like Lords Mobile, King of Avalon or Clash of Kings have reached foreign markets, thanks to efficient localization and culturally neutral game settings like medieval fantasy. Another way to reach foreign markets is also to simply buy foreign game companies. Finish company Supercell, behind Clash of Clans and Clash Royal was acquired by Tencent in 2016. The same company bought Epic Games, the American studio behind Fortnite, and developed the mobile version of PUBG, owned by Korean company BlueHole.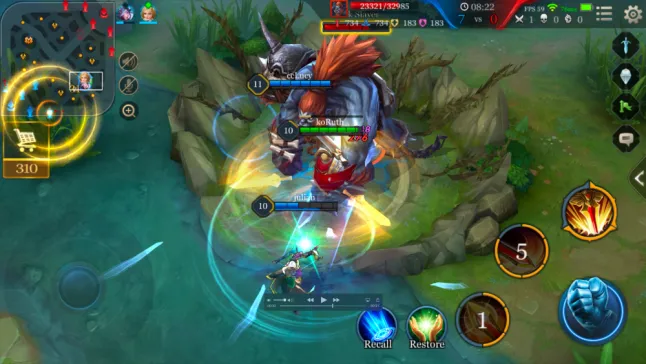 However if the Chinese gaming industry has good reasons to be confident today, one may feel concerned of its business model running out of steam... It's fair to say that the online free-to-play model does not favor original game design, and innovating on it may prove difficult. But for now, Chinese games definitely remain lucrative.