Time for another round of news regarding the China game industry, and we have important developments to go over.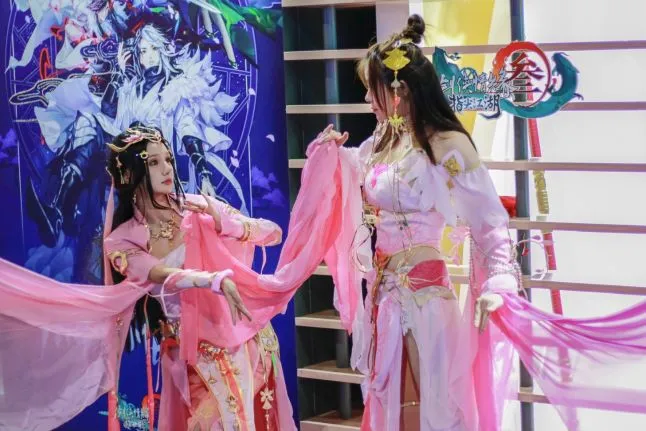 Seasun Games @E3 Model: Kilory (Left) Su Su (Right)
iResearch recently released their new China Online Game Industry Q1 Report (*). First, let's highlight some of the key game industry data revealed. Then towards the end of this article, I'll share my thoughts about what they mean.
Finally after a 9-month regulatory freeze, the issuance of game licenses in China by the government finally resumed in Dec 2018. So far, the China online game market has reacted by performing strongly over Q1 2019, and this bodes quite well for the rest of the year. The market size increased to 9.9 billion USD, rising 6.4% month-on-month and 5.6% year-on-year. This is the highest rate of growth recorded over the past two years.
Please study this trend in the chart below: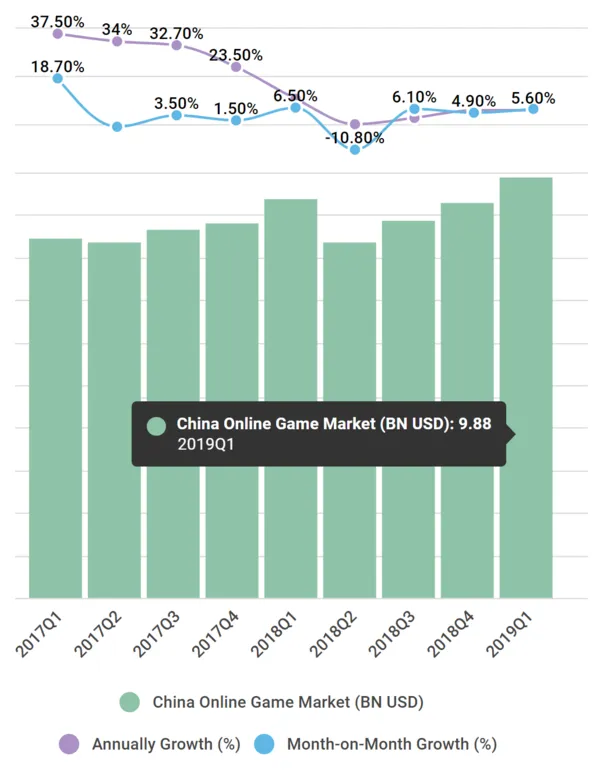 2017Q1 - 2019Q1 China Online Game Market Size (Source: iResearch 2019)
Drawing further from the data, we can see that the industry portion that represents the China mobile game market exceeded 6.7 billion USD, increasing 4.6% month-on-month and 8.8% compared to last year. This revenue represents roughly 68% of the entire China game market during Q1 2019. In turn, PC games were 27.2% and browser games were 4.7% of the total, respectively.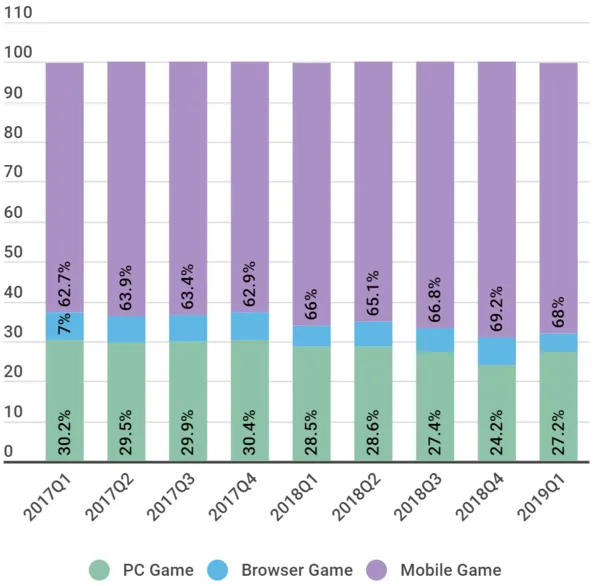 2017Q1 - 2019Q1 Breakdown of China Online Game Industry (Source: iResearch 2019)
At the end of Q1 2019, the China PC game market reached 3.2 billion USD, increasing 10.3% month-on-month and decreased 0.7% on a yearly base. An estimated 36.3 billion PC game players were active in the China PC market segment, and this represents an increase of 2.5% on a month-on-month basis.
Please again study the data below.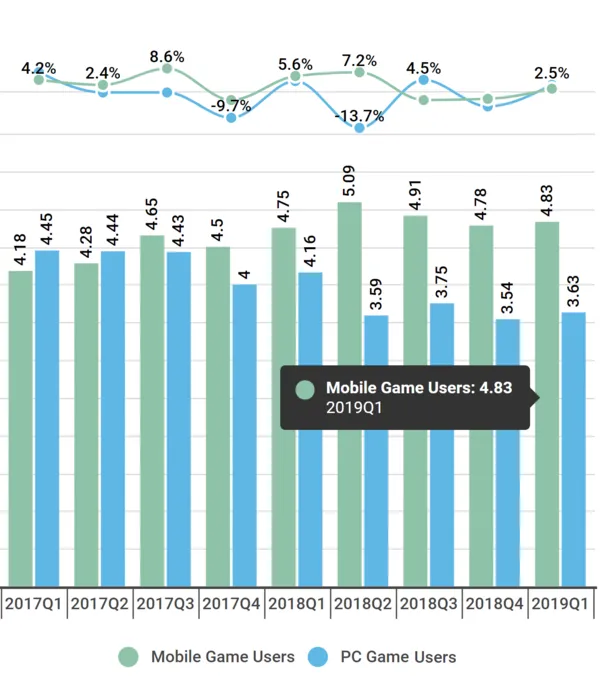 2017Q1 - 2019Q1 China Online Game Userbase (Source: iResearch 2019)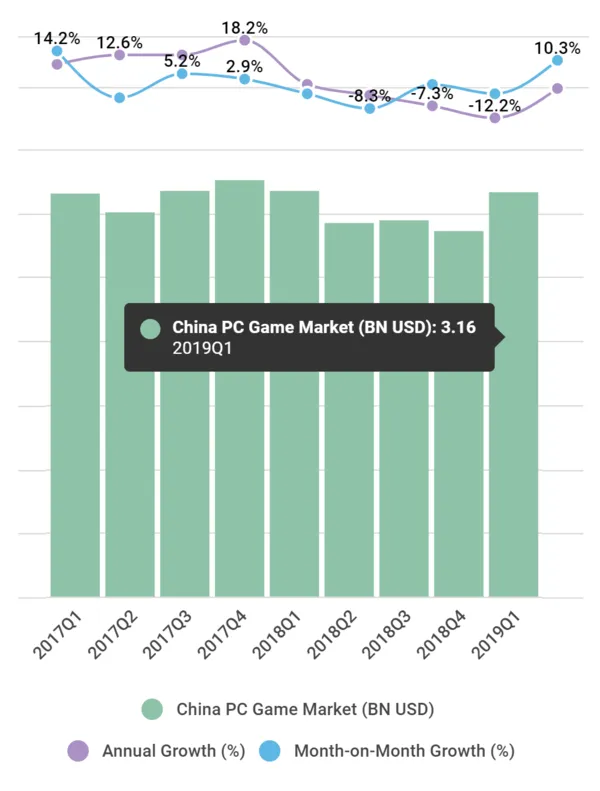 2017Q1 - 2019Q1 China PC Online Game Market (Source: iResearch 2019)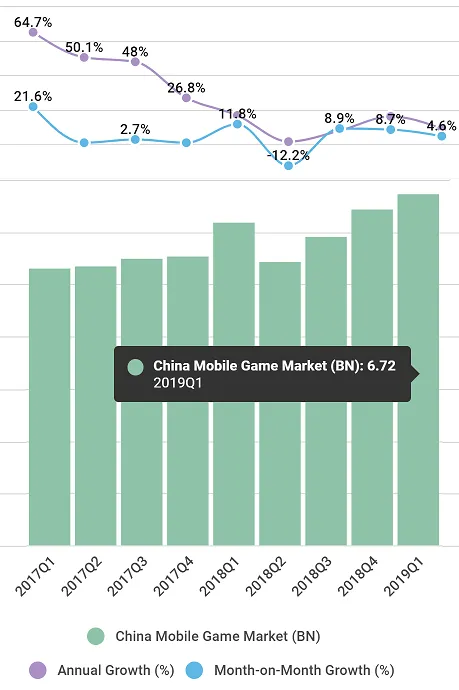 2017Q1 - 2019Q1 China Mobile Game Market (Source: iResearch 2019)
Okay, let's bring all these statistics together and figure out what they mean.
From the aforementioned data, we can see that the game market in China is now relatively stable following the nine months of regulatory adjustments. Under the new policies, Chinese game companies were forced to become much more dedicated to the quality of their gaming products. The big companies also continuously improved their competitiveness in order to maintain their global market positions.
As I mentioned in my previous article (**), I predicted an increasing trend of Chinese game companies exploring lucrative opportunities overseas. This trend will continue. Also, the domestic Chinese game market is clearly and quickly recovering. Both Chinese mobile games and Chinese PC games are expected to grow in both number and quality over the next few quarters.
One sterling example of these trends is the new expansion release of JX3 Online, a massively popular game in Asia that was published to market over a decade ago. JX3 recently showcased their latest expansion at E3 2019, representing one of the first exposures of this IP to Western players. From this standpoint, we can see that top Chinese game companies are raising the bar in terms of production quality and growing increasingly aware of lucrative overseas gaming markets. In turn, through this kind of exposure, players worldwide are also awakening to the unique culture and artistic style of traditional Chinese martial arts, as presented in domestically produced games. As we progress into the future, we are sure to see both trends encourage each other.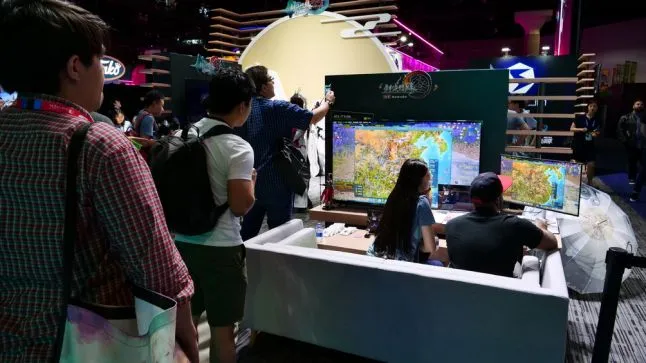 JX3 Online @ E3
You can download the original iResearch report here (in Chinese)
References:
* iResearch 2019 Q1 China Online Game Report (in Chinese)
** Global Game Market Trends and Forecasts From 2018 to 2019 [Report]
Research Assistant: Vitani Shan
Editing: Philip Daay
You can check out my other Blog Posts here
You can follow me on twitter @MantinLu
Seasun is a leading Chinese online games publisher focused on creating high quality games/game engines that push the boundaries of player experience in action entertainment. The company is also involved in small-medium sized investments for game studios worldwide. We have recently started up our U.S. studio in Redwood City, CA to create top quality content for the western market.
Seasun has shipped many successful titles, including the popular MMORPG series JX (http://jx3.xoyo.com/), the MMOARPG titles First Myth (http://fs.xoyo.com/index1) and CQ (http://cq.xoyo.com/), along with our FPS MAT (http://xd.xoyo.com/). The "JX" series has grossed more than $250 million and has achieved a daily active user count of 3.3 million. We are currently building a special team of highly talented people to create the technology for our next-generation MMOARPG at this studio.
Founded in 2015 and based in San Francisco's East Bay, Magic Fuel Games is focusing on developing games that capture the imagination of players. With a core team of industry veterans, bringing decades of development and AAA experience from games that have captivated gamers around the world. The company's Series A was funded by Seasun Inc in February 2016 and has been growing its team and developing its 1st product since then.
Kingsoft, Seasun's parent company, is publicly traded in the Hong Kong Stock Exchange (SEHK: 3888) with market value of 3.8 billion USD. Kingsoft has created 3 other subsidiaries alongside Seasun: Cheetah Mobile (NYSE: CMCM), WPS Office, and Kingsoft Cloud Service. Kingsoft has over 4,000 employees worldwide.